Culture in Cambodia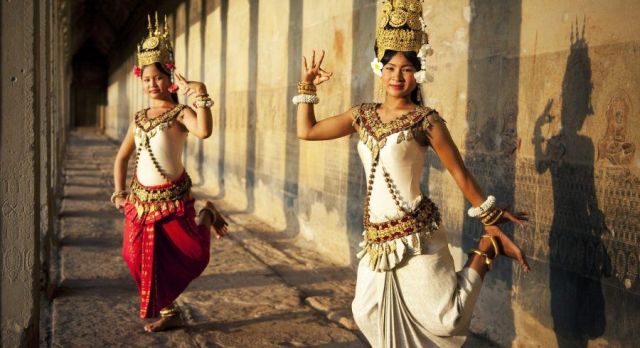 During your private Cambodia tour, you will notice that the culture and tradition are steeped in its history. The official language of Cambodia is Khmer.
Top Cambodia Travel Tips – Culture:
Regardless of gender, when meeting someone for the first time, press your palms together in front the of the chest, smile politely and, as you bow, say Chumreap Suor. The lower the bow, the more respect you are giving.
When addressing someone, you can use the title Lok for a man and Lok Srey for a woman before their name.
Choice of transportation in Cambodia is still quite limited. Cars that are available for usage are typically Toyota or Hyundai models from the late 1990s. While being old, these cars thankfully have air-conditioning for your comfort. Wearing a seatbelt in Cambodia is still not common practice – be aware that the vehicles in which you travel won't be fitted with seat belts in accordance with current convention.
If you are giving a gift, avoid white gift wrapping paper and always present gifts with both hands. Note that Cambodians generally do not celebrate birthdays.
The Cambodian Riel is the official currency in the country although US dollars are accepted in major tourist areas. If you take out Riel however, note that you cannot convert it back to your own currency. With this in mind, limit how much cash you get exchanged.
Cuisine of Cambodia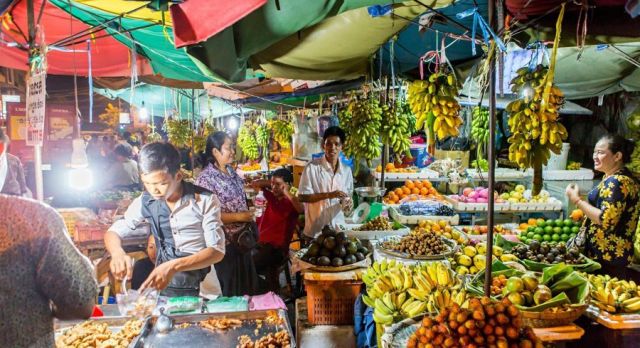 The cuisine of Cambodia has a wonderfully fresh approach and it has been influenced by the French during colonization, from Chinese immigrants, as well as its neighboring countries, Thailand and Vietnam. On one of our Cambodia trips, you can also expect Japanese and European cuisine in coastal towns, such as Sihanoukville, located in the southwest of the country. Naturally, the coast is renowned for its seafood.
Why not try a few typical Khmer dishes?
Fish amok: steamed coconut fish in banana leaves
Amok chouk: snails with curry steamed in their shell
Samlor machu trey: sweet and sour soup with fish
Char kroeung sach ko: stir-fried lemongrass beef
Nom banh chok: Khmer noodles
Bai sach chrouk: grilled pork and broken rice
Lok lak: stir-fried beef in brown sauce
Top Cambodia Travel Tips – Cuisine:
A typical Cambodian meal usually consists of soup, salad, a main fish dish, vegetables and rice. Meals are often completed with fresh fruits and delicious sticky rice.
Many restaurants in Cambodia provide rice for free.
Avoid tap water during your Cambodia tour. Bottled mineral water is best and your local guide or chauffeur is happy to help you with this.
Siem Reap's street food culture can rival that of Ho Chi Minh City in neighboring Vietnam! Don't miss the street food tour at night with our gastronomic expert.
Cambodia's History
Cambodia has had a fascinating and diverse past, from the Stone Age of hunters and gatherers, up until to the modern day.
Cambodia was for centuries divided into rival states before King Jayavarman II founded the Khmer Empire. As a nation of animists, the integration of Hinduism and Buddhism was introduced easily in the 9th century and coexisted with the traditional belief that spirits inhabited the earth. During the golden age of the empire that existed until the 13th century, great temple complexes were built with regal and fine carvings, including the notable Angkor Wat.
During the 16th century, Cambodia was conquered by the Thai, destroying the capital city, Phonm Penh, at which time European missionaries also arrived. By the 19th century, Cambodia was under the protectorate of France. Cambodia became its own independent kingdom under Norodom Sihanouk in 1953. When the Vietnam War crossed into the border of Cambodia in the mid-1970s, the communist and brutal agrarian regime of the Khmer Rouge was born. This led to what is considered one of the worst genocides in modern history that today is remembered by the mass graves known as the Killing Fields, which you can visit on one of our private Cambodia tours.
The civil war ended when the Khmer Rouge were successfully removed by Vietnamese troops and the People's Republic of Kampuchea was formed. Today, despite a heavy-hearted legacy, Cambodia is ever optimistic about its future, and tourism is playing a positive role in boosting an emerging economy. While Phnom Penh is the official capital of modern-day Cambodia, Siem Reap remains its most-visited city owing to its proximity to the famed Angkor complex.
Explore
Where do you want to go? What do you want to do? Be it popular sights or off the beaten path experiences, tell us your travel dream through our trip planner.
Design
Our destination experts will get in touch with you to craft a completely tailor-made, obligation-free itinerary to match your interests and budget.
Experience
Once you have booked your trip, sit back and relax – we'll take care of everything else. With our exceptional local team & 24/7 support, priceless memories await you!
Close