Culture of Costa Rica
Experience "la Pura Vida" – (The pure life), in enchanting Costa Rica, from conversations with friendly locals to the vibrant and fascinating culture of its cities. This Latin American nation is frequently listed as one of the happiest countries in the world!
The culture of Costa Rica comes from a perfect blend of Indigenous, Colonial Spanish, Caribbean, and even Mandarin Chinese. Spanish is the most common language in the country, however other Creole and native languages are also spoken, given the diversity of its people. This diversity is present everywhere in the country, from the food to the entertainment. This cultural variation is a source of pride for the local Ticos (Costa Ricans), who are a happy, relaxed, and proud people willing to share their peaceful way of life with all who visit – a way of life that is represented in the dedication to public welfare. In 1949, Costa Rica disbanded the military in favor of public goods, and with the freed resources, the government was able to secure vast areas of the land to be protected, and to develop the country's education. Thanks to this, Costa Rica has one of the highest literacy rates in the region today.
You might know of Costa Rica through its incredible ecological diversity. Just as stunning are the mile after mile of golden beaches, with the Caribbean on the one side and the Pacific Ocean on the other. Away from the shining seas and world class surfing, quaint, alpine-esque farmsteads dot the verdant countryside, giving way to high-altitude trekking trails and adventure sports amid lush green canopies. Your journey could be all about the great outdoors, for that is the culture of Costa Rica too.
At the larger urban centers, the culture of Costa Rica is in constant evolution. This is something you can experience in the October Mascaradas – a colourful and vibrant carnival celebrated throughout the country, where people party down the streets of Costa Rica in bright colourful masks. Dance and celebration are hallmarks of Costa Rican culture, and when you book your tour with us, you'll be able to experience it at its best.
Cuisine of Costa Rica
Costa Rica, being influenced by the cultures of many different countries, has a range of dishes which you will find to be familiar, yet new. Traditional yet cutting edge, Costa Rican cuisine may be simple but it's often surprising. The climate of Costa Rica means fresh fruit and vegetables are in abundance and these are generously used in Costa Rican cuisine.
The population of Costa Rica is wonderfully diverse. This diversity is present in the country's food which has Spanish, Caribbean, South American, and Central American influences, though most locals enjoy a hearty traditional meal, heavy with rice and beans.
Rice and beans are commonly used in most Costa Rican dishes and with great skill! Take for example, Gallo Pinto (Spotted Rooster-though it doesn't contain Chicken!), a popular breakfast. It's a wonderfully rustic dish of black beans and rice, mixed with herbs and spices, or onion. Similar dishes are popular across Latin America.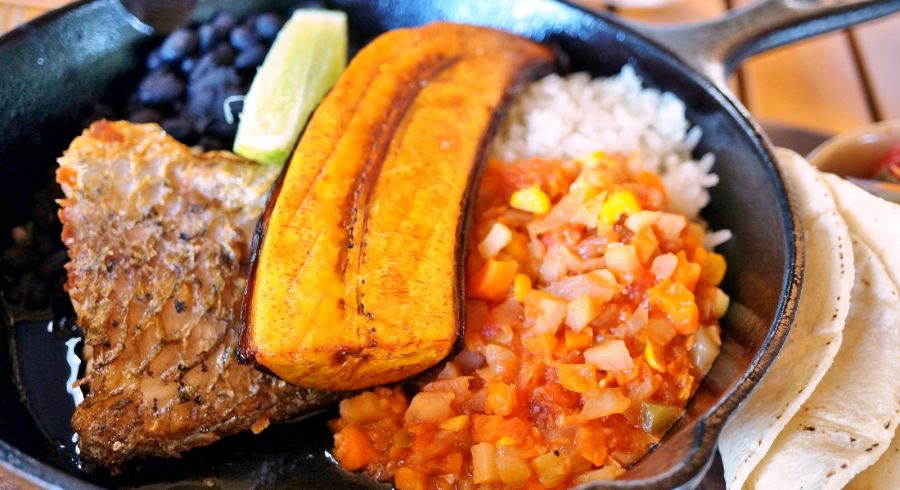 Rice is often popular as a dessert ingredient, Costa Rican rice pudding, or Arroz Con Leche (Rice with milk) is particularly delicious, with lemon zest and sugar often combined to give it a sweet and surprising taste.
If you want something more exotic, we suggest a Tamal. You might have had a similar dish, the Mexican Tamale. The Costa Rican Tamal tends to be much milder than it's spicy Mexican cousin,and you might find it much more palatable. The Tamal is a very popular during Christmas in Costa Rica, and as such, it makes an interesting vacation alternative.
What's more, as Costa Rica is home to people from all over the world, this diversity in cuisine is present in the range of restaurants and types of dishes available in the major cities, be it Indian or Italian.
Whatever your taste is, you'll find plenty to love in the food of Costa Rica.
History of Costa Rica
The history of Costa Rica is a long and fascinating story – a story of proud indigenous people, of bold explorers, and of conflict and peace.
For a long time, the story of Costa Rica was told only from September 18, 1502, onward, the date when the land was discovered by Christopher Columbus. However, for thousands of years before that, the land had been home to indigenous civilizations, signs of which can still be seen in the Guayabo National Monument, a mysterious ruined city east of San Jose. Archaeologists have estimated that the city was once home to nearly 10,000 people, ample traces of whom can be seen as you walk through the paved streets. Today most of the city remains undiscovered and buried – who knows what mysteries are waiting underneath the soil?
With the coming of the Europeans, the colonies in Costa Rica took a long time to flourish, with the colonizers not finding the riches they had expected.
In the 1560s the city of Cartago was established, set up to be a permanent stronghold for the struggling colony. You can visit Cartago today, walking through its historic streets to experience the old world charm and understanding what the city, and indeed the country, would have been like all those years ago. Costa Rica gained independence from Spain in the 1820s.
With the perfect climate for growing coffee and fruits, exporting coffee and bananas shaped Costa Rica's economy over the decades to come, especially after the opening of the Panama Canal.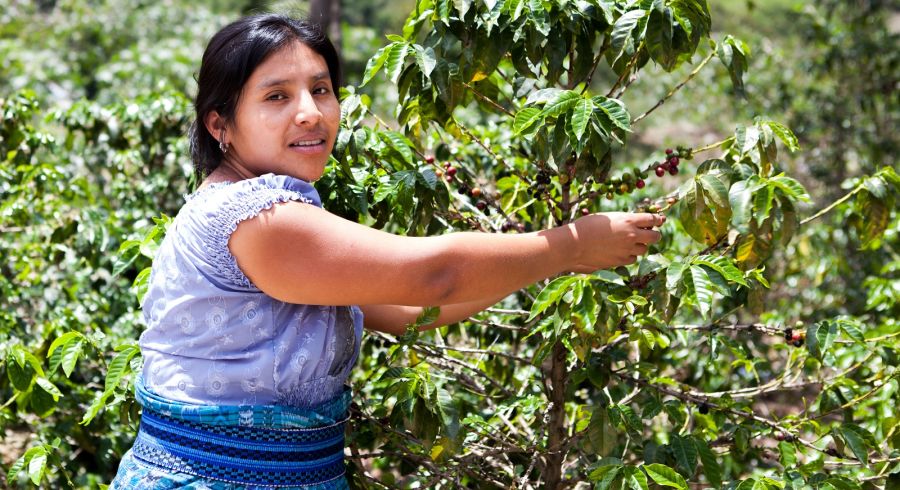 In 1948, following a Civil war, the country was led by Jose Maria Figueres Ferrer who gave women the right to vote, abolished the military, and implemented many other progressive policies. To this day, he is regarded as one of the country's greatest leaders. This commitment to peace remained and in 1987 president Sanchez received the Nobel peace prize for his role in ending the Nicaraguan Civil War.
Today the instability of the past is long gone, and Costa Rica is at peace. Modern Costa Rica is a land of beautiful expansive, protected green spaces, tropical climate and warm people, and is waiting for you to experience it all, tailored, with us.
Architecture in Costa Rica
Costa Rica may not be the first country that springs to mind when you think of beautiful or fascinating architecture. However, if you choose to visit, that may just change.
Take the mysterious Pre-Columbian ruins of a city within the Guayabo National Monument. Once home to an estimated 10,000 people, no one knows for sure why it was abandoned but speculation sure is rife! Much of the city may be buried, but as you walk through its cobbled pathways and streets, you can mark out the picturesque remains of interesting circular buildings, the city's long abandoned, ancient houses. The ancient city boasts waterways and systems that have functioned for centuries without maintenance! The monument is set close to the modern capital of San Jose so you can access it with ease.
Nearby, the former capital city of Cartago offers many fascinating buildings and architectures for you to see. Take, for example, the historic Basilica de Nuestra Senora de Los Angeles, a Catholic church built in the 17th century, which may seem similar in appearance to Islamic architecture.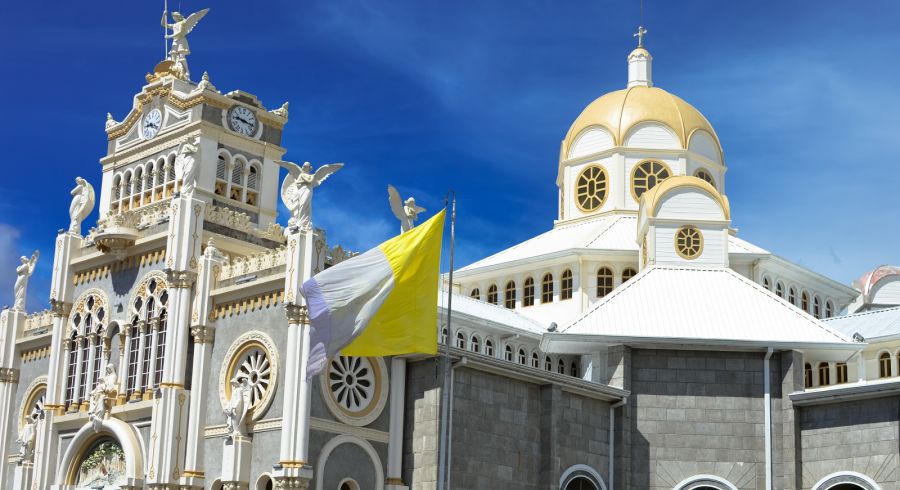 In San Jose, at the wealthy Barrio Amón and Barrio Otoya districts, the old and the new converge. Here, beautifully preserved colonial buildings and houses rub shoulders with modern and art deco buildings. A particular highlight is the area's Escuela Metalica (Metal School), a building that was taken down in Belgium and shipped over to Costa Rica, before being rebuilt piece by piece in San Jose!
Only a handful of blocks, discover the Teatro Nacional (National Theatre) which boasts a gorgeous neoclassical exterior. You may well have seen photos of it before, as it is one of the most famous buildings in the country!
Like most things in Costa Rica, the country's architecture is the product of dozens of influences. From mysteries presented by the ancient ruins of Costa Rica's pre-Columbian people, to bold colonial structures, and grand buildings from the 20th century, the history of Costa Rica can be traced in its architecture.
Costa Rica's government has traditionally been deeply interested and committed to environmental protection – indeed, it is one of the most environmentally friendly countries in the world! This commitment is evident in its modern structures too, with Costa Rica leading the way toward eco-considerate construction. Many buildings are increasingly being constructed from sustainable materials, while some are designed for superior ventilation to eliminate the need for air conditioning. So, through its architecture, not only can you gain a sense of the nation's varied and proud history, you can sense Costa Rica's bright future too.
Costa Rica's fascinating and varied architecture will continue to inspire you for a long time to come. With our insider knowledge and expertise, we're happy to customize the perfect private tour for you.
Festivals and Events in Costa Rica
Costa Rica is a country which celebrates all the pleasures and joys of life. Throughout the year, the cities and towns of Costa Rica come alive as vibrant festivals and fascinating cultural celebrations parade through the streets. Enjoying one or more of these special events can easily become the highlight of any visit to Costa Rica.
If you visit Costa Rica during Easter you're bound to come across a celebration of Semana Santa (Easter Holy Week), which is held from Palm Sunday to Easter Sunday, to celebrate the last week of Christ's life before his resurrection. All through the week, major religious processions are held to mark Christ's arrival in Jerusalem and his final march to Calvary with the cross. Observing any of these processions is to observe the beating religious heart of Costa Rica. Similar religious festivals are held throughout the year, such as the Saints Day of Santa Cruz on January 15.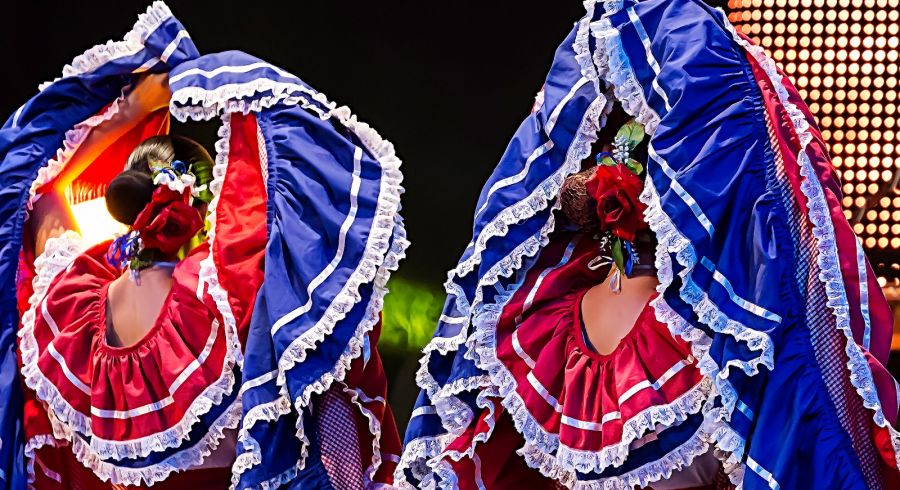 Not all festivals in the country are of such religious devotion. Take, for example, the internationally famous International Festival of the Arts held in San Jose. This festival is organized by the ministry of culture, and with it, some of the world's most important dancers, musicians, and artists all head to Costa Rica to perform. With some mesmerizing talent on display, this is something you won't soon forget!
If festivals are what you are looking for, there are many others to choose from:
1. Fiesta de Los Diablitos (Festivals of the Little Devils)
This is a vibrant and colorful celebration held in February. Despite its Spanish name, it started as an indigenous festival to commemorate a battle between Spanish troops and the native Boruca people. The celebration is held in the towns of Boruca and Rey Curre.
2. Día de Juan Santamaría (Juan Santamaría Day)
This festival is held on April 11. It's day of true patriotism, celebrating the life of national hero Juan Santamaria, a soldier who died defending his country from the forces of William Walker who invaded Costa Rica after conquering Nicaragua.
3. Día de Guanacaste (Guanacaste Day)
Held every July 25, this day celebrates the annexation of Guanacaste. It's a gigantic celebration with traditional dance and music, brimming with horse parades, and cattle displays. Though it is perhaps not for everyone, it'll show you a side of Costa Rica you may not otherwise see.
4. Independence Day
Costa Rica's independence day is on September 15, celebrating its freedom from Spain in 1821. The celebration is nationwide but culminates with the arrival of the Freedom Torch in the city of Cartago. Like in the Olympics, the torch is delivered by a relay starting in Nicaragua. When the torch arrives, following tradition, everyone in the country stops and simultaneously sings the national anthem Noble Patria, Tu Hermosa Bandera (Noble Fatherland, your beautiful flag) There is nothing quite like it.
5. Día de San José (San Jose Day)
This is a Catholic festival held on March 19 to celebrate Saint Joseph, the patron saint of the capital city San Jose.
6. National Parks Day
This day is celebrated every August 24, with special events taking place in the country's many beautiful national parks. If you are a nature lover, it is not to be missed.
Explore
Where do you want to go? What do you want to do? Be it popular sights or off the beaten path experiences, tell us your travel dream through our trip planner.
Design
Our destination experts will get in touch with you to craft a completely tailor-made, obligation-free itinerary to match your interests and budget.
Experience
Once you have booked your trip, sit back and relax – we'll take care of everything else. With our exceptional local team & 24/7 support, priceless memories await you!
Close