What will you sample during your holiday in India? From fragrant curries to tantalizing flame-roasted tandoori grills, spicy sauces to tangy chutneys, exotic vegetarian delights to inviting flat breads, Indian cuisine sure packs a punch. If you have decided on private travel to India, check out our most iconic all-time favorites that not only Indian's dote on, but which most visitor's go certifiably gaga about!
Westerners perceive India as predominantly vegetarian. This is not necessarily so, although vegetables are an integral part of Indian meals. However, peoples religious beliefs and cultural choices often mandate what can and cannot be eaten. The majority of vegetarians reside in South India.
Heavenly Non-Vegetarian Heroes To Tickle Your Taste buds!
Biryani
The origin of biryani continues to mystify, with many claiming parentage. 'Birinj' is Persian for rice, and 'biryan' means to fry or roast. Usually prepared with basmati rice, the aromatic dish uses several spices, saffron, and typically contains chicken or mutton/lamb (marinated overnight), although fish, eggs or vegetables are also used. Biryani is traditionally linked to Delhi's Mughlai cuisine and Lucknow's Awadhi cuisine in north India and south India's Hyderabadi cuisine.
Tandoori Chicken
Tandoori chicken is a lip-smacking north Indian treat rivaling biryani, traditionally cooked in a tandoor – a wood or coal fired cylindrical clay oven. The chicken is marinated for several hours in yogurt, lemon juice and a special spicy tandoori masala.
Butter Chicken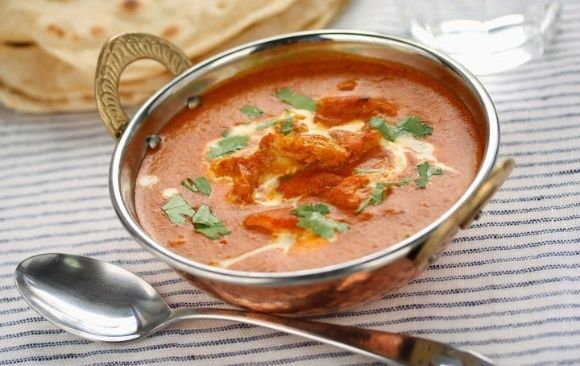 The pride of Punjab, this dish has chicken marinated overnight in yogurt and spices like turmeric, ginger and garlic, then cooked blending butter and tomato puree, known locally as makhani sauce.
Rogan Josh
From beautiful Kashmir comes this aromatic gravy dish, made using lamb, goat or other meats. The rich flavors and textures are redolent of fennel, ginger, cinnamon and cardamom, tracing its culinary lineage to Persia.
Curries
Synonymous with India worldwide, curries are famous for their variety – seafood, meat, chicken, egg or vegetables. Aromatically flavored with rich spices (up to 25 spices) and curry leaves, curries are best with steamed rice or Indian breads.
Lip-smacking Veggie Foods Indians Love
Dosa
A staple south Indian breakfast/snack, dosas are fermented crispy crepes/pancakes made with a rice and black lentil batter. This thin flat bread is savored dipped in coconut chutney, accompanied by pickles, tomato gravy, lentil sauce or mash potatoes. The humble dosa finds mention in Travel CNN's World's 50 Best Foods, 2011.
Idli-Vada-Sambhar
A household south Indian breakfast/snack specialty, idlis are small round savory cakes made by steaming fermented rice and de-husked black lentils together. Accompaniments are chutney and sambhar – made with vegetables, yellow lentils and tamarind.
Palak Paneer
An integral part of Punjabi cuisine, this healthy and mildly spiced vegetarian delicacy comprises of palak (spinach) and paneer (cottage cheese), prepared in a flavorsome sauce.
Chole Bhature
Chole, another Punjabi delight, is a spicy white chickpea dish accompanied by bhatura, a fried leavened flat bread that is best washed down with a chilled lassi – a traditional sweet/savory yogurt-based drink.
Samosas
Samosas, an irresistible national passion, are triangular deep fried snacks/appetizers of savory filled (potatoes/mince meat/vegetables) stuffed pastries served with mint chutney.
Pav Bhaji
Mumbai's pav bhaji is a popular Maharashtrian fast food. While bhaji means vegetable, pav/pau means bread. The bhaji comprises spicy smashed potatoes and vegetables, while the pav is liberally drowned in butter, then sprinkled with coriander and chopped onions.
Bhel Puri-Pani Puri-Chaats
Enjoying an almost iconic position in western India, bhelpuri is synonymous with Mumbai's beaches. Dry or wet, sweet or spicy, bhel is a mix of cold, crunchy puffed rice, chopped onions, potatoes, coriander and tamarind chutney. Each street vendor has his own signature style, mixing the ingredients on the spot, served in paper plates/cones with puris doubling as spoons. Pani-puri in Mumbai, gol gappa in the north and puchka in Bengal, this chaat comprises round, hollow, crispy fried puris filled with a mix of tamarind water, chaat masala, potato, onion, chilli and chickpeas. One mouthful is all it takes!
Melt-in-your-mouth Indian Confectionery
Indian Sweetmeats
The variety of Indian desserts are limitless, with all-time hits like gulab jamun, barfi, rasmalai, rasgulla, ladoos, sandesh, kulfi and more to drool over!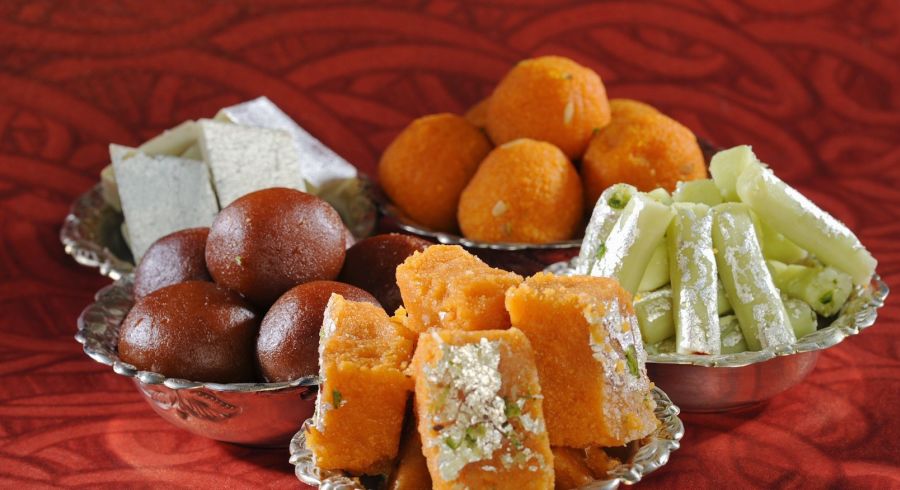 Gulab Jamun – a festive favorite, small balls of khoya and dried milk are slow-cooked, fried golden and dipped in saffron infused sugar syrup.
Sandesh – a Bengali speciality, comprising cardamom and saffron infused sweetened cottage cheese.
Barfi – made with a reduction of condensed milk, mawa and sugar, often induced with different flavors and nuts, topped off with silver varq.
Jalebi – an any occasion favorite, made with a fermented batter of corn-flour, all-purpose flour and yogurt
"You don't need a silver fork to eat good food." – Paul Prudhomme
Let Enchanting Travels showcase the best of India On A Plate. Explore Indian cuisine, where for the most part, 'the belly rules the mind!
Explore
Where do you want to go? What do you want to do? Be it popular sights or off the beaten path experiences, tell us your travel dream through our trip planner.
Design
Our destination experts will get in touch with you to craft a completely tailor-made, obligation-free itinerary to match your interests and budget.
Experience
Once you have booked your trip, sit back and relax – we'll take care of everything else. With our exceptional local team & 24/7 support, priceless memories await you!
Close