When is the best time to visit Russia?
The land of the onion-shaped domes, Russia, has a rare mix of splendid architecture, delightful parks, cities that are open-air museums, a rich and varied cultural scene, and stunning lakes. Find out the best times to visit Russia and soak in everything this diverse country has to offer.
The months of June – August present ideal weather conditions and are the best times to visit Russia. During May, the parks are bursting with flowers while in September, a golden autumn glow descends upon the cities and countryside, making it good months to visit Russia. Winters are an excellent time to see some of the most surreal snowscapes for those willing to brave the country's frigid temperatures.
Most Ideal
Low Season
OVERVIEW
It's the coldest time of the year and the month that receives the most snowfall. It is, however, a festive time to visit the country as it celebrates New Years and Christmas. Day time temperatures in Moscow range between 21°F – 25°F.
WE RECOMMEND
Visit Moscow as the entire city lights up for Christmas
Spend endless hours admiring the art at The Hermitage Museum in St. Petersburg


OVERVIEW
Snow continues to blanket the entire country. St.Petersburg and Moscow continue to experience below-freezing temperatures. With day time readings as low as 7°F, a thick top layer of ice forms on Lake Baikal.
WE RECOMMEND
Ice skate on frozen Lake Baikal that looks ethereal during winter
Visit a husky farm in Karelia and take a husky sled-ride through the snowy landscape
OVERVIEW
Day time temperatures creep up just above freezing. There is still a good chance of snow, so don't put away those winter jackets just yet.
WE RECOMMEND
Savor the best of traditional Russian cuisine in Moscow
Cozy up in a traditional Russian home with a typical home cooked meal at the Golden Ring region
OVERVIEW
The month marks the transition into spring. Day time temperatures climb into the upper 40s to low 50s, and the snow starts to melt. As a result, cities and parks are wet and slushy.
WE RECOMMEND
Spend time at one of the most iconic symbols of the country, the Red Square
Colorful domes and classic Russian architecture make the St. Basil's Cathedral in Moscow a must-visit

OVERVIEW
With day time temperatures breaking into the 60s, flowers cover the parks and gardens of Moscow and St.Petersburg. With the right conditions for sightseeing and lean crowds, May is a good month to visit Russia.
WE RECOMMEND
Give in to the idyllic charm of Suzdal
Witness the change of guards at the Kremlin
OVERVIEW
With temperatures ranging from 68°F – 73°F, it's one of the best times to visit Russia. St.Petersburg experiences the 'White Night' phenomenon where the skies stay bright even after the sun goes down.
WE RECOMMEND
Stay up to experience St. Petersburg's White Nights
Be rewarded with panoramic views of Lake Baikal as you hike your way up Chersky Mountain

OVERVIEW
It's the hottest month of the year and also the wettest. Day time highs are in the range of 71°F – 77°F. It's a busy time of the year for international and domestic travel. Locals head to the beaches to enjoy the warm sun.
WE RECOMMEND
Wander along the many canals and bridges of St. Petersburg, the Venice of the North
Kizhi Island beckons with its wooden domes churches, windmills and quaint barns
OVERVIEW
It is peak travel season in the country. Expect crowds and long lines at all the major attractions. Temperatures start decreasing, but with average high temperatures around the low to mid-70s, it is still perfect sightseeing weather.
WE RECOMMEND
Sit back and enjoy the delightful gardens and fountains of the Peterhof
Discover the Russian countryside and visit famous UNESCO World Heritage sites as you tour the cities of the popular Golden Ring route


OVERVIEW
Daytime conditions during this month are perfect for sightseeing. The surroundings start turning a beautiful golden shade. But there is a good probability of rain, and nighttime temperatures are only in the mid-40s, so don't forget your rainwear and jackets.
WE RECOMMEND
Go on a journey of a lifetime aboard the Trans Siberian railway
Take a break from sightseeing at the vibrant Gorky Park


OVERVIEW
While October starts with mild temperatures, the first snow of the season can be expected by the end of the month.
WE RECOMMEND
Climb the steps of the St Isaac's Cathedral in St.Petersburg for the best views of the city
Stroll around the Summer Garden in St Petersburg, now bathed in the colors of fall



OVERVIEW
Temperatures drop to freezing or hover just about freezing. Snowy days become a more regular feature. Temperatures in Lake Baikal are at around 23°F.
WE RECOMMEND
The country's cold temperatures call for a dip in a banya or steam bath
Head to the Russian Museum in St.Petersburg that showcases the best of Russian art


OVERVIEW
Temperatures drop further with readings in Moscow and St.Petersburg at only 27°F. With very short sunshine hours, it can be a gloomy time. However, preparations for New Year and Christmas during the second half of the month add a festive touch to the cities.
WE RECOMMEND
Witness Moscow's most iconic monuments draped by a blanket of snow – an unforgettable sight in white
Enjoy a serene horse-drawn sleigh ride through the countryside at the Golden Ring region
Dream Carefree
Go ahead and dream big. Enchanting Travels experts are here to help you plan the ultimate escape. Tell us your vision for the trip of a lifetime and we'll make it a reality.
Plan Carefree
One of our destination experts will reach out to craft a completely customized itinerary. Book your personalized journey and know that our flexible policies have you covered.
Travel Carefree
Relax and prepare for takeoff, knowing that your trip is perfectly planned and you have a personal concierge on call 24/7. Our experts are here to keep you safe and handle the details.
Close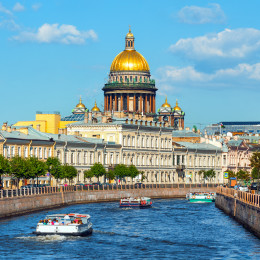 Best Time to Visit by Season
Russia experiences four seasons – a bitterly cold winter season that runs from November to March, a short spring during April and May, a brilliant summer season that starts in June and goes all the way till August, and a multi-hued autumn season during the months of September and October.
The most popular tourist season in Russia, summer, is characterized by long days, day time highs ranging from 70°F -75°F and rain! The summer months are also the wettest time of the year. From mid-May to mid-July, St.Petersburg and the cities in the northern regions of Russia experience what is called White Nights – where the sun goes down only for a couple of hours in the night and even during those hours, the sky is bright and lit up. Summer is also the season when locals head to the beaches or dachas (summer cottages) outside the city.
The autumn months of September and October see cities put on a stunning fall show. While September temperatures are cool at around 60°F, the temperature in October drops to the mid-40s. If you are visiting the country during October, you might get to see the season's first snowfall.
Temperatures are well below freezing during the winter months that run from November to March. At Lake Baikal, day time temperatures can drop to -0.4°F! Moscow and St.Petersburg see temperatures in the range of 21°F – 34°F during this period. The sun makes an appearance only for a few hours every day, and snow is common, especially during December, January, and February.
The country wakes up from a deep cold during the spring months of April and May. Day time temperatures climb up into the mid to upper 40s, leaving the streets filled with puddles. By May, the parks are bursting with springtime colors, and the fountains are operational again – a perfect month to visit Russia.
What to Pack
With widely varying temperatures between seasons, what you pack for your trip to Russia depends on when you are visiting the country.
If you are traveling to Russia during the summer, we recommend packing light layers, jeans, summer dresses, skirts and tops. The summer months see the most amount of rain in the year, so good quality rainwear is a must. You will need to pack a formal outfit if you are planning to attend an evening of ballet or opera. While visiting an Orthodox Church, wear clothing that covers your arms and legs. You will also need to cover your head for such a visit, so pack a scarf.
Temperatures during the spring and autumn months, while pleasant during the day, can get quite chilly at nights. It is advisable to pack warmer layers and jackets. Winters in Russia require you to bring out your thickest coats. We recommend you pack thermals, woolens, winter hats, warm gloves, and tall boots with rubber soles.
No matter when you visit Russia, there is plenty to see and do, so pack your most comfortable pair of walking shoes.
Get in touch with our travel experts to find out the best times to visit Russia. With a tailor made itinerary, we will help you experience the best sights and sounds of this country.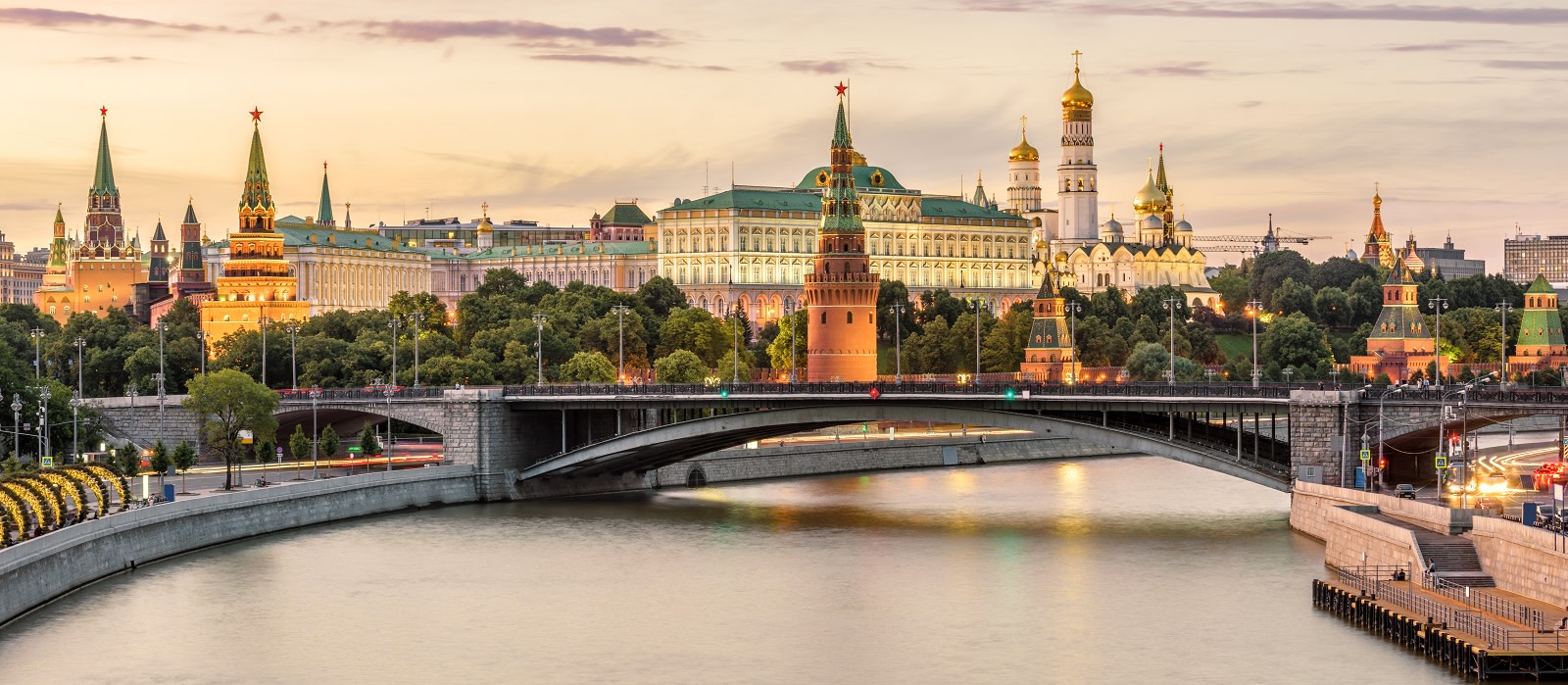 OUR AWARDS
At Enchanting Travels, our unique tours are built on extensive knowledge of our destinations, an outstanding team of professionals, and personalized top-notch service. Our work is consistently recognized by prestigious organizations across the travel industry. In 2020, we received the Travel Weekly Magellan Gold Award for the World's Leading Tour Operator – Overall and were recognized as North America's Leading Tour Operator by World Travel Awards. In 2021, we have won the Lux Life Magazine Award for the Best Global Custom Travel Company – USA.






My wife and I have been planning a trip through South America and our Travel Consultant, Lisa Fox, has provided nothing but exceptional service and support to create the perfect itinerary for this trip. Bags were nearly packed and we could picture the view from Machu Picchu, but plans have had to change due to travel safety and restrictions from the recent Coronavirus. While this could have been a very stressful time having to reschedule, rebook and who knows how much money could have been lost for what has already been paid for, Enchanting Travels has made it incredibly easy and stress free to reschedule the trip once this passes. We are very appreciative for the pre-trip support, and can already tell that the experience once we are actually on the road will be equally incredibly. Thanks for all your support!
"Great company, great people!
They helped us put together a complex schedule which included a number of experiences that we could not otherwise get. Also, in light of Covid-19, they were able to reschedule our upcoming Japan trip without additional fees, where many of my friends have scheduled similar trips (same timeframe) on their own, and all were refused a refund or reschedule without significant fees, despite having trip insurance."
"We have used Enchanting Travels twice for trips. We couldn't have been happier with the trips planned. Our first trip was a spectacular trip to southern India with driver for three weeks. This year's trip was to Scotland. Unfortunately with the corona virus pandemic we chose to postpone this trip until 2021. Enchanting travels was very understanding of our concerns and quickly responded by moving our trip with all our desired sights to spring of 2021. Couldn't ask for anything better from this stellar company with their caring staff."
"The best thing about Enchanting Travels is the people, from the trip planners to the guides to the drivers. Everyone has been friendly, courteous and professional. The activities and accommodations are planned to fit our wishes, but we still had the flexibility to add or change and activity at short notice."
Enchanting Travels is a bespoke experience. From planning my trip, through to the trip itself, everything was thought about. We traveled at a particularly difficult time, due to the Coronavirus outbreak. We were supported with everything, kept up to date with how the situation was developing and how this might affect us. Having WiFi in the car allowed us to communicate with our Trip Coordinator and check with our online government updates. Our stay was luckily not affected, but I felt so supported by the team. Our guides were ready waiting for us, could answer any questions about the sites we were visiting, they communicated with our chauffeur to ensure everything went smoothly. I could not recommend this company more highly. Excellent planning, experience, and execution. Our holiday was truly ENCHANTING!
"I recently completed a 46-day adventure tour through India that was the best ever thanks to Enchanting Travels. The Enchanting Agent began by interviewing me for an hour and came back with the perfect routing and pacing. The on-the-ground support was second to none. Enchanting says that their trip coordinators are there 'in case of emergency' but that does not come near to describing the relationship. My trip coordinator was in constant communication with me to ensure that every leg of the trip went as planned. No detail was too small for her to look after. I was assigned the same driver for 27 days and he was the 'Best Indian Driver Ever' because he did more than drive. He curated experiences on the road on those 'non-planned' days that I will remember for a lifetime. The value for money was simply remarkable. I don't think I'll travel without the help of Enchanting Travels again."
THE ENCHANTING DIFFERENCE
Do you have a vacation in mind? Let us help you create the trip of a lifetime.