Culture
Why is Malawi known as Africa's warm heart? Undoubtedly it is because of the people's friendliness and community cohesion. During your Malawi tours, you'll find that the people here live in extended families huts in the rural areas of the country and are of Bantu origin.
There are three main languages spoken in Malawi, Chichewa, Chitimbuka and Chiyao, which come from the three main ethnic groups. Chewa form the largest group, mostly in the center of Malawi, whilst the Yao live around Lake Malawi in the south and the Tumbuka people live in the north. Christianity is the major religion of Malawi.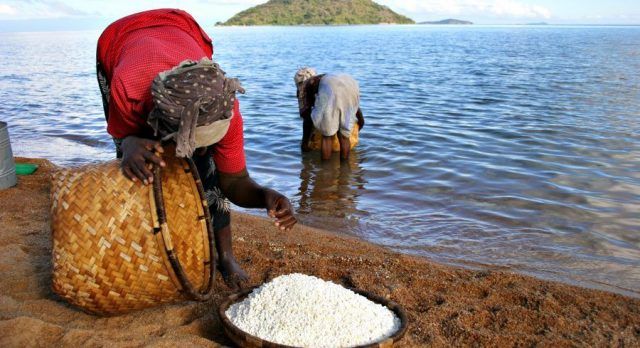 Music is integral to the culture of Malawi and you can enjoy the a cappella Christian spiritual songs just as much as soft reggae. One of the oldest dance styles was the Gule Wamkulu (great dance) where the dancers would adorn themselves in animal hides, ragged cloth and masks to summon the spirits of dead relatives and animals alike, all to the hypnotic beats of a drummer.
During your Malawi tours, you will have the chance to see the Malinpenga dance, which has its origins with the local Tonga people near the northern shore of Lake Malawi, who mimicked the soldiers dance moves in an exaggerated manner.
Chitale, a call and response dance, can be found being performed by young girls on full moon nights – and is considered a competitive sport locally. Art is also an important element of the culture of Malawi, and you can expect streetside stalls brimming with colorful wax batiks and intricately carved sculptures and furniture made from exotic woods of ebony, teak and mahogany.
'Chief chairs' and three-legged tables (complete with a chessboard and the strategic bao board game, or African scenery) are renowned in the country as they can be disassembled and reassembled with ease.
Cuisine
As it is agricultural society, food during your Malawi tours will be no different from other southern African countries where the focus is on quantity. Nsima (maize/corn) porridge, is the main staple of mealtimes in Malawi and is sometimes molded into patties and served alongside ndiwo (fresh vegetables, beans or meat). Rice, cassava and potatoes occasionally replace the nsima, especially for special occasions.
Don't worry about finding enough eateries during your Malawi vacation. Whilst food prepared at home is preferred, villages usually have a restaurant too, even if it is just a chippie that serves fried potatoes over an open fire.
Don't forget to try:
Kondowole: a sticky version of nsima, made from cassava flour and usually served with fish
Kachumbari: a tomato and onion salad
Mkhwani: pumpkin leaves, often served with peanut flour
Mandasi: Malawi's version to donuts, and a wonderful sweet, fried treat!
Ujeni Ndiwo: Ujeni means whatever, so you won't be surprised that this dish is made up of any ingredients that are readily available.
Chimbama/Mkate: Malawi's own version of banana bread, served in banana leaves and cooked on coals.
Fried White Ants: yes! who needs popcorn as a snack when you can eat large termites in the winged stage?
Biltong: a South African beef jerky
Top Malawi Travel Tips – Cuisine:
Food is eaten with hands and it is expected that you communally wash your hands before and after eating.
The Enchanting Travels team welcomes you on one of our private and tailor-made Malawi tours.
History
The early history of Malawi is limited but it is known that both Stone Age and Iron Age settlers made the environs of Lake Nyasa their home, prior to the ethnic Bantu peoples moving into Malawi. In the 1500s Malawi traded with Mozambique's coastal regions and, aside from a few Portuguese Jesuit missionaries, there were relatively few visitors to the country until Scottish missionary explorer David Livingstone arrived in 1859.
Churches were built and a British consul was developed. Nyasaland, as the country was formerly known, became a British protectorate in 1891. In 1915, an African preacher who was unhappy about the treatment of the African people by the colonial powers, led a short uprising.
It was not until 1964 that Nyasaland, gained independence in 1964 and was given its new name, Malawi. Hastings Kamuzu Banda, known as Ngawasi (Fearless Warrior), became the first prime minister and modeled his government on the United Kingdom. Banda was a particularly interesting character: he always wanted a group of female dancers (mbumba) to accompany him, he expected servants to crawl out of the room facing him and streets would be at a standstill when he traveled through Malawi.
The country was declared a republic two years later. Today, Malawi is a thriving nation and Malawi tours bring an increasing amount of revenue to the country.
Explore
Where do you want to go? What do you want to do? Be it popular sights or off the beaten path experiences, tell us your travel dream through our trip planner.
Design
Our destination experts will get in touch with you to craft a completely tailor-made, obligation-free itinerary to match your interests and budget.
Experience
Once you have booked your trip, sit back and relax – we'll take care of everything else. With our exceptional local team & 24/7 support, priceless memories await you!
Close