Seychelles Travel Tips
Traveling to Seychelles? Our destination experts share the top Seychelles travel tips for you.
Visa Information
A visa is not required by nationals of the UK, US, Australia, Canada, Europe and Japan as long as you have: an onward or return ticket; a valid passport, and proof of sufficient funds. You may also need to provide proof of accommodation that you have organized for the duration of your stay. For nationals of these above-mentioned countries, a visitor's permit, which is valid for up to one month, will be issued upon arrival. This permit may be renewed, provided you hold a valid open return ticket and apply at least one week before the permit expires. Nationals of all other countries are advised to contact your embassy to check for Visa requirements.
Currency and Cards
The currency of the Seychelles is the rupee (SCR) but tourists can also pay in US Dollars or Euros.
In Seychelles, you are required by law to pay exclusively in a common foreign currency. Therefore, all the costs that you incur, such as accommodation charges, car rental costs, entrance fees for national parks, diving or chartered boat expenses, need to be paid in US Dollars or Euros. Typically, payments can also be made via credit cards. Taxi and restaurant bills that are not directly related to your accommodation, must be paid in local currency or a commonly used foreign currency. Seychelles rupees are accepted only at local markets, shops and nightclubs.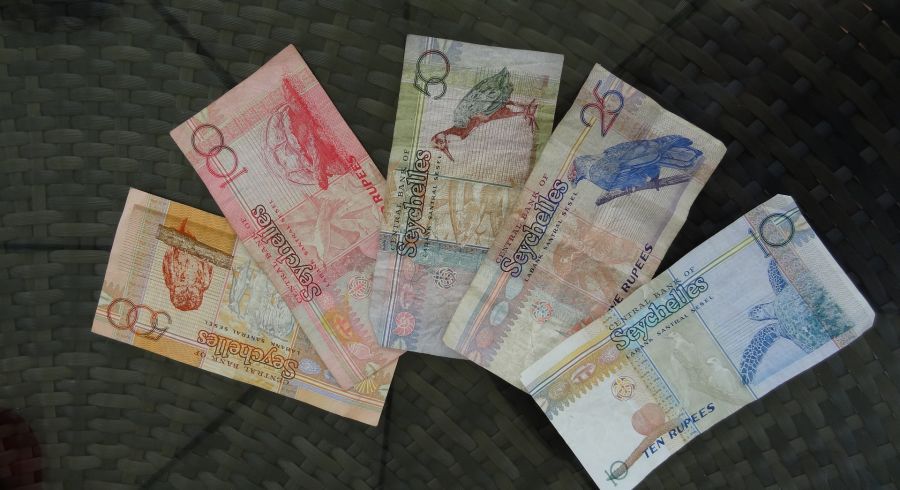 Although most international currencies are likely to be accepted, it is best to carry US Dollars or Euros with you. Access, American Express, MasterCard and Visa are widely accepted, with limited use of Diners Club cards. You will find that ATMs are readily available in Mahe and Praslin. Your Traveller's Cheques will be accepted in most hotels, restaurants and shops although you are advised to take cheques in either US dollars or Euros. Exchange facilities are available at the airport banks as well as at regular banks, which can be found throughout the major islands. Keep your original currency exchange receipts so you can use them to re-exchange currency while departing.
Communication
The international country code for Seychelles is +248.
The telecommunications system is quite developed in Seychelles. International calls are typically made through the satellites and communication between individual islands and the African coast is through the radio. Most luxury accommodations, no matter how remote, offer Internet connectivity, telephone and fax facilities.
Health
A yellow fever vaccination certificate is required by all travelers arriving from infected areas. It is important that you carry mosquito repellent and wear long sleeved clothes and trousers at dawn and dusk as there are occasional outbreaks of dengue fever and other mosquito-borne illnesses. Rabies may be present in certain areas. Some cases of typhoid have been reported in rural areas, and hepatitis A and B can also occur in the islands.
The sun is extremely powerful in the Seychelles as it is so close to the equator. Even if it doesn't seem to be very bright outside, you can still burn easily. It is essential to use sunscreen and drink plenty of water to avoid dehydration. Tap water is normally chlorinated and although relatively safe, it may cause mild stomach upsets so it is advisable to drink only bottled water. Milk is pasteurized and dairy products are safe to eat as well as local meat, poultry, seafood, fruit and vegetables.
You will find a large hospital in Victoria and clinics elsewhere on La Digue, Mahe and Praslin, but medical facilities are somewhat limited. There are several pharmacies available in Victoria, but they are pretty sparse elsewhere. On other islands, government clinics are available, but treatment offered is not always up to international standards. You can avail of emergency treatment for a basic consultancy fee, although any additional medical treatment could be expensive. We recommend that you sign up for comprehensive medical insurance for any unforeseen circumstances.
Observing local customs
The local people in the Seychelles live a simple and unsophisticated island life and tourism is carefully controlled so that the charm and natural beauty of the island is protected and undisturbed. Shaking hands is the customary form of greeting for both men and women. Seychellois are very hospitable and enjoy inviting guests to their homes. If you are lucky enough to be invited to someone's house, taking a simple gift is the norm. Casual wear is essential, with formal clothes only being worn to church services. Swimwear and revealing clothes should only be worn on the beaches or by the pool.
Tipping and taxes
Tips in restaurants and hotels as well as tips for taxi drivers and porters are usually included in all bills, as a 5 to 10 percent addition. If however, you are extremely happy with the service, an additional 5 or 10 percent will be much appreciated. Tax-free shopping can be enjoyed at the international airport in Victoria.
Safety
In Seychelles, as with anywhere else in the world, some basic safety precautions will go a long way to ensure that your vacation is stress-free and seamless. Rely on your common sense while traveling and take care of your handbags, wallets and cameras. Keeping your valuables, jewelry and watches inside the safety box of your hotel is recommended. For further information and Seychelles travel tips, follow this link.
The best time to travel to Seychelles
Although you can travel to the islands throughout the year, the best time to travel to Seychelles is between May to October when the weather is most pleasant. Follow this link for more information on the best time to travel to Seychelles.
Best time to travel to Seychelles
Seychelles travel tips from our experts
Our destination experts are happy to share their personal Seychelles travel tips and plan your personalized and private tour of Seychelles. Contact us today for your obligation-free itinerary.