Sri Lanka Travel Guide
Culture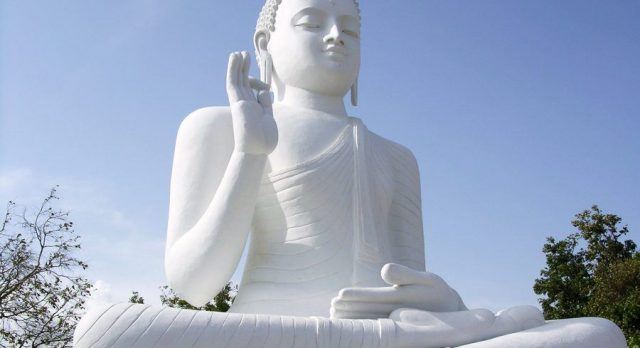 The indelible imprints of Indian, Portuguese, Dutch and British people have influenced Sri Lankan culture for centuries. As you travel in Sri Lanka, you will see indisputable evidence of the local culture reflected through the art, architecture and even food. From the frescos of Sigiriya and the caves at Dambulla to the colonial architecture of the southwest, one of our private Sri Lanka tours have much to offer the art and architecture enthusiast!

Theravada Buddhism has been a major influence on the culture of Sri Lanka from 3rd century BC. While English is spoken in urban areas, nearly 75% of the population speak the Sinhala language, while Sri Lankan Tamilians speak Tamil. The Sinhalese and Tamil both believe themselves to be the original residents and have their own version of history and traditions. Today, Sri Lanka is a relatively calm country with peace-loving, friendly people.
The country is one of the world's largest producers of tea and naturally, tea-drinking is an integral part of daily life here, and all visitors are offered tea during their Sri Lanka tours, with no exceptions!
Top Sri Lanka Travel Tip – Culture:
Do include the Kandy Perahera during your Sri Lanka tours.This is an annual festival that commemorates Buddha's Sacred Tooth Relic and draws visitors from all over the world!
Cuisine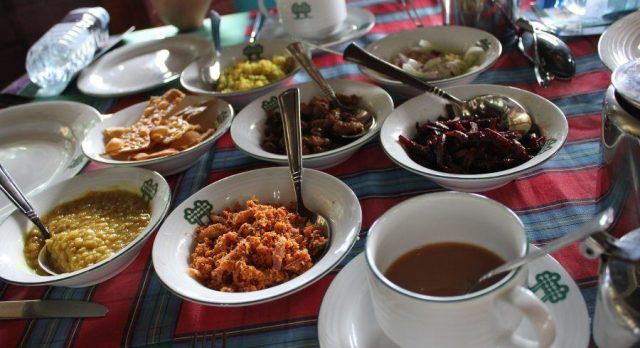 The cuisine of Sri Lanka hosts a fascinating culinary heritage and is heavily influenced by the Portuguese, Dutch, Malays, Arabs, and South Indians. Rice and curries are staples, and most traditional meals consist of a massive mound of rice surrounded by various curries made of vegetables, meat or fish, and sprinkled with lots of spices.

On your Sri Lanka tour, you will find few restaurants famous for the local cuisine, with most visitors preferring to eat in the comfort of their hotel. Eat in a local restaurant to soak in ambience rather than sample local delicacies.
Try some of authentic Sri Lankan cuisine:
Kottu or Kothu roti: a medley of chopped roti, vegetables and your choice of meat
Short eats: the Sri Lankan equivalent of snacks, including include cutlets, samosa, patties, fish/meat bun, dhal (lentil) vada, stuffed chilies and ala bola (potato balls)
Hoppers: a cross between a muffin and a crumpet, served with a soft-baked egg on top
String-hoppers: steamed circlets of rice flour, thinner than noodles
Deviled chicken: deep fried chicken smothered in sauce
Top Sri Lanka Travel Tip – Cuisine:
Sri Lankan food can often be quite spicy and on a par with hot Thai food. Chilli powder is popularly used everywhere and you are better off asking for food that is medium spicy.
The Enchanting Travels team is happy to help you plan your private and tailor-made Sri Lanka tour.
History
Sri Lanka tours introduce you to an enchanting history and kaleidoscopic culture! For centuries, thousands have visited the country as its location in the Indian Ocean made it an important stopover on trade routes. Anthropologists suggest that it was occupied as early as 32,000 BC and historians speak of a large scale migration of Indo-Aryans in the 5th century BC, followed by some Tamil people from neighboring India a few centuries later.

The arrival of Buddhism in the 3rd century BC greatly influenced the Sri Lankan people and strengthened their sense of nationhood, although it was only in the 12th century AD that King Parakrama Bahu united the entire nation. You can still see some of the beautiful architecture they left behind on private Sri Lanka tours. The Portuguese and Dutchmen colonialists were overthrown by the British who controlled the country till 1947.
Trouble started between the Tamil and Sinhalese in Sri Lanka after it gained independence and civil war broke out in the 1980s. The war ended decades later when the Tamil Tigers, a militant faction, were finally defeated.
A major producer of rice, tea, coconut and rubber, the country is far from backward today. Sri Lankan tourism has also prospered and is a major source of income.
Top Sri Lanka Travel Tip – History:
Discover the UNESCO World Heritage Site of Dambulla caves on our private Sri Lanka tours, which date back to the 1st century BC, and were transformed into living quarters for monks and are an important record of Buddhist history.
Explore
Where do you want to go? What do you want to do? Be it popular sights or off the beaten path experiences, tell us your travel dream through our trip planner.
Design
Our destination experts will get in touch with you to craft a completely tailor-made, obligation-free itinerary to match your interests and budget.
Experience
Once you have booked your trip, sit back and relax – we'll take care of everything else. With our exceptional local team & 24/7 support, priceless memories await you!
Close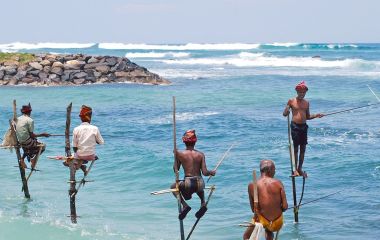 A Beautiful Escape: Best Beaches in Sri Lanka
Nirvana for beach lovers, we share some of the best beaches in Sri Lanka, defined by charming golden-hued sands, horizon-less cerulean waters and beautiful landscapes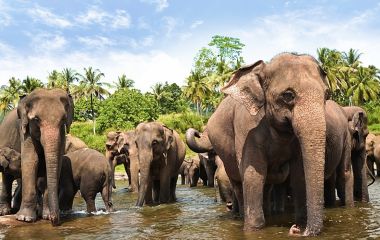 The Best Wildlife Experiences on your Sri Lanka Tour
Make the most of your Sri Lanka tour with these fabulous wildlife experiences.  The tiny island of Sri Lanka boasts not only sun, beach and ancient culture but also fabulous wild life making it an alluring destination for private Asia tours. Jungles, forests, wetlands have been made into sanctuaries teeming with every species of mammals, […]
POPULAR TRIPS TO sri lanka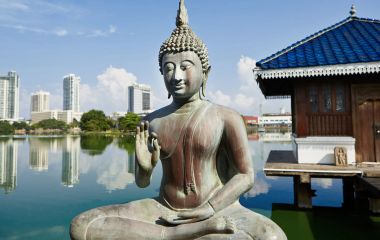 Sri Lanka: Ancient Wonders and Beaches
16 Days: $ 4,732 $ 4,290
/ person
Immerse yourself in the spirit of Sri Lanka with its rich Buddhist heritage, and let friendly locals welcome you with a warm smile. Explore colonial hill stations, tea plantations and ancient, lost cities.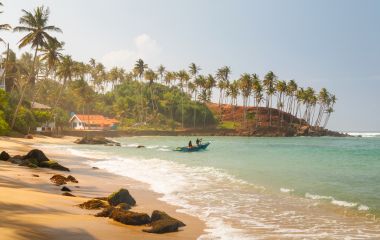 Tea Country, Colonial Gems and Golden Beaches
15 Days: $ 5,399 $ 4,890
/ person
Uncover the beating heart of Sri Lanka, from its beautifully preserved UNESCO World Heritage sites to its ancient cities, verdant plantations, lush green national parks and golden beaches! With sumptuous stays in planters bungalows, heritage properties and plush beach resorts, experience the best of Sri Lanka.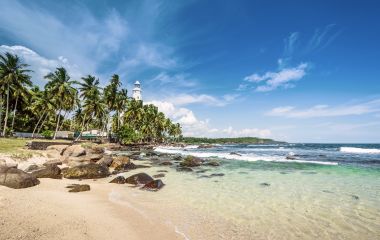 Sri Lanka's Heritage Cities and Unspoiled Landscapes
15 Days: $ 5,090
/ person
Unspoiled natural beauty, fascinating wildlife and ancient heritage – discover the best of Sri Lanka, far away from the beaten track. Spend time in remote national parks and on pristine beaches, and also see famous architectural and cultural gems in the heritage cities of Kandy and Galle.
Load More
THE ENCHANTING DIFFERENCE
Enchanting Travels made planning this vacation a breeze. I didn't stress at all during the trip, especially since there was also someone there to help with international transfers. All of our guides spoke English well and were quite accommodating.
Enchanting Travels employs people who really know how to listen to their clients and provide an exciting itinerary that is also safe and flexible. Everyone we worked with, from Brenda and Lavina to our guides Mr. Pongthep and Sangay, and our chauffeur Kengua, were professionals who seemed to really enjoy showing us their beautiful and exciting countries.
Go to Bhutan now! We don't believe it is really going to stay this way for long. And it really is unique right now. Building laws require that dwellings be built in the traditional fashion and this makes for the most beautiful and original vistas. No one goes to Bhutan for the cuisine.
Do you have a vacation in mind? Personalize your itinerary with our Trip Builder.