Cuisine
Thailand is believed to be a paradise for gourmets as it has no restrictions in terms of food. The traditional cuisine of Thailand is a beautiful balance of sweet and spicy flavors, and includes everything from grilled meat and stir fries to delicious soups and salads that literally melt in your mouth.
You will find that rice is nearly inescapable during our Thailand tours! It is a staple part of the diet and available in two varieties – the standard white type or the glutinous sticky rice, which is rolled in balls and eaten mostly in the northeastern parts. Thai people enjoy a variety of tropical fruits and coconut. Coconut milk is very popular. Street-side vendors are popular for grilled satays and other delicious varieties of meat.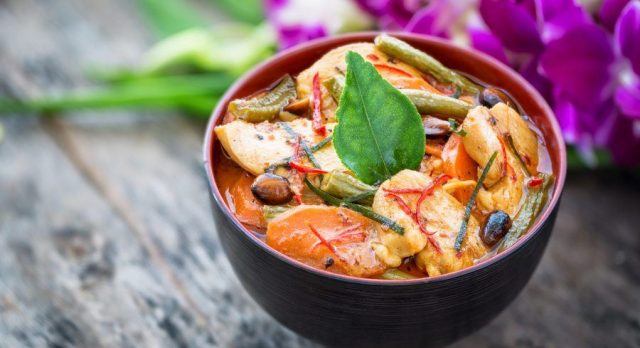 Typical regional Thai food that you can enjoy during one of our private Thailand tours include:
Khao Thom: a rice porridge
Tom Yum: a spicy and sour soup
Kaeng Phet: the ever-popular spicy Thai red curry
Pad Thai: fried rice noodles
Khao Niew Mamuang: mango sticky rice
Feel free to indulge yourself at any one of the celebrated restaurants in the country, and especially in Bangkok, duringour bespoke Thailand tours.
Culture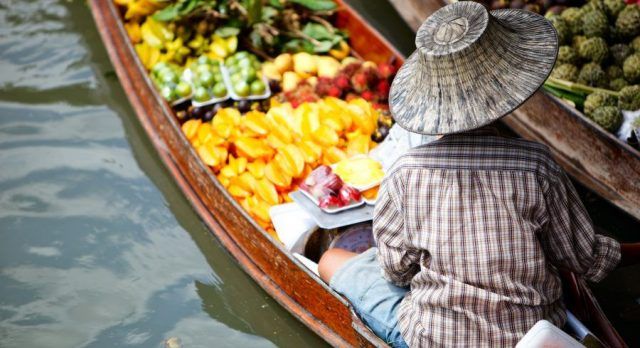 Our Thailand tours offer you real adventure and relaxation with a heady mix of glistening temples, amazing festivals, gorgeous tropical islands, delectable food and friendly people. As you travel in Thailand, you will discover a nation that is slowly transforming into a developed country from a developing one, while maintaining its rich and distinct heritage and culture.

Thai people are generally very relaxed and tolerant, and they believe in being happy and having fun – the word 'sanuk', which roughly translates to the French notion of joie de vivre, is central to the Thais' philosophy of life! You will find that religion is a powerful aspect of Thai culture and about 90% of the people follow Theravada Buddhism.
Thai is the official language of the country. Although English is a mandatory subject in schools, the number of fluent English-speakers is limited to the urban areas. Thai people don't normally shake hands but respectfully greet one another with the traditional wai by folding their palms together.
Top Thailand Travel Tips – Culture:
During one of our Thailand tours, avoid touching people on the head and do not point to your feet at people or an object as this is considered very rude.
Remove your shoes before entering a private residence and do avoid public displays of affection.
History
Thailand was home to some of the oldest inhabitants in the world – agriculturalists who lived in the fertile Mekong valley. Our private Thailand tours take you deep into the verdant valley, which is one of the largest producers of rice in the world!

The population of Thailand migrated from China between 10th and 14th century AD and the Khmer kingdom, on the border of present-day Cambodia, influenced the culture, art and architecture of Thailand considerably. Several dynasties ruled Thailand between the 14th and 18th centuries and in the 19th century, the country appointed westerners to advise the court.
In 1939, the country changed its name from Siam to Thailand, meaning Land of the Free – a resounding philosophy evident during Thailand tours! After the second World War ended, Japanese supporters assassinated the king and went on to control the country for the next two decades. Between the 1970s and 1990s, Thailand saw a series of political upheavals. The financial crisis of 1997 opened the country's eyes to its destabilized economy and economic reforms were finally implemented.
Until recently, Thailand has charted through difficult waters – from the unrest in the South to the devastating tsunami of 2004, and the continuous dispute with neighboring Cambodia over Angkor Wat. Today, peace talks have restored harmony and Thailand tours have flourished.
Explore
Where do you want to go? What do you want to do? Be it popular sights or off the beaten path experiences, tell us your travel dream through our trip planner.
Design
Our destination experts will get in touch with you to craft a completely tailor-made, obligation-free itinerary to match your interests and budget.
Experience
Once you have booked your trip, sit back and relax – we'll take care of everything else. With our exceptional local team & 24/7 support, priceless memories await you!
Close