Top Things to do in Agra
Plan your Agra holidays around the top things to do in Agra.
With the stunning Taj Mahal, historic Mughal heritage, vibrant local culture and cuisine, Agra is a delightful travel destination. The city has so much to offer for a range of travelers. Whether you are a history buff, a gourmand or want to celebrate a romantic vacation, Agra will not leave you disappointed.
Here is a list of the top things to do in Agra curated by our Enchanting Travels specialists, which should definitely be part of your Agra travel guide!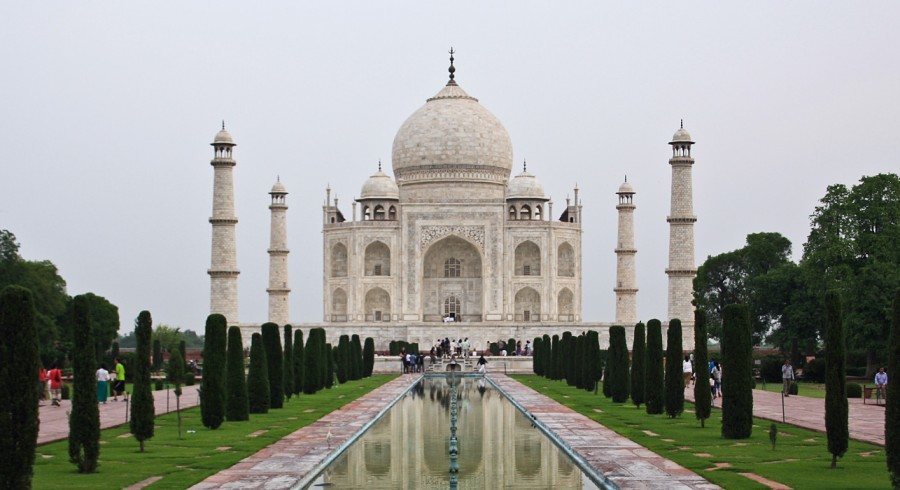 Explore
Where do you want to go? What do you want to do? Be it popular sights or off the beaten path experiences, tell us your travel dream through our trip planner.
Design
Our destination experts will get in touch with you to craft a completely tailor-made, obligation-free itinerary to match your interests and budget.
Experience
Once you have booked your trip, sit back and relax – we'll take care of everything else. With our exceptional local team & 24/7 support, priceless memories await you!
Close
1
Visit the Taj Mahal at night
The glorious feat of Mughal architecture, the Taj Mahal, is an incredibly beautiful sight by moonlight. Experience a memory of a lifetime – it is said that the Taj Mahal changes its colors during the full moon nights, so if you're visiting during such a time, don't miss out on this spectacle!
Visiting the Taj Mahal is definitely one of the top things to do on your Agra vacation!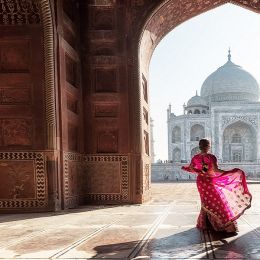 2
Watch 'Mohabbat, the Taj Mahal Story' – A dance and drama Show
Enjoy an evening of dance and drama at Agra's Cultural and Convention Centre and see the world's largest replica of the Taj Mahal in pure white Makrana marble, designed by 28 designers and craftsmen over seven years!
The show depicts Mughal Emperor Shah Jahan's immortal love for his wife Mumtaz Mahal and is performed by The Sanskritik Natyashala group – a series of plays enacting expressions of love. One can enjoy the show in eight different languages too!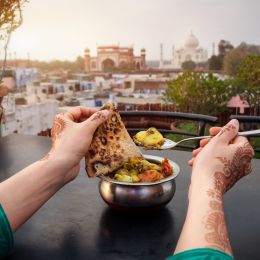 3
Take a culinary tour of Agra
At dusk, hop in and out of some of the oldest and top-rated food joints in the city. Savor over a dozen mouth-watering dishes whose recipes have remained unchanged for generations – drawn by the flavors and the aromas, hundreds flock to these restaurants every day!
Sample a host of famous North Indian street food with plenty of vegetarian and non-vegetarian options available. One of the top things to do in Agra!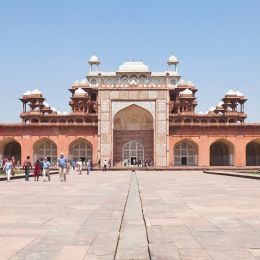 4
Discover history in Sikandra
Visit Sikandra, a town close to Agra where there is much rich history to breathe in, including the tomb of the great Mughal Emperor, Akbar. Visit Itmad-ud-Daulah, popularly known as the Baby Taj for its similarities to the Taj Mahal, which it predates. The beautiful mausoleum houses the body of Itimad-ud-Daulah, a poor Persian merchant who found himself in the courts of Emperor Akbar.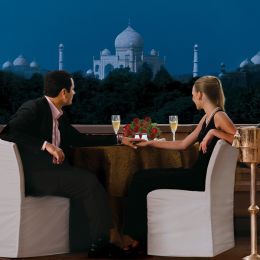 5
Relish a regal Mughal dinner at the Oberoi Amarvilas
Savor traditional Indian cuisine, authentic flavors and elegant Mughal dynasty settings, amid views of the hotel, gardens and water bodies. Glimpse traditional grandeur with a Mughal-theme evening and royal dinner.
Sultry melodies of Indian classical music, low-seating seats, blazing torches and a grand three-course Royal Indian thali (plate) showcase the Mughal heritage and kitchens of yore.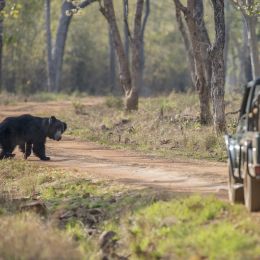 6
Visit a Bear Rescue Center in Agra
Wildlife SOS Bear Rescue Facility works to rescue and rehabilitate animals under the Indian Wildlife Protection Act, saving over 600 bears.
Take a guided tour to meet rescued Indian Sloth Bears, followed by an informative presentation on holistic solutions aimed at eking out human/wildlife conflicts.
Discover all the best things to do in Agra by booking your vacation with our experts at Enchanting Travels. Contact us for your tailor-made and obligation-free tour itinerary.
THE ENCHANTING DIFFERENCE
One of the very best travel experiences I have ever had. We even got updates once at 3 am! He also made one change in one day's itinerary to accommodate our wishes which was very wonderful. For business, I have traveled to Europe, Russia, all over Asia and South Africa but was blown away by all the beautiful sites in Argentina and Chile.
All the little touches made by our Enchanting Travel consultant, Amelia Edwards, were noticed and recognized by my wife and I. Thank you for making our milestone trip (25th wedding anniversary) such a memorable one! We look forward to engaging Enchanting Travels again for our next South American adventure!!
This was my first adventure as a solo traveler. But while I may have traveled on my own, I was never alone. I was well taken care of by a superb team of planners, trip coordinators, guides and drivers.
Do you have a vacation in mind? Personalize your itinerary with our Trip Builder.