Things to do in Bolivia
What are the top things to do in Bolivia? From traversing endless salt flats, to climbing mountains and discovering unique cultural delights, our destination experts share their personal favorites.
1. Cable Cars and La Paz Witches Market
Gain an aerial perspective on La Paz – the highest seat of government in the world! The modern cable cars that operate through the city offer fantastic views of the cityscape from high up in the air. Make sure you visit the famous La Paz Witches Market where magical souvenirs (in the literal sense) are readily available!
2. Moon Valley and Death Road 
Embark on an exciting day trip or spa break from La Paz. Just a few kilometers outside the city lies the Moon Valley where bizarre rock formations bid you welcome! Adventure enthusiasts will especially enjoy a bike ride down the notorious Death Road.
3. Pre-Incan ruins in Tiwanaku
En route to Copacabana from La Paz, stop to visit the impressive Tiwanaku ruins – one of the most important ruins in Bolivia that stand as evidence of an ancient, Pre-Incan civilization.
4. Lake Titicaca
From Copacabana, travel to the sunny Isla del Sol island on Lake Titicaca. Walk past verdant hills, discover mystical Inca ruins and soak in the breathtaking view of the highest navigable lake in the world on your tour of Bolivia!
5. The salt flats in Salar de Uyuni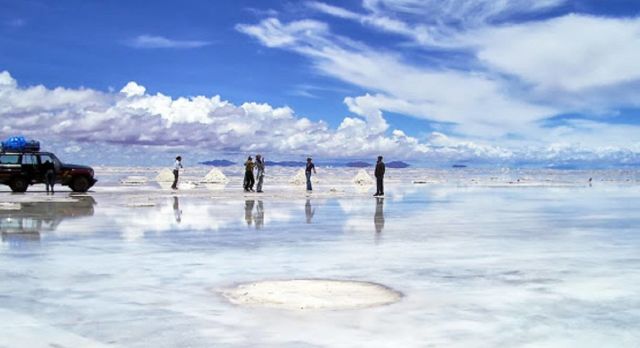 The largest salt flat in the world, Salar de Uyuni, offers numerous natural wonders spread over a vast surface area of more than 12,000 km²! Smoking geysers, colorful lagoons, hot thermal springs and majestic flamingos await, apart from a magical feeling of undefinable freedom!
6. Salt hotels in Uyuni
In the Uyuni desert, a very special overnight experience awaits you. A night at a salt hotel in Salar de Uyuni will make your Bolivia tour an unforgettable experience.
7. Madidi National Park
Insider tip for nature and adventure trips: The Madidi National Park, accessible through the town of Rurrenabaque. One of the most bio-diverse ecological hot spots in the world, it is ideal for adventure and nature lovers who travel to Bolivia.
8. Sajama village tour
Travel Tip from our Destination Experts: If you want to experience an authentic and off the beaten track Bolivia tour, then the remote village of Sajama shouldn't be missed! Only a few tourists ever visit there – so you have the magnificent view of the highest mountain in Bolivia, after which the village is named, almost all to yourself!
9. The colonial city of Sucre 
Don't miss the capital city of Sucre on your trip to Bolivia! A UNESCO World Heritage site, this colonial city is densely populated with unique museums, quaint churches and impressive monuments.
10. Famous Silver Mine and Museum in Potosi
In Potosi, visit the world-famous Cerro Rico Silver Mine – once upon a time, this mine had brought much prosperity to the city. The iconic Museum Casa de la Moneda bears testimony to the historical and cultural changes that Potosi has seen over the years.
Read more Bolivia travel tips in our travel blog!
The top things to do in Bolivia
Why miss a highlight when you can see all that you want? Our destination experts will help you plan the ideal route for your private tour of Bolivia!