Plan your Vietnam holidays around the top ten things to do in Vietnam!
To travel in Vietnam is to experience one of southeast Asia's true cultural delights. There are culinary delights to savor, architectural marvels from its colonial past to admire, caves and underground tunnels to explore, lush hilly slopes to hike on, and floating markets and quaint towns to visit. Cities and towns such as Hanoi, Ho Chi Minh City (formerly Saigon), Sapa, Hoi An, Da Nang and Nha Trang are a must-visit on your Vietnam trip, as is the scenic Mekong Delta, and cruising in Halong Bay (or Ha Long Bay). 
With so many cities that are a must-see, how do you decide where to go and what to visit? Where should you take a full-day tour, what requires a multi-day visit and what can you explore on a half-day trip? What are the best cruises? What things are there to do and see in Vietnam? This is where our destination expertise comes in, helping you craft that perfect Vietnam vacation.
Here is a list of the top ten things to do in Vietnam, curated by our Enchanting Travels specialists, which should definitely be part of your Vietnam travel guide!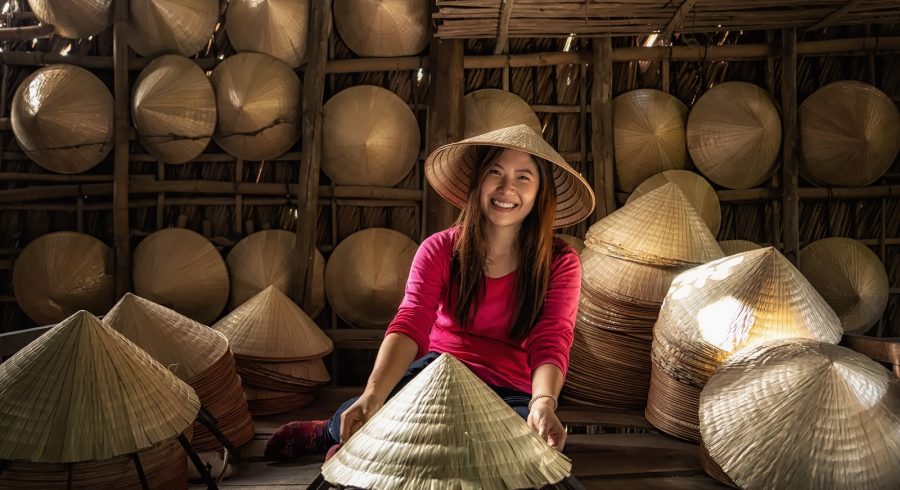 Explore
Where do you want to go? What do you want to do? Be it popular sights or off the beaten path experiences, tell us your travel dream through our trip planner.
Design
Our destination experts will get in touch with you to craft a completely tailor-made, obligation-free itinerary to match your interests and budget.
Experience
Once you have booked your trip, sit back and relax – we'll take care of everything else. With our exceptional local team & 24/7 support, priceless memories await you!
Close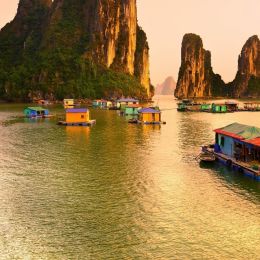 1
Go on a cruise in Halong Bay (or Ha Long Bay)
Explore the natural wonders of Halong Bay (or Ha Long Bay) on a traditional cruise. More than 3,000 limestone cliffs tower out of the water making Halong Bay (or Ha Long Bay) one of the most magical places in Vietnam. Halong Bay (or Ha Long Bay) is a designated UNESCO World Heritage site and the best way to savor its scenic delights is on an upcycled traditional Chinese junk, fitted with all manner of amenities!
Several of the islands in Halong Bay (or Ha Long Bay) have grottos and caves, with spectacular stalactites and stalagmites and lead to secret freshwater lakes. Some of the islands support floating villages, the home of local fishermen. As you cruise through the crystal clear waters of Halong Bay (or Ha Long Bay) with its coral reefs and white sandy beaches, it is not difficult to see why this is one of the top attractions in Vietnam.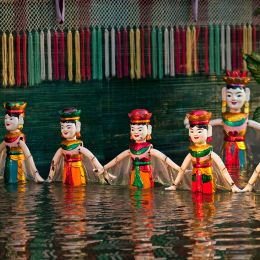 2
Enjoy a Water Puppet show in Hanoi
A unique experience in Vietnam awaits! Visit the enchanting water puppetry theater in Hanoi in northern Vietnam. This ancient art form has existed since the 11th century. The performances are accompanied by a live orchestra, which plays traditional Vietnamese music.
Hanoi is a treasure trove of cultural experiences. Hanoi was the erstwhile capital city and the seat of government for Vietnam for over a thousand years. While Hanoi is embracing modernism and skyscrapers and bustling traffic are the norm, the city's rich past, which is steeped in French and Chinese influences, continues to peek through.
When in Hanoi, explore the ancient monuments and remnants of colonial imperialism in the city. The Old Quarter sees many vibrant night markets. And away from the hustle and bustle, Hanoi has a tranquil side as well. Sights like its lush green countryside and Hanoi residents practicing Tai Chi and peacefully relishing the staple noodle dish pho all add to the serene charm – there are so many diverse experiences to savor in Hanoi!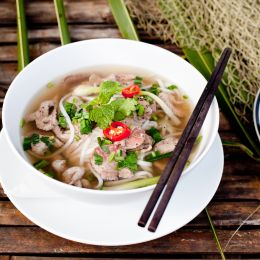 3
Enjoy the culinary delights of Hanoi
Hanoi is ideal for food lovers! It has a vibrant food scene and your options are aplenty. Cha Ca (a fish dish cooked with turmeric and dill), Bun Thang (rice vermicelli with chicken, egg and pork) and Banh Goi (fried dumplings) are just some of the dishes you must try on a culinary tour of Hanoi!
You can visit the plethora of street food stalls that dot the city, the local markets for fresh produce or choose to dine in exquisite gourmet restaurants. One thing is for sure – you will not go hungry in Hanoi!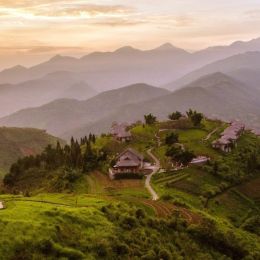 4
Explore the delights of Sapa
Surrounded by lush green mountains, the dreamy village and picturesque market town of Sapa offers exciting excursions! Explore the scenic mountains by bike, visit authentic villages, or enjoy the overwhelming view of the highest mountain in Vietnam, Mount Fansipan. 
Sapa lies on the border of China and is home to many ethnic minorities. Sapa's natural beauty is enthralling: expect lush rice terraces dotting its hillsides, towering ridgelines, old-style mud-thatched villages, raging rivers and marvelous waterfalls.
Mount Fansipan in Sapa is regarded as the kingdom of orchids. It will be hard to not be fascinated by hundreds of orchids in all shapes and sizes and colors!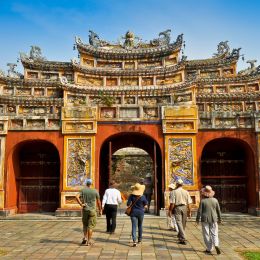 5
Explore the historical sights of Hue
The former kingdom of Hue is one of the cultural centers of Vietnam. The Song Huong (Perfume River), named after a scented shrub that grows here, bisects the city of Hue. Along the Perfume River, there are numerous pagodas, tombs and picturesque river streams scattered throughout the city. 
Hue makes a great base for exploring the Demilitarized Zone and is an important literary and cultural center in Vietnam.
6
Go hiking in Dalat (or Da Lat)
The colonial village of Dalat (or Da Lat) enchants with its French charm. The village boasts a pleasant and mild climate all year round – making Dalat (or Da Lat) ideal for hiking in the surrounding nature.
7
Discover the wonders of Ho Chi Minh City (HCMC)
Visit Ho Chi Minh City (or Ho Chi Minh), formerly Saigon, where you can explore the floating Cai Be Market, the War Remnants Museum that gives you an insight into the Vietnam War and the Notre Dame Basilica, built by French colonial architects.
Ho Chi Minh City is still often referred to as Saigon. It was a Khmer seaport in the 17th century and then became a French colony, and today, Ho Chi Minh is the largest city in Vietnam. There is a stunning blend of European, Vietnamese and Chinese culture in Ho Chi Minh city, amply visible through its beautiful architecture. Ho Chi Minh is also dotted by rivers, arroyos and canals.
Some of Vietnam's finest hotels can be found in Ho Chi Minh. It is also home to a plethora of eateries, from simple or Parisian style street cafés to high-end Vietnamese and international restaurants. And if there is one thing that is associated with Ho Chi Minh City, it is its bustling traffic! You too can head out on a Vespa for a culinary tour in Saigon!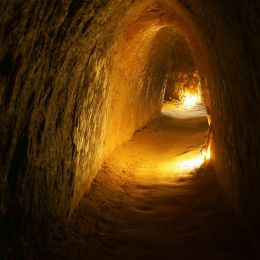 8
Explore the Cu Chi Tunnels
Visit the Cu Chi Tunnels to learn more about one of the darkest chapters in Vietnamese history. The Vietnamese were hidden in this 200 km long tunnel system during the Vietnam War. A moving museum recalls the suffering years.
9
Visit the charming harbor town of Hoi An
The charming harbor town of Hoi An should not be missed during your Vietnam trip. Hoi An, which has been declared a UNESCO World Heritage site, offers a superbly preserved old town, charming alleyways and colorful markets.
Hoi An is your typical picture-postcard town: Japanese merchant houses, pale yellow houses draped in bougainvillea, silk lanterns, and aging tea warehouses make for scenic sights in the city, as does its backdrop of the Thu Bon River. Hoi An is the picture of tranquility: cars are forbidden on its main roads and unlike the rest of Vietnam, motorcyclists rarely use their horns! Hoi An is also famous for its Vietnamese cuisine and also has its own beach!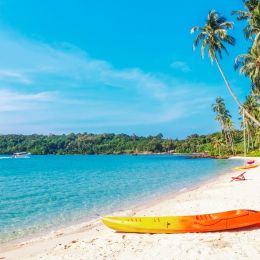 10
Relax in Phu Quoc Island
The tropical island of Phu Quoc Island is an idyllic place if you wish to relax after an exciting Vietnam vacation. Relax on golden sand beaches, or explore the diverse underwater world when diving.
Fringed by the cobalt blue waters of the Gulf of Thailand, Phu Quoc is truly an island paradise. It is a 50-minute flight away from Ho Chi Minh City, and its amazing beaches and untouched natural beauty have made it a popular spot to relax and unwind. You can also go scuba diving and snorkeling here. Nearly 100 jungle-covered mountains can be found in the north of the island making it a truly scenic getaway!
Don't miss out on any of the popular things to do in Vietnam! Our Asia specialists plan the best routes to meet your interests and preferences. Contact us today for your obligation-free itinerary.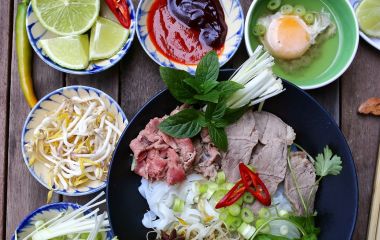 The Best Of Vietnam Tourism: Top Food From Every Region
Vietnam tourism has significantly gained in popularity over the last few years. And why not?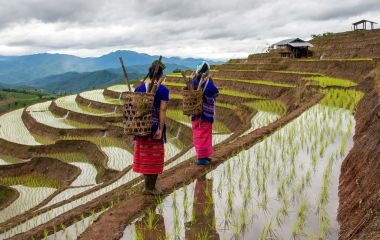 Undiscovered Cambodia and Vietnam Destinations
Go off the beaten track on your vacation in Southeast Asia and discover unique hidden gems, tucked away amid misty mountains, rolling valleys, rice terraces and emerald bays.
THE ENCHANTING DIFFERENCE
Enchanting Travels made planning this vacation a breeze. I didn't stress at all during the trip, especially since there was also someone there to help with international transfers. All of our guides spoke English well and were quite accommodating.
Enchanting Travels employs people who really know how to listen to their clients and provide an exciting itinerary that is also safe and flexible. Everyone we worked with, from Brenda and Lavina to our guides Mr. Pongthep and Sangay, and our chauffeur Kengua, were professionals who seemed to really enjoy showing us their beautiful and exciting countries.
Go to Bhutan now! We don't believe it is really going to stay this way for long. And it really is unique right now. Building laws require that dwellings be built in the traditional fashion and this makes for the most beautiful and original vistas. No one goes to Bhutan for the cuisine.
Do you have a vacation in mind? Personalize your itinerary with our Trip Builder.