Do you wish to go on an epic adventure through India? Pauline & Dennis De Carli did just that during their India travels in May 2012. In between the occasional gin and tonic sundowner and Ayurvedic massage they found time to share their India travel stories with their loved ones at home.
Varanasi is the India I came to find.
Dirty, boisterous, colorful and exhilarating. We had a sunset boat ride in a rickety boat being rowed by a local boy to see the funeral ghats. They were not horrifying but very peaceful and serene.
We have seen many wonderful sights and tasted exceptional food.
The cows in Varanasi are everywhere and their dung is collected for fuel to insulate homes – and no the smell is not bad. Here, sandalwood is burnt everywhere. We have had a wonderful guide who was so knowledgeable and has filled my head with so much trivia.
Kolkata is a city of contrasts.
The former capitol of the British Raj has palaces and Victorian buildings, markets and alleys teeming with filth but it's so friendly and vibrant – tourists are almost an oddity here.
People in Kolkata are very friendly and helpful and we had tea, coffee and snacks with the locals and a marvelous guide, Anub who has worked here for 29 years and knows everyone.
We visited the house of Mother Teresa and met two elderly nuns who were very close to her, our guide got us in on a day when they don't allow visitors!
Today we explored the flower and textile markets and the potter's village, a lot of the time up to our ankles in mud and we loved it!
The Golden Temple in Amritsar, what a wonderful place.
We spent the morning visiting the Golden Temple in Amritsar. We bathed our feet and made chapattis and drank masala tea and were awestruck by the beauty of the place.
It is the holy place for the Sikhs of India and very clean and beautiful. This evening we will see the changing of the guards at the border of the Punjab and Pakistan.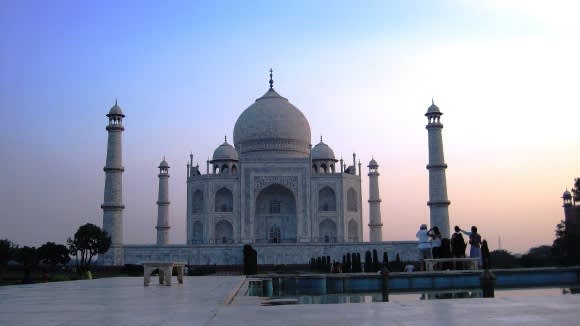 We loved the Taj Mahal in Agra – the pictures don't give it credit.
It was so moving that I found myself dewy-eyed under my sunglasses and when our guide told us the love story behind it (with much embellishment!).
I was quite an emotional mess.
We stayed at the Oberoi Amarvilas hotel in Agra which was breathtakingly beautiful and managed to get away from the sight seeing to relax by the pool for a few hours.
Well this is your foreign correspondent signing off for now, love to you all, Pauline.
Continue reading about the India travel adventures of Pauline & Dennis.