Venture on a private trip to Rajasthan to explore the true charms of the Thar Desert. Participate in Jaisalmer's Desert Festival that comes alive with a fusion of dazzling sights, brilliant colors, magical sounds and vibrant wardrobes.
Jaisalmer's Desert Festival is located on the sensational Thar Desert, an area that stretches beyond the horizon and boasts awe-inspiring sights.
This three day annual extravaganza – held at the end of January or in early February at Sam Sand Dunes (42 kms from Jaisalmer) – was initiated to showcase Rajasthan's cultural marvels to global visitors.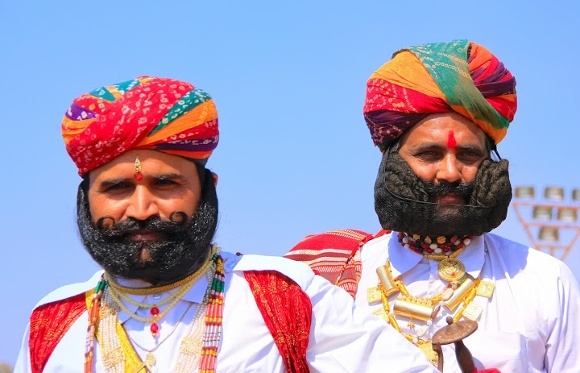 Witness how Jaisalmer transforms itself into an open-air arena for three days, displaying its cultural heritage, colorful attires, sparkling jewelry, poignant ballads, Jaisalmer Fort and a sensory overload of all things truly Rajasthani!
Each year, visitors and locals descend upon Rajasthan in North India to be enthralled by a spectacle of color, music, dance, folklore, quirky competitions, camel races, polo matches, jugglers, puppeteers, fire dancers, snake charmers, acrobats, handicrafts, tasty treats, and warm people.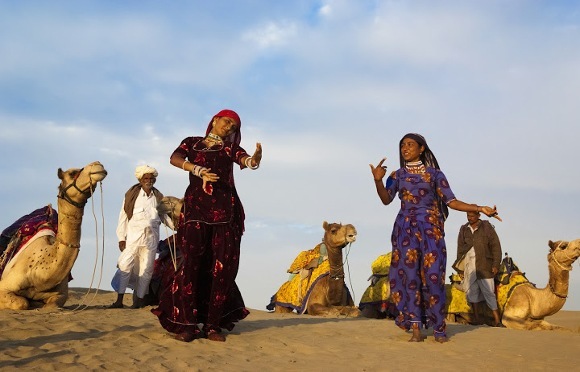 To tempt you further, we provide an insiders scoop to some of the best attractions featured at Jaisalmer's Desert Festival, a colorful bonanza promising to delight.
The festival begins at Gadsisar Lake with Shobha Yatra, a ceremonial procession of traditionally dressed Rajputs and local clans. Cheered by spectators, men carrying swords as they ride horses, camels or elephants into Shahid Poonam Singh Stadium, the main venue.
Fireworks unleash a kaleidoscope of colors across the landscape, bringing Jaisalmer Fort to life.
Mr. Desert Contest
Rajasthani symbols of masculinity and honor are their mustaches and turbans. One of the biggest, most honored festival draws is the Mr. Desert Contest, held annually since 1988.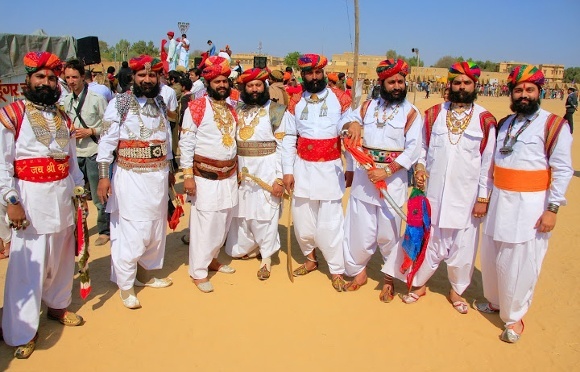 As with any competition, various criteria must be fulfilled.
The contest focuses on contestants rustic physique, correct traditional clothing, the perfectly-bound turban, length and style of mustaches, ideal personality, good ornaments, and above all, must personify the perfect representation of Jaisalmer and of course, the desert.
Longest Moustache Competition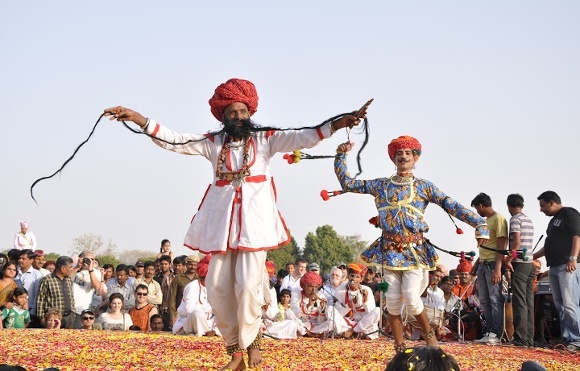 Rajasthan presents the most splendid mustaches, hallmarks of honor and admiration. Like peacocks strutting their stuff, the men twirl and stroke their nifty hairy property. Mustaches are assessed on length, style, quality and maintenance.
Turban Tying Competition
Popular among locals and visitors, competitors attempt to twist and turn the flowing lengths of colorful fabric forming it into turbans.
Often, the contestant bundles up the turban tying into coiled-up snakes, sending crowds into loud guffaws of laughter.
Camel Races, Dances & Rides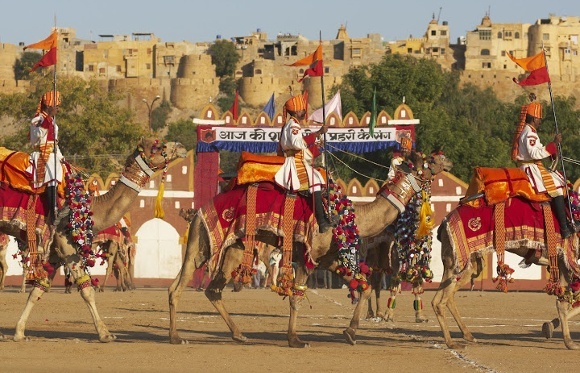 Camels adorned in finery 'walk-the-walk' as their owners compete for the Best Dressed prize.
Magnificently mustached locals in their ethnic best flaunt their bedecked camels to join camel dances, camel races, camel acrobatics and a quirky camel tug-of-war!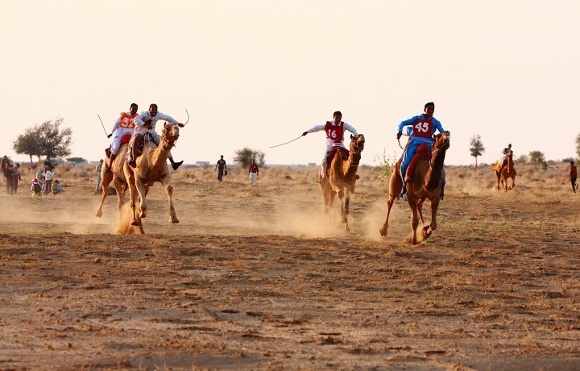 A polo match organized by the Camel Polo Association of India is played by Border Security Force teams on the festival's second day.
Revelers come together to pull a rope in the tug-of-war contest. If mighty Olympus is not favorable, the losing team falls like a pack of cards!
Acrobatics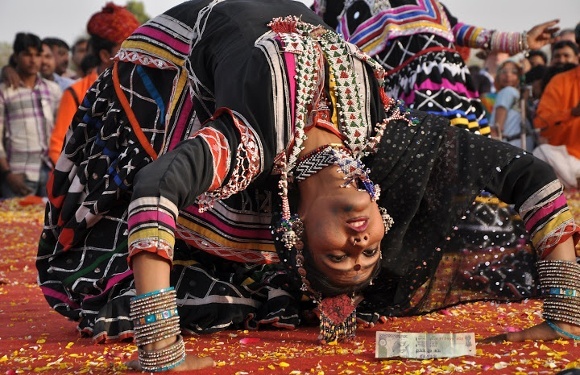 Watch traditional acrobatic performances by Kalabaz or Nats, local 'nomadic gymnasts', traditionally entertainers and jugglers.
Panihari Matka Race
Local and foreign women participate in Panihari Matka race, underlining the drinking water culture. Women visitors endeavor to race balancing water laden earthenware pots placed on their heads.
Gair and Fire Dancers
This thrilling crowd puller involves dare-devil fire stunts where dancers perform swaying to traditional tunes holding flaming rods and 'spitting' kerosene.
Kalbelia Dance
Inscribed in 2010 on the UNESCO Representative List of Intangible Cultural Heritage of Humanity, Kalbelia is one of Rajasthan's most sybaritic dance forms celebrating joyful events by the kalbelia or 'snake charmer community'.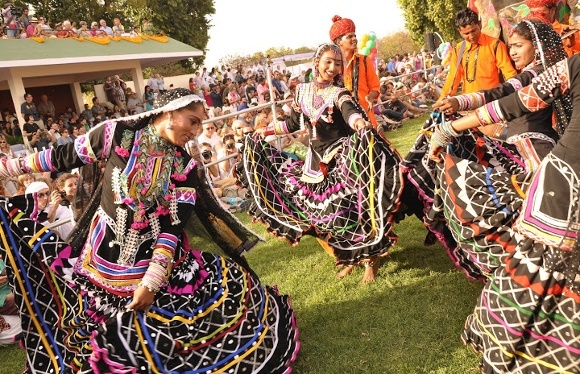 Dancers dress in long black skirts embroidered with silver ribbons.
They sensuously spin in circles to the accompanying pungi (snake charmers wind instrument), dafli (tambourine) and melancholy tunes of been (the snake charmers' wooden instrument).
Festivities end on the third day with a desert safari to Sam Sand dunes, corresponding with Poornima (full moon). An enchanting moonlit music and light show between the golden sand dunes draws this wonderful festival to a close.
Jaisalmer's Desert Festival delivers an opportunity to perceive the traditional fusion of music, dance, culture and attire that imprisons your heart, far from the usual experiences in urban India.