In our guest Elsie Johnstone's third letter home while traveling in India, she shares her insights into Jaipur's history, culture and the social practices. She is enchanted by her stay at one of our preferred hotels, pleased with the personalized services available in India, and struck by her encounter with local cultural practices.
In Jaipur today, we had some shirts made to fit Graeme at Ganesham Textiles and Handicrafts in Amber Road. They give their address on their business card as "Behind Patwar Sangh, Opp. Dussera Kothi Road, Govind Nagar (W), Amber Road, Jaipur – 302002".
They measured us both up – a suit, trousers and shirts for Graeme and a beautiful Indian outfit for me.
They will bring them to our hotel tomorrow night for a fitting. Amazing service! And then they will post them home so we don't overload on luggage.
Today, in 42 degrees centigrade heat we looked around Jaipur with our guide Vikram. He told us, "You realize that you are lucky to have the best driver in India as your personal driver. He won that award last year." We have been mightily impressed by Anil's attitude and calm ability and so, apparently, are many others!
Many of the local buildings are pink and the city of Jaipur boasts that it has never been under foreign rule.
The conquering powers preferred to make treaties with the Maharajahs who ruled the people with a kind benevolence.
I am reading a book written by the third wife of the last Maharajah of Jaipur called 'A Princess' Story' by Maharani Gayatri Devi. It describes the life that they led until the 1950s when things gradually changed.
In the new town, the streets and boulevards are wide and the buildings grand, some of them grander than anything we have in Australia. The old town is the market town and all that entails.
We rode an elephant up the hill to the Amber Fort. I still don't know whether I enjoyed the ride, nor does the elephant! It was a rumbling affair but Barbar, our beast, was a bit of a sprinter and wanted to pass everybody else so we were often in the wrong lane. This caused the cage we were sitting on to slip and slide a bit so we hung on for dear life.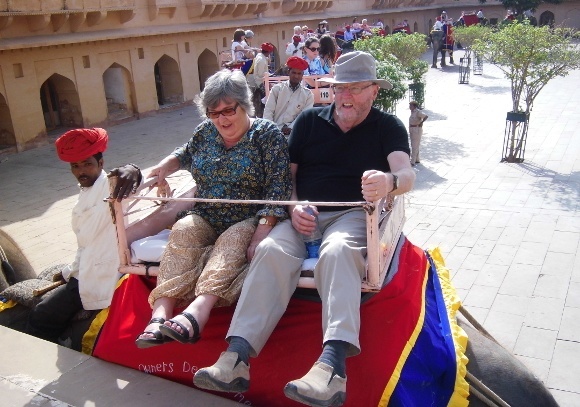 The Amber Fort belonged to the Maharajah who was king of Rajasthan until the 1970's when Indira Gandhi reduced his power and influence. She removed all of the Maharajahs from the public purse and they had to find some way to support themselves and their lavish life styles. Some sold off their properties and others made a part of them into grand hotels or museums and live comfortably in the rest. His grandson, the new Maharajah still lives in the city castle and is only 14 years old.
This afternoon we just enjoyed being at the Samode Haveli, swimming and sleeping and generally chilling out. We love traveling in India.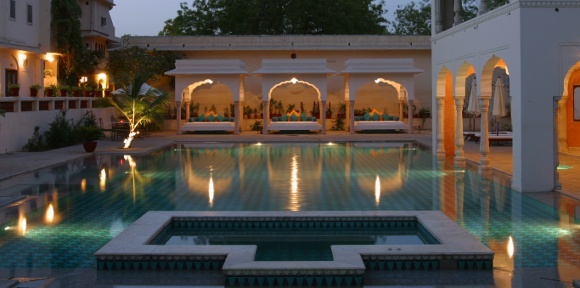 Just so we can enjoy the surrounds of the exotic hotel we are having a slow start to the day with a swim and a leisurely breakfast. These hotels are destinations in themselves!
Anil, our driver, is our guide for the day and had an interesting excursion in store for us. "Today I will show you something special. It is Tuesday so we will go to the Temple of the Monkey God," he said.
To get there we drove through some interesting desert country, sandy soil and scrubby vegetation, into the mountainside. We used the old highway and turned off along a track through old villages with cattle grazing in the town square and into the mountains to the Temple where thousands of years of Hindu traditions are still being observed in an ancient compound flanked by temples to various deities. Shoes on, shoes off again: the old men of the temple insisted we explore them all.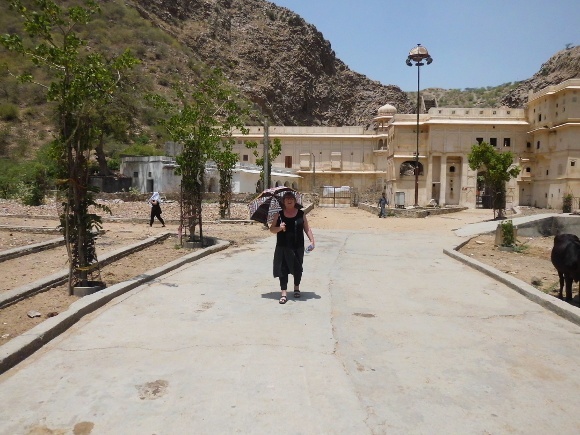 High on a hill, the sacred River Ban Ganga is harnessed and people go there to bathe. The monkeys have their very own bathing chamber and were having great fun splashing and playing like children. This was something we are never likely to see anywhere else but India.
The suit and shirts we ordered the evening before were delivered to the room for the final fitting and they were perfect!
After dark, Anil picked us up to go to the local market. What color, what movement, what fun! This was followed by dinner under starlight in the palace courtyard while in the streets around us fireworks broke the silence. It is the wedding season and a Hindu wedding goes for four days. 80% of marriages are arranged.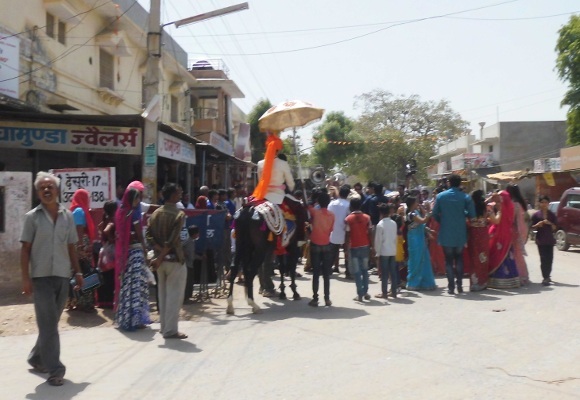 "You western people love before marriage, we Indians get married and then learn to love," Anil tells us. "First the mother, sisters and Aunties look around to find a suitable girl from another village. Then they visit and see for themselves. We men trust that because they love us, they will find the best match they can. Then the family visits us and we visit their family but the young couple does not meet until after the wedding. It is important that the girl they choose is strong and healthy and able to help in the family business, whatever that might be."
However, things are changing with the Internet and the cell phone. Sometimes the young ones contact each other and talk before the big day. Sometimes they even meet!
Elsie is so inspired by this trip that she's planning her next book around her recent experiences traveling in India! More on her new project here. To get inspired, check out some of our suggestions for how to immerse yourself in the color and richness of Rajasthan.