Elsie Johnstone and her husband are treated like the Maharaja and Maharani as they continue traveling in India. From the regal car lounge seats that offer a view of everyday life outside their window, to their pampered stay at a rooftop suite with an indoor plunge pool, every experience in Udaipur seems tailor-made to royal standards.
Another day in the car with our trusted driver. The car journeys may sound tedious but believe me when I tell you they are far from it.
The car itself is very comfortable with two lounge type seats in the back for the Maharaja and Maharani. Over every road we travel, an amazing array of Indian life is paraded before us as we pass. We are entranced while traveling in India; we stay glued to the window and don't want to miss a thing.
Today we drive through the desert and over the magnificent mountains, passing many small villages where locals either enjoy a relaxing Sunday or are out in their finery celebrating a wedding.
On the calendar today and tomorrow are designated "wedding days", determined by the stars as the most auspicious time to marry.
Along the way we see many brightly decorated wedding cars and even a tinseled wedding auto rickshaw (or tuk-tuk)! People walk along the highway dressed in traditional finery or form a rainbow of bright and happy color in trailers pulled behind tractors. All are making their way to the celebrations since Indian weddings invite up to one thousand guests. There is much dancing, eating, talking and many traditions to uphold. It lasts for four days so is not for the faint-hearted.
Traditionally, the bride and groom do not see each other until the lifting of the veil.
"If you like what you see then it is yours. If you do not like what you see then it is yours also," our guide told us a few days ago.
We drive into Udaipur, a beautiful city with magnificent old buildings set around Lake Pichola and cradled by mountains. It is simply stunning. In my opinion no European city could rival its beauty. Perhaps Sydney may come close.
When you don't think it can get any better it does. The Udai Kothi has a "Wow" factor unlike any we have experienced in India. And believe me when I say that the Indian hotels we have stayed have all impressed and astounded us.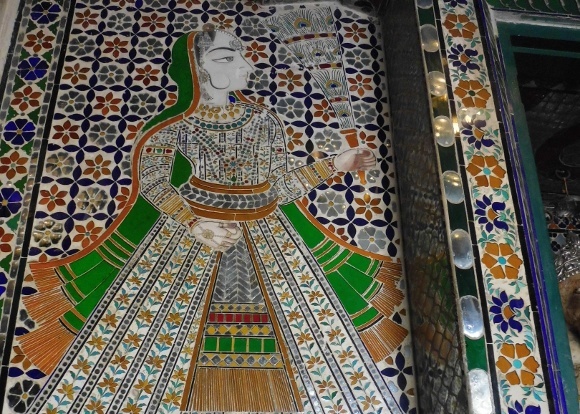 Checking in was an experience in itself. We walked through a mosaic archway decorated with thousands of small mirrors sparkling in the sunshine, into a reception area adorned with intensely bright pink chairs and all manner of murals, memorabilia and artifacts. Magnificent!
The manager announced to us as we sipped our welcoming fruit juice: "For the Maharaja and the Maharani, I have saved for you the best suite in the house."
We find ourselves shown to a suite on the top of the hotel with a bedroom that has a plunge pool in it! Simply fall out of bed and into the pool! Crazy!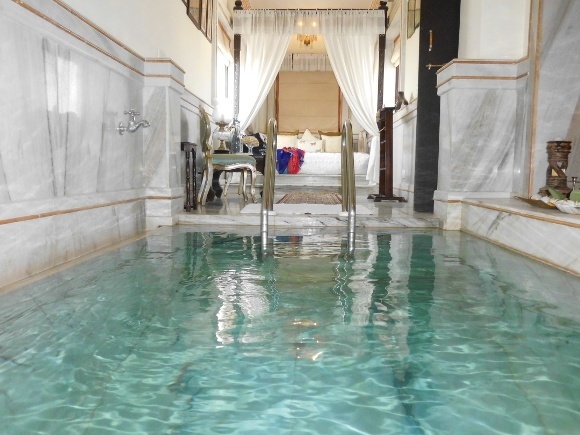 But there is more! A sparkling spa bubbles away on our private rooftop terrace overlooking the city and the lake. There are views from every window and the suite has every opulence and comfort imaginable. How lucky are we?
Tonight as we dine privately on our terrace, we look up and see the new moon in the sky, an empty vessel awaiting many blessings for all the newly married couples.
Allow yourself to be enchanted in India with some of our customized tours!