Our guest Elsie Johnstone is traveling in India right now. In this first article of a series of dispatches from her travels, she shares the sights, sounds, anecdotes and encounters that are proving true what her guide promised: the only thing you can be sure of when traveling in India is that at every corner there is something to surprise you.
Traveling in India: DAY 1
We organized this trip on the internet with a group called Enchanting Travels, and were not exactly sure how it would all come together, or even that it would happen at all. Maybe we had spent all our money and would be left sitting on the dock in the Mumbai heat, victims of an elaborate swindle. At the moment several Government member officials have been caught advertising an investment scheme that doesn't exist. Things like this happen in India.
But, no, the car duly turned up and it could not have been more comfortable; we were not only taken to the airport but guided through the interminable Indian bureaucracy and left at Gate Number 3, in more than ample time for our flight. So far, so good!
The Colonel's Retreat was our first accommodation in New Delhi and evidence to the fact that the British Raj is still alive here. If architecture and ambience is anything to go by, I reckon the Colonel had a nice old set-up out here in the colonies. The clatter of the high-ceiling fan, the home-made curry for dinner, and a cricket match, old man! Albeit on the large telly in the corner.
There is a night market within walking distance and so we shall head off for that after dins.
Traveling in India: DAY 2
The very beautiful Swati, our Trip Coordinator from Enchanting Travels met us after breakfast with all our hotel slips and other documents, to brief us on our journey. She plied us with gifts and suggestions and assured us that we should contact her whenever we wished. We instantly warmed to her and feel safe in her hands. How lucky are we to have stumbled onto such a great company.
We spent the day with our own driver, Anil, and our guide for the day, Dependra, who was fabulous. He loves India and Indians but he still finds many things amusing.
He told us "the only thing you can be sure about in our country is that at every corner there is something to surprise you."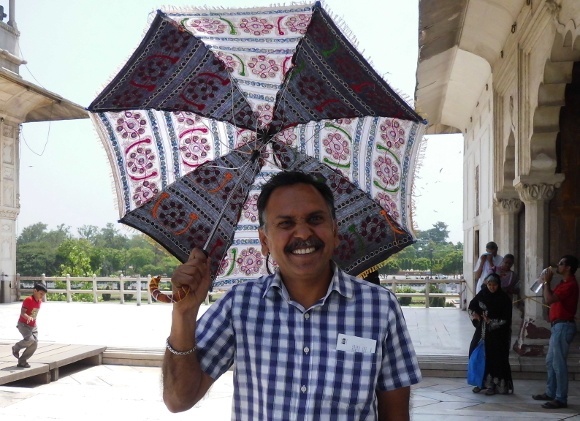 He said many funny things during the day and made us laugh at his insights but he also gave us a fabulous experience. It was an amazing day! I cannot begin to explain the assault on the senses especially in Old Delhi.
People and all modes of transport everywhere – rickshaws, cars, buses, ox-drawn carts, people-drawn carts, bicycle-drawn carts with people pushing at the rear, men and women carrying extremely heavy loads on their heads, rickshaws with cages of children going to school. Something that you might have read about or seen it on TV but could never really imagine until you are amongst it.
The highlight of the day was a rickshaw ride through these winding streets devoted to bridal clothes, jewelry, perfumes, paraphernalia, rows of shops selling sparkling beads.
People, carts and rickshaws are everywhere, loading and unloading and taking passengers through with only inches to spare. Above us was an amazing mish mash of wires, phone lines and the like. How they work them out I will never know.
We had lunch at a place recommended by our guide and had to walk through a darkened room with private booths and loud music playing to get to a more regular dining room. Apparently Indian parents do not let their daughters out at night so instead they go with their boyfriends here in the day time and party. We ate a delicious tandoori platter and washed it down with iced tea and fruit juice.
The manager, a Brahman or top caste, showed us pictures of himself and his wife when they were young. Dependra told us that before a couple consent to get married they have to have their stars read by a priest to see if they are compatible. He gave us all the ins and outs about his arranged marriage explaining that in the west people fall in love and then they get married where in India they get married and then fall in love.
We thought we'd had a pretty good day but then Dependra took us to a Sikh temple. The most amazing part of this place is that the Sikhs believe that to feed people is to live a good life so all day every day they provide meals for people who come to the temple. A bit like my dear old Mum!
People from all castes and classes sit together and eat until they are full.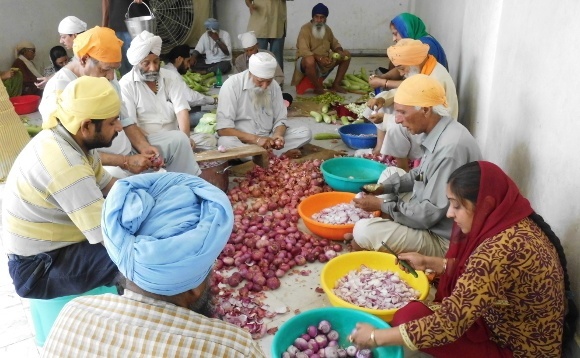 We were lucky enough to visit the kitchens where all the food is prepared and cooked and talk to the volunteers who were doing it all. This is what they do, their reason for existence and it is not just for the poor. It is for anyone who comes, free of cost.
By the time we left there our senses were in overload so we came back to the hotel where we let the driver go, had a nap and then went downstairs for a massage.
Enchanting Travels always has lots of suggestions for similar activity suggestions for our guests traveling in India!