Culture
With its different peoples, it is hard to define one specific cultural norm. However with Shona being the largest ethnic group, you may just see some unique traditional ceremonies as well as some fascinating religious idols and sculptures, during one of our Zimbabwe tours.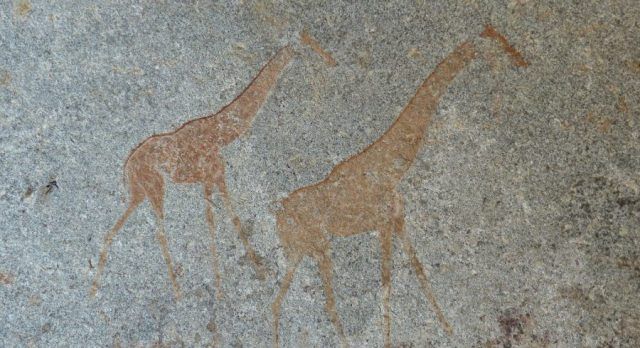 The craft culture of Zimbabwe is as impressive as it is distinctive and the craftspeople hold pride in using the most quality materials. Expect to discover baskets that are woven in seamless symmetry, and stools carved from one piece of wood. Sculpture works usually bridge the history between the European settlers and African folklore, including some fascinating poetic license of men becoming beasts!
The official language of Zimbabwe is English, yet the majority (98%) of Zimbabweans would not consider it as their native tongue. When you go on Zimbabwe tours you will notice varied voices, particularly in rural areas where the Bantu languages of Shona and Ndebele dominate.
Top Zimbabwe Travel Tip – Culture:
If you like to enjoy an evening of theater then you might be able to include this on your vacation! Theater is popular with the white minority in Zimbabwe, and there is usually a troupe performing in the cities.
Cuisine
Zimbabwe's food is generally rather plain and simple. You'll notice a focus on tea, bread and sugar, which is due to the British influence until the 1920s. Yet you can also expect, like in most African countries, a staple of maize/corn (known as mealie-meal). Peanuts were imported into the country by the Portuguese in the 16th century and therefore, has become a primary ingredient in the cuisine. Even with family-focused traditional customs in Zimbabwe, eating out is popular.
You might wish to try some of the common Zimbabwean dishes:
Dovi: a peanut butter stew with spinach and chicken.
Nhedzi: a soup made from wild mushrooms
Bota: a breakfast porridge flavored with peanut butter, as well as milk, butter or jam!
Sadza: a cornmeal/maize porridge that can be rolled into a ball and then dipped into a meat gravy, stewed vegetables or sour milk.
Cornmeal cake: usually served with vegetables
Zimbabwean greens: a native variety of greens prepared similar to other African countries typical collard greens dish.
Mapop candy: this is papaya candy and a lovely treat for those with a sweet tooth!
Top Zimbabwe Travel Tips – Cuisine:
It is most typical to drink beer in Zimbabwe and you can try Whawha, a traditional beer made from maize, or the national beer, called Zambezi. If you are feeling adventurous, try the nation's favorite fruity drink called Mazoe Orange, which is chemical free.
Note that the Ndebele people do not eat corn out of season.
Many of the ethnic people have an animal or plant as their family name. Typically they will then not eat that food. If your family name is Nkomo (cattle), then you would not eat beef.
The Enchanting Travels team look forward to planning private and tailor-made Zimbabwe tours.
History
Zimbabwe literally translates as "Houses of Stone", a named derived by the incredible stone sculptures that the indigenous Shona people built from 800 AD onwards and are known today as Great Zimbabwe. There is not a lot of early history about Zimbabwe which was conquered by a motley crew of European Christian missionaries, fortune hunters and land grabbers, in the 1850s.
Cecil John Rhodes bought gold-rich land from the King and then overthrew the monarch, egotistically renaming the country Rhodesia, beginning a mass-scale land-grab and implementing an apartheid policy. By the 1960s, a civil rebellion began with freedom fighters fighting the Rhodesian security forces. In 1980, Zimbabwe was granted independence, with former freedom fighter Robert Mugabe as prime minister.
In 1987, he became the country's President and drove a number of constitutional changes which led to extensive presidential powers. A large number of white Zimbabweans fled the country in fear of retribution for their former racial oppression and discrimination.
Over the next two decades, there was much civil unrest between opposing parties within the country. However, since 2013, more calm has returned to the country when a constitutional referendum approved an election that will decide whether Mugabe, today in his 90s, should be allowed to extend his 30-year rule.
Zimbabwe tours have flourished in the last decade and many people travel from all over the world for the spectacular Victoria Falls tours.
Explore
Where do you want to go? What do you want to do? Be it popular sights or off the beaten path experiences, tell us your travel dream through our trip planner.
Design
Our destination experts will get in touch with you to craft a completely tailor-made, obligation-free itinerary to match your interests and budget.
Experience
Once you have booked your trip, sit back and relax – we'll take care of everything else. With our exceptional local team & 24/7 support, priceless memories await you!
Close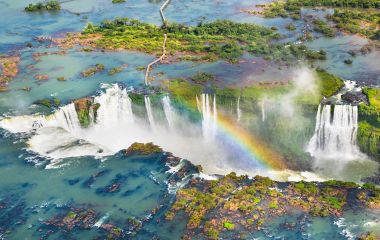 Top 10 Exotic Waterfalls You Need To See
Grand cascades, raging torrents, glorious fountains or ferocious rapids – there are few in the world who don't enjoy waterfalls; and the more magnificent they are, the better!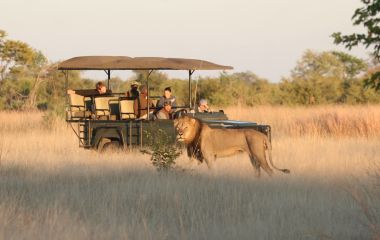 The Best Ever Luxury Safari Tours in Zimbabwe
Experience the very best of luxury safari tours in Zimbabwe; visit these amazing travel destinations and create a lifetime of memories!
POPULAR TRIPS TO zimbabwe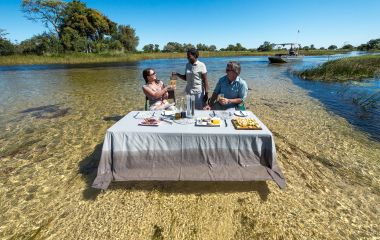 Wings Over Botswana: Safari Special
8 Days: $ 8,190 $ 7,290
/ person
Explore one of the most stunning landscapes in Africa overland and from the skies! Make the most of the off season in the Okavango Delta with unique tours, exclusive safaris to get up close with the animals, bush walks, and more, at special prices and without the crowds.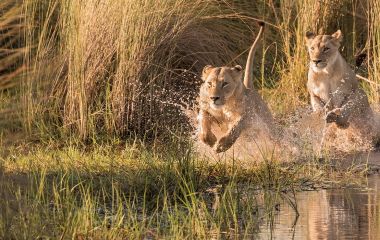 Machaba Safaris Special – Botswana and Zimbabwe
9 Days: $ 7,579 $ 5,890
/ person
Make the most of the off season in Africa's premier safari destinations! Far away from the madding crowds, discover stunning natural wonders such as the Victoria Falls and the Okavango Delta on unique excursions, safaris and bushwalks.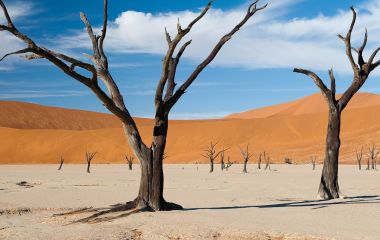 Wings Over Namibia, Victoria Falls and Botswana
13 Days: $ 13,790
/ person
Fly into some of Africa's most dramatic and spectacular landscapes! Discover the spectacular Sossusvlei and Etosha both from the air and overland, cruise on the Zambezi at the Victoria Falls and enjoy unique safari experiences on land and water in Botswana.
Load More
THE ENCHANTING DIFFERENCE
Enchanting Travels custom-designed our African Adventure to include all the specific locations and activities we were interested in. We did not have to worry about any details and were free to enjoy the most extraordinary adventure that was a once-in-a-lifetime experience for our first visit to Africa, including activities at Victoria Falls, safari adventures with great guides, and all the accommodations were fantastic.
We were recommended by friends to use Enchanting travel to help plan our Africa Experience. From first contact to the conclusion of the trip Enchanting travel supported our every need and looked after every detail. Our trip was absolutely flawless and an experience of a life time. I would be happy to discuss our trip with any potential customers as we feel our agenda gave us the perfect overview of sights, culture and safari activities. We came home and feel we missed nothing.
This was truly an "Enchanting" adventure! The value and service was beyond excellent! The entire team ensured every detail was taken care of and went out of their way to welcome us! And every hotel and excursion was amazing, and we were greeted with welcoming open arms every where we stayed! Nothing was left to chance…and we felt so secure knowing Enchanting Travels had everything lined up for us! Even our lodges said Enchanting Travels was a top-notch company!
Do you have a vacation in mind? Personalize your itinerary with our Trip Builder.