Wild at Heart: In Love With a Botswana Safari
Resting silently in the arid grassland are a pair of black-maned Kalahari lions. On a Botswana safari holiday, this is not unexpected. In the enormous Kalahari Transfrontier Park these lions have become desert-adapted, and live alongside many other species: springbok, hyena, the very sociable meerkat, to name but a few.
In contrast to this arid region, flying into the Okavango Delta on a small plane reveals an ever-changing floodplain filled with rivers, lagoons, swamps, islands, and channels. Moremi Game Reserve, in the eastern part of the Delta, is surrounded by various unfenced and privately managed wildlife concessions.
Super luxurious bush camps and lodges in the Delta are exclusive, with excellent guides—among the best in Africa. To make the most of your time in this magnificent wilderness, you need to carefully select the right accommodations. That's no easy task. Unless you have the knowledge and experience of an Enchanting Travels destination expert, who can guide you with the right choices, based on the season and your personal wildlife-viewing interests. Walking safaris, game drives, and water safaris—we can plan them all, to give you a comprehensive experience of this fascinating ecosystem. Picture this: As your mokoro (canoe) gently glides through the water, you spot a pod of submerged hippos. Colorful birds flit by or forage on the banks, while an African Fish Eagle suddenly sweeps down to grab its prey from the water.
Dense with animals is Chobe National Park in the country's north, most famous for its huge herds of elephants adding up to an incredible 100,000 animals. We'll book you into the best lodges along the Chobe riverfront, to make sure that so long you are in the area, your animal encounters never stop.
Explore
Where do you want to go? What do you want to do? Be it popular sights or off the beaten path experiences, tell us your travel dream through our trip planner.
Design
Our destination experts will get in touch with you to craft a completely tailor-made, obligation-free itinerary to match your interests and budget.
Experience
Once you have booked your trip, sit back and relax – we'll take care of everything else. With our exceptional local team & 24/7 support, priceless memories await you!
Close
POPULAR TRIPS TO botswana
Wings Over Namibia, Victoria Falls and Botswana
13 Days: $ 13,790
/ person
Fly into some of Africa's most dramatic and spectacular landscapes! Discover the spectacular Sossusvlei and Etosha both from the air and overland, cruise on the Zambezi at the Victoria Falls and enjoy unique safari experiences on land and water in Botswana.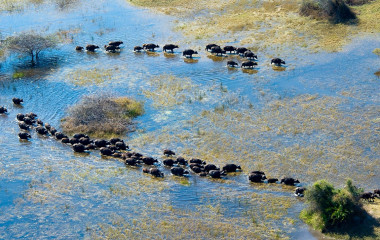 Botswana and Victoria Falls: Safari Magic
7 Days: $ 3,480
/ person
Discover old fashioned safari magic and the romance of awe-inspiring Africa while you travel in wild and remote landscapes of Botswana and the thundering Victoria Falls.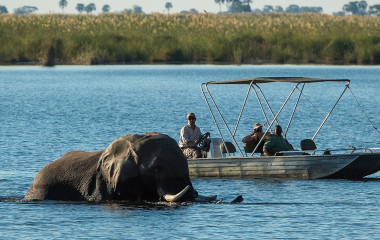 Tanzania, Zimbabwe and Botswana Safari Highlights
15 Days: $ 12,490
/ person
This epic African vacation takes you through diverse landscapes and stunning national parks in the heart of three incredible safari destinations. From Ngorongoro, one the natural wonders of the world, and the birder's paradise of Lake Manyara, travel to see the Big Five at the Serengeti, the best-known safari destination in the world.
Load More
travel with an award-winning team
All our unique tours are built on extensive knowledge of our destinations, an outstanding team of professionals, and personalized top-notch service. In 2019, we were recognized with the Travel Weekly Magellan Gold Award for being the World's Leading Tour Operator – Overall, and nominated as Europe's Leading Tour Operator by World Travel Awards. In 2020, we have won the Most Trusted Online Tour Operator Award by Lux Life Magazine.
In Love With Botswana: Walk in the Wild on Your Safari Tour
Tucked away in the heart of Africa, this landlocked nation is Southern Africa's best-kept secret. Here are some fabulous reasons to pack your suitcases and set off for Botswana right away!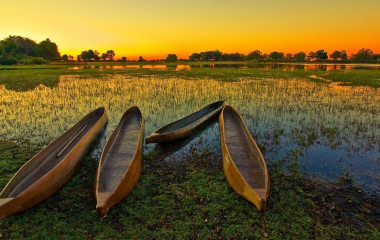 Africa Safaris: Top 5 Things To Do At The Okavango Delta
Experience the best of Botswana on your Africa safaris. Okavango Delta, an enchanting oasis in the north-west of beautiful Botswana and a UNESCO World Heritage Site, is one of the largest freshwater inland drainage systems of Africa.
Discover the top 10 Best Luxury Safari Camps in Botswana!
For a memorable and life-changing trip to Botswana, choosing the best luxury safari camps is key. To help you find the perfect accommodation for your safari, here's our list of top 10.
Read Post
THE ENCHANTING DIFFERENCE
Enchanting Travels custom-designed our African Adventure to include all the specific locations and activities we were interested in. We did not have to worry about any details and were free to enjoy the most extraordinary adventure that was a once-in-a-lifetime experience for our first visit to Africa, including activities at Victoria Falls, safari adventures with great guides, and all the accommodations were fantastic.
We were recommended by friends to use Enchanting travel to help plan our Africa Experience. From first contact to the conclusion of the trip Enchanting travel supported our every need and looked after every detail. Our trip was absolutely flawless and an experience of a life time. I would be happy to discuss our trip with any potential customers as we feel our agenda gave us the perfect overview of sights, culture and safari activities. We came home and feel we missed nothing.
This was truly an "Enchanting" adventure! The value and service was beyond excellent! The entire team ensured every detail was taken care of and went out of their way to welcome us! And every hotel and excursion was amazing, and we were greeted with welcoming open arms every where we stayed! Nothing was left to chance…and we felt so secure knowing Enchanting Travels had everything lined up for us! Even our lodges said Enchanting Travels was a top-notch company!
Do you have a vacation in mind? Personalize your itinerary with our Trip Builder.