Walking on Sunshine: Sri Lanka's Beaches and Beyond
Under the gaze of a tropical sun, the exquisite sand beaches and placid blue waters of Sri Lanka unfold. The flavors of coconut and abundant seafood conspire with ever-friendly locals to shape the most exquisite beach holiday destinations. Add stopovers at the seaside colonial fort city of Galle, and whale and dolphin watching tours down the coast.
Variety is the spice of this island nation. Further east, in the rainforests and open grasslands of Yala national park, you're sure to spot elephants and crocodiles, among numerous other birds and beasts. A little to the north is the hill station of Nuwara Eliya, a place of swirling mists and verdant tea estates, memorable with every cup of Ceylon tea you will ever consume. In the mountains at the center of the country, Kandy is Sri Lanka's cultural capital, and home to one of Buddhism's holiest temples. Before heading back north to the capital Colombo, stop and climb the rock fortress of Sigiriya, the Lion Rock rising from forested plains.
You'll find that Sri Lanka is your cup of tea. Let Enchanting Travels brew you the best private Sri Lanka tour you can imagine.
Explore
Where do you want to go? What do you want to do? Be it popular sights or off the beaten path experiences, tell us your travel dream through our trip planner.
Design
Our destination experts will get in touch with you to craft a completely tailor-made, obligation-free itinerary to match your interests and budget.
Experience
Once you have booked your trip, sit back and relax – we'll take care of everything else. With our exceptional local team & 24/7 support, priceless memories await you!
Close
POPULAR TRIPS TO sri lanka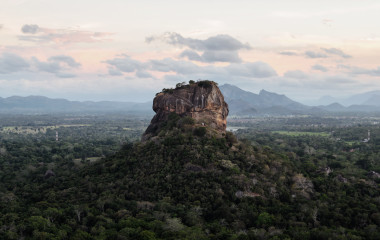 Highlights of Sri Lanka
15 Days: $ 4,064 $ 3,190
/ person
Explore the gorgeous Emerald Island of the Indian Ocean on this comprehensive Sri Lanka trip! Starting off in Negombo, continue to the UNESCO-listed Galle Fort which offers a unique perspective on the country's colonial past through its art, architecture and culture.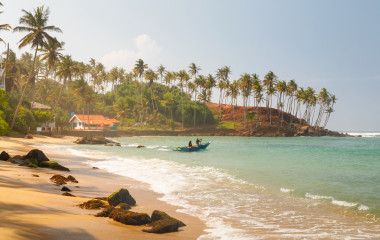 Tea Country, Colonial Gems and Golden Beaches
15 Days: $ 5,399
/ person
Uncover the beating heart of Sri Lanka, from its beautifully preserved UNESCO World Heritage sites to its ancient cities, verdant plantations, lush green national parks and golden beaches! With sumptuous stays in planters bungalows, heritage properties and plush beach resorts, experience the best of Sri Lanka.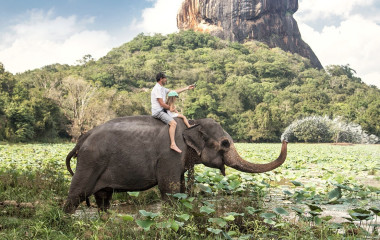 Sri Lanka's Wild Side and Blissful Beaches
14 Days: $ 3,390
/ person
Sri Lanka tours are all about experiencing variety! Whether it is delving into the ancient and Buddhist civilizations, to enjoying the tea plantations or wildlife, or simply relaxing on the country's lovely beaches, you will love this trip that covers more than just the usual highlights!
Load More
OUR AWARDS
At Enchanting Travels, our unique tours are built on extensive knowledge of our destinations, an outstanding team of professionals, and personalized top-notch service. In 2019, we were recognized with the Travel Weekly Magellan Gold Award for being the World's Leading Tour Operator – Overall. In 2020, we have been nominated by World Travel Awards as Europe's and North America's Leading Tour Operator, and have won the Most Trusted Online Tour Operator Award by Lux Life Magazine.




My wife and I have been planning a trip through South America and our Travel Consultant, Lisa Fox, has provided nothing but exceptional service and support to create the perfect itinerary for this trip. Bags were nearly packed and we could picture the view from Machu Picchu, but plans have had to change due to travel safety and restrictions from the recent Coronavirus. While this could have been a very stressful time having to reschedule, rebook and who knows how much money could have been lost for what has already been paid for, Enchanting Travels has made it incredibly easy and stress free to reschedule the trip once this passes. We are very appreciative for the pre-trip support, and can already tell that the experience once we are actually on the road will be equally incredibly. Thanks for all your support!
"Great company, great people!
They helped us put together a complex schedule which included a number of experiences that we could not otherwise get. Also, in light of Covid-19, they were able to reschedule our upcoming Japan trip without additional fees, where many of my friends have scheduled similar trips (same timeframe) on their own, and all were refused a refund or reschedule without significant fees, despite having trip insurance."
"We have used Enchanting Travels twice for trips. We couldn't have been happier with the trips planned. Our first trip was a spectacular trip to southern India with driver for three weeks. This year's trip was to Scotland. Unfortunately with the corona virus pandemic we chose to postpone this trip until 2021. Enchanting travels was very understanding of our concerns and quickly responded by moving our trip with all our desired sights to spring of 2021. Couldn't ask for anything better from this stellar company with their caring staff."
"The best thing about Enchanting Travels is the people, from the trip planners to the guides to the drivers. Everyone has been friendly, courteous and professional. The activities and accommodations are planned to fit our wishes, but we still had the flexibility to add or change and activity at short notice."
Enchanting Travels is a bespoke experience. From planning my trip, through to the trip itself, everything was thought about. We traveled at a particularly difficult time, due to the Coronavirus outbreak. We were supported with everything, kept up to date with how the situation was developing and how this might affect us. Having WiFi in the car allowed us to communicate with our Trip Coordinator and check with our online government updates. Our stay was luckily not affected, but I felt so supported by the team. Our guides were ready waiting for us, could answer any questions about the sites we were visiting, they communicated with our chauffeur to ensure everything went smoothly. I could not recommend this company more highly. Excellent planning, experience, and execution. Our holiday was truly ENCHANTING!
"I recently completed a 46-day adventure tour through India that was the best ever thanks to Enchanting Travels. The Enchanting Agent began by interviewing me for an hour and came back with the perfect routing and pacing. The on-the-ground support was second to none. Enchanting says that their trip coordinators are there 'in case of emergency' but that does not come near to describing the relationship. My trip coordinator was in constant communication with me to ensure that every leg of the trip went as planned. No detail was too small for her to look after. I was assigned the same driver for 27 days and he was the 'Best Indian Driver Ever' because he did more than drive. He curated experiences on the road on those 'non-planned' days that I will remember for a lifetime. The value for money was simply remarkable. I don't think I'll travel without the help of Enchanting Travels again."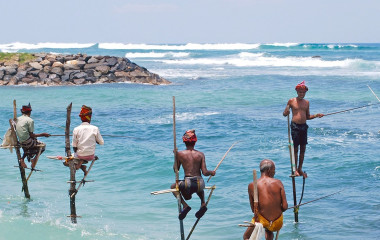 A Beautiful Escape: Best Beaches in Sri Lanka
Nirvana for beach lovers, we share some of the best beaches in Sri Lanka, defined by charming golden-hued sands, horizon-less cerulean waters and beautiful landscapes
Kandy Perahera: Showcasing Buddha's Tooth in Sri Lanka
Experience the vibrant event of Kandy Perahera, the festival of Buddha's tooth. Deemed one of the world's best festivals, Sri Lanka's hill capital, Kandy, will be lit up in all its glory with an exuberant and magnificent street procession that has barely changed in centuries.
THE ENCHANTING DIFFERENCE
Enchanting Travels made planning this vacation a breeze. I didn't stress at all during the trip, especially since there was also someone there to help with international transfers. All of our guides spoke English well and were quite accommodating.
Enchanting Travels employs people who really know how to listen to their clients and provide an exciting itinerary that is also safe and flexible. Everyone we worked with, from Brenda and Lavina to our guides Mr. Pongthep and Sangay, and our chauffeur Kengua, were professionals who seemed to really enjoy showing us their beautiful and exciting countries.
Go to Bhutan now! We don't believe it is really going to stay this way for long. And it really is unique right now. Building laws require that dwellings be built in the traditional fashion and this makes for the most beautiful and original vistas. No one goes to Bhutan for the cuisine.
Do you have a vacation in mind? Personalize your itinerary with our Trip Builder.