For a Taste of the Good Life, Vacation in La Belle France
Museums, romance, food, fashion, architecture, art—to vacation in France is to experience fine living. This is a country that has inspired many brilliant painters, and its charming heritage continues to fascinate the modern traveler. When a capital city has some of the world's most famous attractions, and a country is the most visited tourist destination in the world, where do you begin? Start and end in Paris, for sure. But once you've inhaled its iconic architecture, world-class galleries and museums, and lounged at terrace cafés, patisseries, and bistros, move on to make your acquaintance with what the rest of France has to offer. Get an Enchanting Travels expert to help plan your itinerary, or you may never leave the magnificent "City of Light", world headquarters for fine dining, legendary designers, and haute couture.
Not far from Paris, go castle- and chateau-hopping in the Loire Valley and immerse yourself in some of the finest traditions of wine making and gourmet dining. Wine-lovers cannot miss a visit France's wine capital Bordeaux where wine bars and picturesque outlying estates allow you to taste the splendorous wines produced here. A food, market, or degustation tour may be the best way to explore this region, but Bordeaux is also one of France's many UNESCO World Heritage sites.
The Provence region, famous for endless fields of lavender and wine estates that produce the most perfect pink rosé wine, is dotted with storybook pretty towns and villages. The southernmost part of this province is the French Riviera or the Côte d'Azur, lined with chic seaside resorts. Relive medieval history in Provence's riverside city of Avignon and spend a while in sunny Nice, which has the added attraction of being a hotbed of culture and art.
Close to the Rhône Valley and the vineyards of Provence and Burgundy, the city of Lyon is often considered France's traditional gastronomic capital. Savor French cuisine at the best bouchons, but don't neglect to marvel at the city's Renaissance architectural gems and exquisite museums.
World War II history buffs must make a pit stop at Normandy's beaches or other D-Day sites and museums. Then head to the magical island abbey of Mont-St-Michel. Further inland, sample some of Normandy's world-renown produce: Camembert cheese, Calvados brandy, and apple cider.On your holiday in France stop off at champagne cellars in Reims and live it up in world-class cities like Strasbourg. One thing is for certain though, whether you're viewing the grand palace at Versailles or stunning alpine vistas from the ski resort of Chamonix, France will bowl you over at every step.
Explore
Where do you want to go? What do you want to do? Be it popular sights or off the beaten path experiences, tell us your travel dream through our trip planner.
Design
Our destination experts will get in touch with you to craft a completely tailor-made, obligation-free itinerary to match your interests and budget.
Experience
Once you have booked your trip, sit back and relax – we'll take care of everything else. With our exceptional local team & 24/7 support, priceless memories await you!
Close
Highlights of France
14 Days: $ 5,190
/ person
Uncover the best of France on this custom vacation – from the romance of Paris to historic Normandy, the grand chateaus of the Loire Valley, Burgundy's Côte d'Or vineyards, Avignon's medieval charm, and the glamorous French Riviera. Soak in French culture, cuisine and natural beauty with unique tours, behind-the-scenes visits, priority access and more!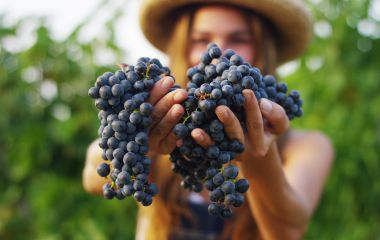 France: From the Chef's Table
14 Days: $ 6,590
/ person
Delve into heady delights on your tailor-made French gastronomy tour! From organic wine trails of Nice to a seat at the chef's table in famous vineyards of the Rhone Valley, learning the art of French cooking by the Mediterranean, burgundy-fueled excursions, sweet treat sampling in Paris, and fine dining in Champagne – experience the best […]
travel with an award-winning team
At Enchanting Travels, our unique tours are built on extensive knowledge of our destinations, an outstanding team of professionals, and personalized, top-notch service. We were recognized with the Travel Weekly Magellan Gold Award in 2019 for being the World's Leading Tour Operator – Overall, and were nominated as Europe's Leading Tour Operator in 2019 by World Travel Awards.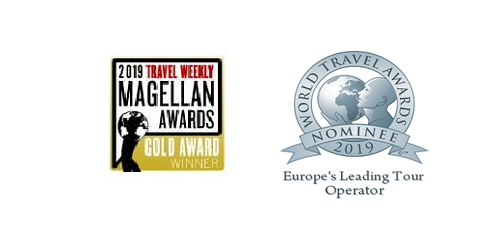 your guide to french cuisine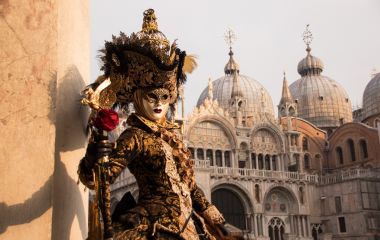 Ode to the Centuries: Art and Architecture in Italy
Whether you're a fan of classical columns and ornate frescoes or more contemporary allures, you'll be spoilt for choice in Italy. Learn more about Italian art and architecture to plan your cultural vacation.
Must-see Festivals and Events in the UK and Ireland
Discover the must-see festivals and events in the UK and Ireland, from the Glastonbury Festival to Bloomsday, St. Patrick's Day celebrations and more!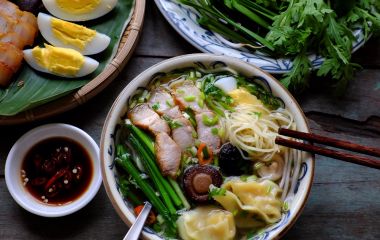 Your Guide to the Top 10 Food Destinations in the World 
Embark on a culinary sojourn that will most certainly tantalize your tastebuds! Our curated list of destinations will provide a truly mouthwatering vacation.
THE ENCHANTING DIFFERENCE
One of the very best travel experiences I have ever had. We even got updates once at 3 am! He also made one change in one day's itinerary to accommodate our wishes which was very wonderful. For business, I have traveled to Europe, Russia, all over Asia and South Africa but was blown away by all the beautiful sites in Argentina and Chile.
All the little touches made by our Enchanting Travel consultant, Amelia Edwards, were noticed and recognized by my wife and I. Thank you for making our milestone trip (25th wedding anniversary) such a memorable one! We look forward to engaging Enchanting Travels again for our next South American adventure!!
This was my first adventure as a solo traveler. But while I may have traveled on my own, I was never alone. I was well taken care of by a superb team of planners, trip coordinators, guides and drivers.
Do you have a vacation in mind? Personalize your itinerary with our Trip Builder.