Historical Splendor and Inspirational Architecture on a Middle East Tour
A Middle East tour is steeped in the high cultural heritage of some of the oldest continuously inhabited cities on earth. A good way for you to navigate the region's intricate map of modern marvels, archeological wonders and culinary delights is a customized itinerary from Enchanting Travels. Travel with us to the sands and shores of Arabia, and we promise that you won't be disappointed. Our tailor-made tours will reveal the warm hospitality of local communities, taking you to spectacular natural landscapes where green wadis merge with golden desert dunes.
Live your Arabian Nights dream. Go on adventurous desert drives out of Dubai and mountain drives in the Jebel Akhdar region on your Middle East travels. Enjoy leisurely road trips amid nodding palms, oasis towns and Bedouin villages. Browse through lively local souks stuffed with handicrafts, spices and incense. Breakfast on an Emirati Balaleet in Abu Dhabi and try an Omani camel biryani in Muscat. In short, soak your senses in a kaleidoscope of sights, flavors and fragrances.
No Middle East vacation is complete without visiting Oman. Perhaps the last bastion of ancient Arabia, it enchants you with its sweeping landscapes and a peaceful population. Muscat, the genteel capital city, impresses with its elegant architecture. Jebel Shams, Oman's highest peak, towers over the Al Hajar Mountains. Visit a traditional dhow building boatyard at Sur and spot green turtles hatch at the beaches of Ras Al Jinz. This unspoiled land abounds in verdant valleys like the Wadi Bani Khaleed, fed by fresh mountain streams. Equally prolific are historic forts and castles in the desert heartland or behind the coastline in Salalah.
The United Arab Emirates is a land of contrasts. It masterfully balances futuristic urban glamor with a slower pace of life beyond city limits. The capital of Abu Dhabi beckons with its opulent palaces, its famous Sheikh Zayed Mosque and world class museums such as the Louvre. In contrast, the UAE's largest nature reserve of Sir Bani Yas Island offers nature tours. Dubai, meanwhile, towers over an uber modern landscape, specializing in superlatives – from the world's largest tower, the Burj Khalifa, and the highest atriums to the largest man made island, The Palm. For culture lovers, the UNESCO World Heritage site of Al Ain may be more enchanting with its gardens and forts.
Irrespective of your traveling style, an Enchanting Travels consultant can craft the perfect itinerary customized to your tastes.
Explore
Where do you want to go? What do you want to do? Be it popular sights or off the beaten path experiences, tell us your travel dream through our trip planner.
Design
Our destination experts will get in touch with you to craft a completely tailor-made, obligation-free itinerary to match your interests and budget.
Experience
Once you have booked your trip, sit back and relax – we'll take care of everything else. With our exceptional local team & 24/7 support, priceless memories await you!
Close
POPULAR TRIPS TO the middle east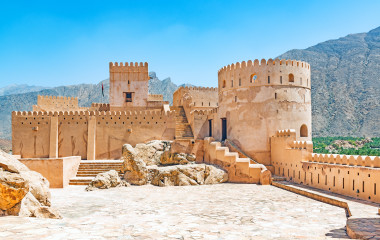 Introduction to Oman Overland
6 Days: $ 1,590
/ person
This Oman road trip trip offers the perfect introduction to this country for first-time visitors. Beginning at the vibrant seaside city of Muscat, you can explore historic sites nearby including the imposing Nakhal Fort and old settlements at Wadi Bani Awf.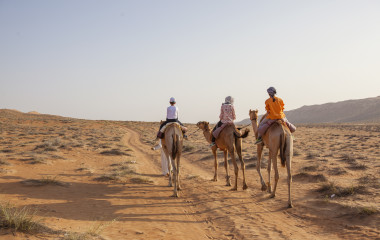 Best of Oman
8 Days: $ 1,890
/ person
Discover the highlights of Oman on a unique vacation planned by our experts! From the bustling city of Muscat, to the ancient castles and forts of heritage town Nizwa, this trip is packed full of historic sites.
OUR AWARDS
At Enchanting Travels, our unique tours are built on extensive knowledge of our destinations, an outstanding team of professionals, and personalized top-notch service. In 2019, we were recognized with the Travel Weekly Magellan Gold Award for being the World's Leading Tour Operator – Overall. In 2020, we have been nominated by World Travel Awards as Europe's and North America's Leading Tour Operator, and have won the Most Trusted Online Tour Operator Award by Lux Life Magazine.




"This was truly an "Enchanting" adventure! The value and service was beyond excellent! The entire team ensured every detail was taken care of and went out of their way to welcome us! And every hotel and excursion was amazing, and we were greeted with welcoming open arms every where we stayed! Nothing was left to chance…and we felt so secure knowing Enchanting Travels had everything lined up for us! Even our lodges said Enchanting Travels was a top-notch company!"
"We have used Enchanting Travels twice to help us with our African adventures, and totally appreciate the details and planning. Visiting several countries in Africa requires transfers and planning, and Enchanting were on top of everything."
"We received complete support from Enchanting's travel experts from day 1. They were very prompt in developing an itinerary that fit into our budget and interests; answered all our questions with clarity and advised on various options and special arrangements we wanted to make."
"This was the trip of a lifetime for my husband and I. It was first class service from the moment we landed. The ease of having everything pre-booked for us really allowed us to enjoy our trip. I would highly recommend this service for anyone looking to plan a trip like this."
"We chose Enchanting Travels for a Kenya, South Africa and Botswana trip. We will not hesitate to rely on them in the future. Everyone from start to finish was informative and dependable. Enchanting Travels even surprised us with an awesome dinner experience for just the two of us."
"We have traveled with Enchanting five years in a row. The travel experience with Enchanting has always been unique and memorable for us, for they offer fully customized itineraries that perfectly suit our needs. They always go above and beyond to fulfill our needs throughout our travel."
Six Destinations We Can't Wait To Visit Again
From colorful souks and medinas bursting with energy to volcanic islands in the middle of the Indian Ocean and sky-high sand dunes that call out to adventurers, these six destinations fire our wanderlust time and again. That's why we can't wait to go back!
Top 5 Reasons To Travel To Morocco Now
From diverse landscapes and desert adventures to vibrant souks, hammams and historical sights – here are the top five reasons why you should visit Morocco now.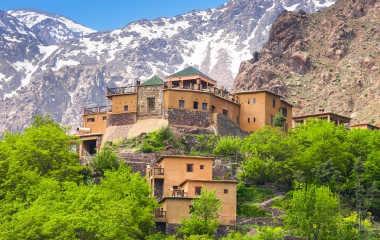 What makes the High Atlas Mountains a must-visit on your Morocco trip
Morocco is a fascinating fusion of Eastern and Western cultures, as evidenced in its architecture, food and landscapes. One of its most stunning jewels is the High Atlas Mountains – ancient, rustic and rich with folklore – unmissable your Morocco trip
THE ENCHANTING DIFFERENCE
Do you have a vacation in mind? Personalize your itinerary with our Trip Builder.