Pitch Perfect on a Cambodia Vacation
First tick off some must-do's, then kick back and change the pace of life on your Cambodia vacation. Start at the country's biggest draw Angkor Wat. Spread over 400 acres the temple complex is Cambodia's crown jewel. The grandeur of its size, the intricacy of its bas-relief sculptures, and the symbolism and architectural genius behind it cannot be overstated. Over a million visitors arrive here and in the nearby town of Siem Reap each year. As a result, the city is something of a boomtown catering to the crowds.
The wounds of the genocide perpetrated by the Khmer Rouge in the 1970s are an integral part of Cambodian history. Understand this country's past by visiting the Tuol Sleng Genocide Museum and Choeung Ek Killing Fields, while in the bustling capital Phnom Penh. Later, visit the rich, ornate Royal Palace with its exquisite gardens. At dusk, join the local population at the river, where waterfront bars line the boardwalk and open-air exercises and dance lessons are often conducted.
Reconnect with life's fundamentals by exploring places outside the main cities. Take a riverboat on the Tonle Sap and Mekong rivers, travel to places like Kampot, famous for its pepper, or Battambang, with its crumbling colonial architecture. Spend time interacting with friendly locals. If you're looking for an atypical itinerary, you've come to the right place. Enchanting Travels consultants will provide all the inputs and suggestions you need, and fit your trip itinerary to suit your every need.
Explore
Where do you want to go? What do you want to do? Be it popular sights or off the beaten path experiences, tell us your travel dream through our trip planner.
Design
Our destination experts will get in touch with you to craft a completely tailor-made, obligation-free itinerary to match your interests and budget.
Experience
Once you have booked your trip, sit back and relax – we'll take care of everything else. With our exceptional local team & 24/7 support, priceless memories await you!
Close
POPULAR TRIPS TO cambodia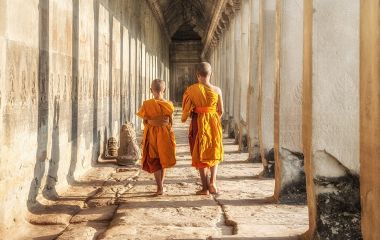 Classic Cambodia
7 Days: $ 1,390
/ person
On this Cambodia vacation, discover two fascinating jewels of Indochina. Find a beautiful blend of the past and present amid Phnom Penh's classic buildings, bustling waterfront, and cafe-lined streets.
Cambodian Enchantment and Hidden Jewels
17 Days: $ 4,290
/ person
Discover the lesser known delights and hidden jewels of Cambodia on this tour. Unearth the magic of quaint provincial life, walk in rolling grasslands and pine forests, and spot the playful dolphins of the Irrawaddy.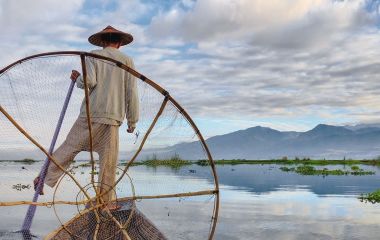 Mighty Rivers and Ancient Capitals
24 Days: $ 7,090
/ person
Travel back in time and immerse yourself in the diverse history and culture of Southeast Asia. Your journey takes you to Myanmar, Thailand, Laos and Cambodia, with the mighty rivers Irrawaddy and Mekong forming a backdrop throughout this private tour of Asia.
Load More
travel with an award-winning team
All our unique tours are built on extensive knowledge of our destinations, an outstanding team of professionals, and personalized top-notch service. In 2019, we were recognized with the Travel Weekly Magellan Gold Award for being the World's Leading Tour Operator – Overall, and nominated as Europe's Leading Tour Operator by World Travel Awards. In 2020, we have won the Most Trusted Online Tour Operator Award by Lux Life Magazine.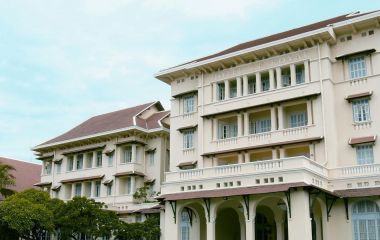 Discover Cambodia's French Colonial Architecture
Famed and most visited for Siem Reap and UNESCO World Heritage Site Angkor Wat which many call a feat of planning and construction, Cambodia's cities possess a wealth of stunning colonial buildings.
Undiscovered Cambodia and Vietnam Destinations
Go off the beaten track on your vacation in Southeast Asia and discover unique hidden gems, tucked away amid misty mountains, rolling valleys, rice terraces and emerald bays.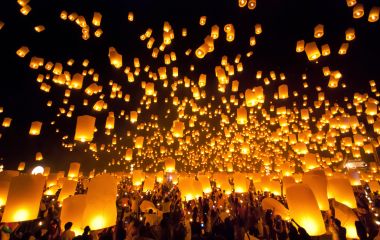 Top Festivals in Asia You Just Cannot Miss
Get up close and personal with fascinating cultures by attending these top festivals in Asia.
THE ENCHANTING DIFFERENCE
We have had the opportunity to travel quite a bit but this trip was exceptional! We had 12 flights from start to finish and Enchanting Travels made this seamless. Each country Jojo and Sapna had some special arranged for us that truly made the trip unforgettable. Dinner in the rice fields in Vietnam, Kampong Khleang and lunch in a locals home. Patara Elephant Reserve and cooking dinner in a locals home, Private speed boat for the day to the Phi Phi islands.
If you want an unforgettable exquisite travel experience, feel confident that Enchanting Travels will exceed your expectations from the first day all the way through your trip. I wouldn't hesitate to book with them a recommended their excellent company.
We were taken care in every aspect of our trip. It was flexible based on our needs but structured enough to see everything we wanted and needed to see.
Do you have a vacation in mind? Personalize your itinerary with our Trip Builder.