Classic Coasts and Chic Cities on an Australian Vacation
Set the stage for an enthralling Australia vacation by visiting its marvelous cosmopolitan cities. Walk around Sydney's spectacular harbor, fronted by iconic wonders like the Harbour Bridge and Opera House. Melbourne with its arts precinct, sporting venues, and wonderful cafés has been repeatedly voted one of the world's most livable cities. Sitting along the River Torrens is Adelaide, a city that embodies the laid-back charm of Australia, and offers excellent wining and dining.
Nearby is the heart of Australia's world-renowned winegrowing region: Barossa Valley. Wineries, award-winning restaurants, and boutique breweries welcome visitors to discover the region's wines, winemaking, local produce, farming history, and the ubiquitous Aussie barbie (barbeque).
Australia's native animals, found nowhere else on Earth, are reason enough to explore this island nation. The striking landscapes of Kangaroo Island in South Australia not only house its namesake animal, but also koalas, and colonies of pelicans, penguins, sea lions, and dolphins.
Head north to Brisbane, and then to Cairns, to access lush natural areas, and stunning coastlines—from the Sunshine Coast to the Great Barrier Reef. Visit Fraser Island, the largest sand island in the world, and Hervey Bay where humpback whales and dolphin watching is a sheer delight between July and November. At Daintree National Park, hike through the one of the oldest surviving rainforests of the world. Tropical islands dot the Great Barrier Reef area, with glorious white-sand beaches touching turquoise-blue waters packed with coral reefs and colorful fish. It's warm enough to snorkel and swim here all year-round.
Australia is perfect for a classic road trip along stunning coastal roads like the Great Ocean Road or the west coast drive from Perth to Exmouth. Or drive to Darwin in the north, an ideal gateway to the Australian Outback. Experience life on working cattle homestead, the luxurious Bullo River Station, where pristine landscapes meet native wildlife including wallabies, dingoes, and crocodiles.
It's a long way to Australia, and even further to the millennia-old monolith of Uluru or Ayers Rock, rising up from the desert in the heart of Aboriginal Australia. This UNESCO World Heritage site is a stunning area with waterholes, natural springs, and native art. It is best seen at sunset from atop a dune, while enjoying an alfresco meal accompanied by a didgeridoo performance.
Make the best of your trip to this country Down Under, by consulting an Enchanting Travels consultant. In true Australian spirit of looking out for one's mates, we'll look after you at every stage, from planning to execution, of this special holiday in Australia.

Explore
Where do you want to go? What do you want to do? Be it popular sights or off the beaten path experiences, tell us your travel dream through our trip planner.
Design
Our destination experts will get in touch with you to craft a completely tailor-made, obligation-free itinerary to match your interests and budget.
Experience
Once you have booked your trip, sit back and relax – we'll take care of everything else. With our exceptional local team & 24/7 support, priceless memories await you!
Close
POPULAR TRIPS TO australia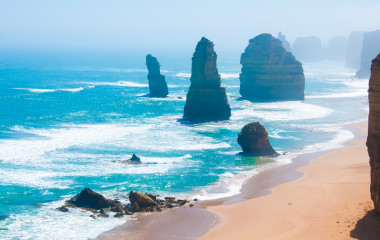 Great Southern Touring Route
10 Days: $ 2,590
/ person
Go off the beaten path in southern Australia! On this private vacation, drive along the Great Ocean Road with scenic stops at seaside towns where you can sample the region's famous produce and enjoy the outdoors.
Tasmania Overland
11 Days: $ 3,690
/ person
Discover scenic Tasmania at your own pace as you drive across the island, from the capital city of Hobart in the east to Freycinet and Cardle Mountain National Park. Stop at scenic port and beach towns en route to enjoy Tasmania's fresh produce and seafood.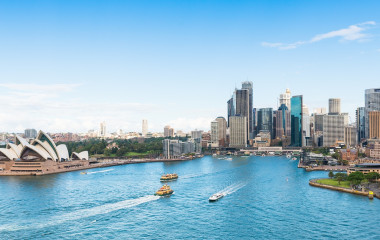 Australia: Cities, National Parks & Beaches
15 Days: $ 3,990
/ person
Explore the natural beauty and coastal treasures of Australia, both in the north and the southeast. Discover the Great Barrier Reef, drive down the scenic Great Ocean Road to the Grampians, soak in the laid-back vibe of charming seaside towns, and feast on fresh produce and fine wine along the way.
Load More
travel with an award-winning team
All our unique tours are built on extensive knowledge of our destinations, an outstanding team of professionals, and personalized top-notch service. In 2019, we were recognized with the Travel Weekly Magellan Gold Award for being the World's Leading Tour Operator – Overall, and nominated as Europe's Leading Tour Operator by World Travel Awards. In 2020, we have won the Most Trusted Online Tour Operator Award by Lux Life Magazine.

THE ENCHANTING DIFFERENCE
Do you have a vacation in mind? Personalize your itinerary with our Trip Builder.