Feasts and Flavors on a Holiday in Vietnam
Wherever your holiday in Vietnam takes you, you'll enjoy the country's amazing cuisine. Bowls of steaming pho, the staple soupy noodle dish, fragrant with herbs, cinnamon, and star anise make a hearty meal. Banh mi the Vietnamese-French fusion sandwich is great for breakfast. And a glass of strong, sweet Vietnamese coffee is welcome just about any time. Like the experienced chef that knows her ingredients and prepares a meal with the right balance of flavors, Enchanting Travels destination experts can curate a personalized tour that caters exclusively to your appetite.
Known for its great street food, fast-paced and modern Ho Chi Minh City is also famous for two architectural wonders from the colonial era: Saigon Central Post Office and the Notre-Dame Cathedral. Walk the narrow streets of the bustling Old Quarter of the Vietnamese capital Hanoi, before heading across the city to the Ho Chi Minh Mausoleum Complex. Stop at a restaurant to eat the city's iconic dish, cha ca La Vong. At Hanoi's popular Thang Long theatre, watch puppets emerge from the water to act out a traditional Vietnamese folktale, accompanied by musicians on a variety of instruments.
Beyond the tourist trails, there are many less-visited places in this once strife-torn country. You could call on the erstwhile Imperial City of Hue, the underground tunnels of Cu Chi district, Cat Tien National Park, or the enormous cave of Hang Son Doong.
It's thrilling to set sail on Ha Long Bay in an upcycled traditional Chinese junk, fitted with all manner of amenities. As you cruise this scenic, dense archipelago of 1,600 limestone karsts covered in thick vegetation, you'll spot natural caves and hidden bays. Take in another kind of boat ride too: down the Mekong Delta, where women wearing the trademark conical bamboo hats tend rice fields, and the lush countryside glides by.
Explore
Where do you want to go? What do you want to do? Be it popular sights or off the beaten path experiences, tell us your travel dream through our trip planner.
Design
Our destination experts will get in touch with you to craft a completely tailor-made, obligation-free itinerary to match your interests and budget.
Experience
Once you have booked your trip, sit back and relax – we'll take care of everything else. With our exceptional local team & 24/7 support, priceless memories await you!
Close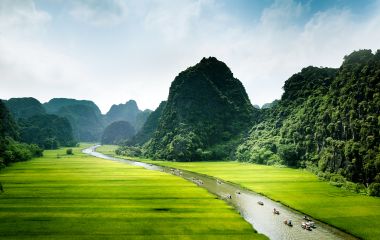 Vietnam: Legendary Landscapes
17 Days: $ 4,190
/ person
From the misty mountains of Sapa to the lush green paddies of Ninh Binh, the surreal Bay of Dragons and hidden beaches in Halong, to the bustling Mekong River Delta in the south, discover the legendary landscapes of Vietnam on this custom vacation. With unique tours at cultural hotspots such as Hanoi, Hoi An, and […]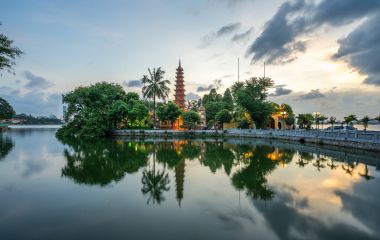 Vividly Yours, Vietnam
10 Days: $ 1,990
/ person
Vietnam tours are best experienced privately so you can take in the vivid daily life. This unique vacation takes in the bustling cities of Hanoi and Saigon as well as an exhilarating boat ride through the famous Halong Bay!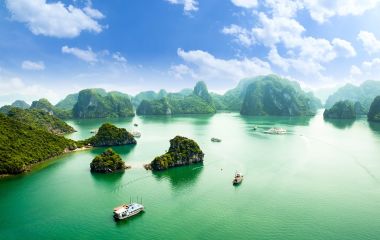 Classic Vietnam
14 Days: $ 4,590
/ person
Wander in ancient cities and discover a medley of century-old traditions and modern-day living. On this private holiday in Vietnam, travel from the northern heritage city of Hanoi and the gorgeous Halong Bay to the imperial capital of Hue.
Load More
travel with an award-winning team
All our unique tours are built on extensive knowledge of our destinations, an outstanding team of professionals, and personalized top-notch service. In 2019, we were recognized with the Travel Weekly Magellan Gold Award for being the World's Leading Tour Operator – Overall, and nominated as Europe's Leading Tour Operator by World Travel Awards. In 2020, we have won the Most Trusted Online Tour Operator Award by Lux Life Magazine.

The Best Of Vietnam Tourism: Top Food From Every Region
Vietnam tourism has significantly gained in popularity over the last few years. And why not?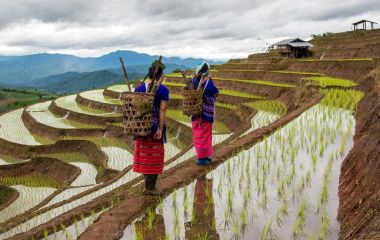 Undiscovered Cambodia and Vietnam Destinations
Go off the beaten track on your vacation in Southeast Asia and discover unique hidden gems, tucked away amid misty mountains, rolling valleys, rice terraces and emerald bays.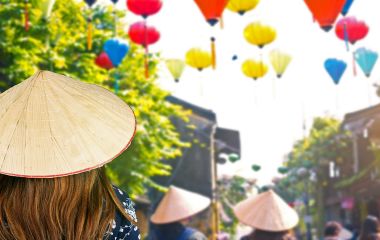 Top 5 Vietnam festivals in 2019
Beautiful Vietnam is brimming with rich culture and heritage and Vietnam festivals in 2019 are going to be celebrated with aplomb, just like every year. There's nothing quite like the lively, jovial atmosphere of a traditional celebration.
THE ENCHANTING DIFFERENCE
Enchanting Travels made planning this vacation a breeze. I didn't stress at all during the trip, especially since there was also someone there to help with international transfers. All of our guides spoke English well and were quite accommodating.
Enchanting Travels employs people who really know how to listen to their clients and provide an exciting itinerary that is also safe and flexible. Everyone we worked with, from Brenda and Lavina to our guides Mr. Pongthep and Sangay, and our chauffeur Kengua, were professionals who seemed to really enjoy showing us their beautiful and exciting countries.
Go to Bhutan now! We don't believe it is really going to stay this way for long. And it really is unique right now. Building laws require that dwellings be built in the traditional fashion and this makes for the most beautiful and original vistas. No one goes to Bhutan for the cuisine.
Do you have a vacation in mind? Personalize your itinerary with our Trip Builder.