Sleek Silverbacks: Tune Into the Gorillas of Rwanda
A family of mountain gorillas, led by a silverback, munches on leaves just meters away from you in Rwanda's Volcanoes National Park. This is their last remaining forest habitat, and thanks to peace returning to this country, travelers can visit them. This surely ranks as one of the most extraordinary wilderness experiences anywhere, and it takes a specialist to get it right. Enchanting Travels consultants are committed to crafting an unforgettable Rwanda itinerary for you. Reach out to us, to seal the deal on an exceptional holiday. On the ground, expert trackers will help you hike into the mountains to see gorilla families in their natural environment. Besides trekking to meet gorillas, other famous walking trails in this park include one to the tomb of the famous murdered gorilla researcher Dian Fossey, immortalized in the Hollywood movie Gorillas in the Mist.
For years, civil war and genocide have marred life in Rwanda, and this background is never far away. In the capital Kigali, everyone should stop at the fine Kigali Genocide Memorial Center museum to learn about the country's tragic history.
At least 13 other primates live in Rwanda's Nyungwe Forest National Park just two hours south of the capital city. A 197-foot-high canopy walk takes visitors through the lush mountain forest to meet black-and-white Angola colobus monkeys, chirpy baboons, grey-cheeked mangabeys, or curious vervet monkeys. These wonderful creatures will have you laughing and staring right back at them in awe.
Explore
Where do you want to go? What do you want to do? Be it popular sights or off the beaten path experiences, tell us your travel dream through our trip planner.
Design
Our destination experts will get in touch with you to craft a completely tailor-made, obligation-free itinerary to match your interests and budget.
Experience
Once you have booked your trip, sit back and relax – we'll take care of everything else. With our exceptional local team & 24/7 support, priceless memories await you!
Close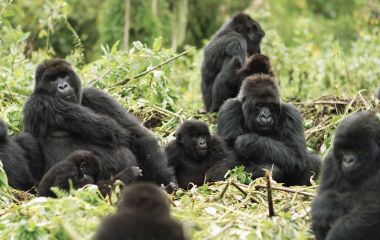 Gorilla Trekking in Rwanda
6 Days: $ 5,290
/ person
Follow in the footsteps of Dian Fossey. This short trip takes you deep into the heart of gorilla territory – Volcanos National Park, where half the world's gorilla population lives!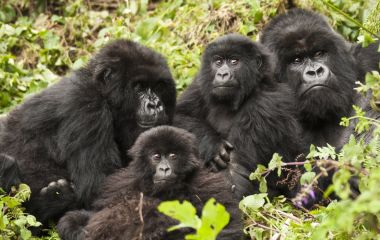 Kenya and Rwanda: Call of the Wild
10 Days: $ 9,590
/ person
Hear the call of the wild in this epic adventure of Kenya and Rwanda. This tour takes you gorilla trekking in Volcanoes National Park and to the wildlife of the Masai Mara and Laikipia.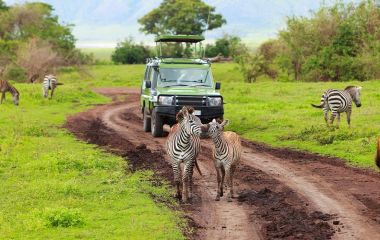 Highlights of Africa
16 Days: $ 13,790
/ person
Discover the best loved landscapes and scintillating experiences during your safari in Africa. Venture deep into verdant forests to meet the mountain gorillas, enjoy breathtaking landscapes and awe-inspiring safaris in the heart of the African wilderness, unearth the thundering Victoria Falls and soak in the vibrant culture of Cape Town on this private, custom Africa […]
travel with an award-winning team
All our unique tours are built on extensive knowledge of our destinations, an outstanding team of professionals, and personalized top-notch service. In 2019, we were recognized with the Travel Weekly Magellan Gold Award for being the World's Leading Tour Operator – Overall, and nominated as Europe's Leading Tour Operator by World Travel Awards. In 2020, we have won the Most Trusted Online Tour Operator Award by Lux Life Magazine.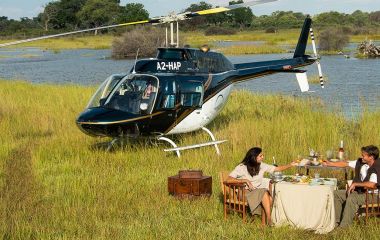 Top 10 Unique Luxury African Safaris for You
Here's our list of the top 10 wildest and most unusual African vacation ideas across eastern and southern Africa.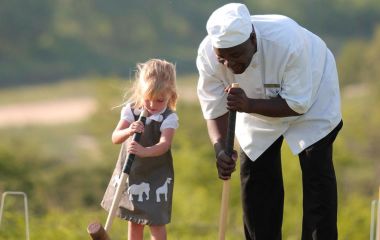 Young Children On Safari: Wild Child in Africa
Traveling with young children on safari? Here are tips for traveling in Africa and where you can take your little ones for their first Africa safari.
THE ENCHANTING DIFFERENCE
Enchanting Travels custom-designed our African Adventure to include all the specific locations and activities we were interested in. We did not have to worry about any details and were free to enjoy the most extraordinary adventure that was a once-in-a-lifetime experience for our first visit to Africa, including activities at Victoria Falls, safari adventures with great guides, and all the accommodations were fantastic.
We were recommended by friends to use Enchanting travel to help plan our Africa Experience. From first contact to the conclusion of the trip Enchanting travel supported our every need and looked after every detail. Our trip was absolutely flawless and an experience of a life time. I would be happy to discuss our trip with any potential customers as we feel our agenda gave us the perfect overview of sights, culture and safari activities. We came home and feel we missed nothing.
This was truly an "Enchanting" adventure! The value and service was beyond excellent! The entire team ensured every detail was taken care of and went out of their way to welcome us! And every hotel and excursion was amazing, and we were greeted with welcoming open arms every where we stayed! Nothing was left to chance…and we felt so secure knowing Enchanting Travels had everything lined up for us! Even our lodges said Enchanting Travels was a top-notch company!
Do you have a vacation in mind? Personalize your itinerary with our Trip Builder.