Slow Down the Pace of Life on a Private Tour of Laos
On your tour through Laos you'll find that Vientiane, the unhurried capital, is an interesting mix of Buddhist temples and French patisseries. Its most famous monument is the 16th-century golden stupa of Pha That Luang, considered the holiest site in the country. Laos's version of the Arc de Triomphe of Paris, is the ornate Patuxai Victory Gate, a war memorial studded with images of Hindu gods.
Surrounded by mountains, Laos's ancient capital and cultural center Luang Prabang lies at the confluence of the Nam Khan and Mekong rivers. Golden roofed Buddhist monasteries and colonial French architecture coexist in this UNESCO World Heritage city. Take a leisurely cruise down the serene river Mekong in a traditional long boat, passing rice fields and villages. Float past the cliffs of the Nam Ou River, and visit Pak Ou Caves, replete with several thousand tiny Buddha statues. In the late evening, head to the Handicraft Night Market, bursting with textiles, ceramics, and a range of handicrafts.
While in Luang Prabang, hop across to Elephant Village, where rescued elephants are rehabilitated, and guests allowed to interact with them. Spring for a cooking class, and learn to make a slew of Laotian dishes. Let your journey through this country move at a gentle, relaxed pace. Enchanting Travels experts will not only chalk out your step-by step itinerary, they'll make sure everything runs like clockwork, and you have not a worry in the world.
Explore
Where do you want to go? What do you want to do? Be it popular sights or off the beaten path experiences, tell us your travel dream through our trip planner.
Design
Our destination experts will get in touch with you to craft a completely tailor-made, obligation-free itinerary to match your interests and budget.
Experience
Once you have booked your trip, sit back and relax – we'll take care of everything else. With our exceptional local team & 24/7 support, priceless memories await you!
Close
Lose yourself in Laos
9 Days: $ 2,790
/ person
Discover hidden gems, incredible natural beauty and a unique way of life on your custom Laos tour. Cruise gently down the Mekong River observing the daily life of hill tribes and local villages until you reach Luang Prabang – the jewel of Indochina.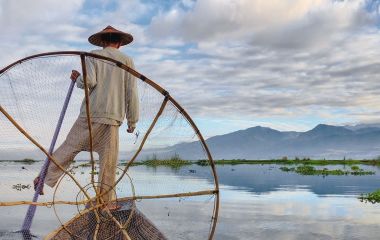 Mighty Rivers and Ancient Capitals
24 Days: $ 7,090
/ person
Travel back in time and immerse yourself in the diverse history and culture of Southeast Asia. Your journey takes you to Myanmar, Thailand, Laos and Cambodia, with the mighty rivers Irrawaddy and Mekong forming a backdrop throughout this private tour of Asia.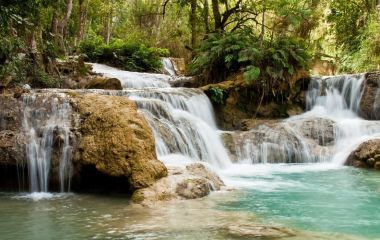 Undiscovered Laos
13 Days: $ 3,390
/ person
This new Laos itinerary allows you to venture through incredibly off-the-beaten-path small towns, which are brimming with authentic experiences! Rather than flying across Laos, this unique journey connects North and South Laos with stunning drives and a treasure trove of natural beauty. A completely private vacation, you can tailor this Laos trip to match your interests and preferences with recommendations from any one of […]
Load More
travel with an award-winning team
All our unique tours are built on extensive knowledge of our destinations, an outstanding team of professionals, and personalized top-notch service. In 2019, we were recognized with the Travel Weekly Magellan Gold Award for being the World's Leading Tour Operator – Overall, and nominated as Europe's Leading Tour Operator by World Travel Awards. In 2020, we have won the Most Trusted Online Tour Operator Award by Lux Life Magazine.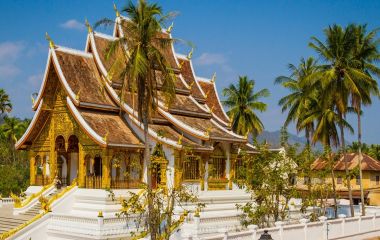 Laos Tours: Where the Past Meets the Present
Laos Tours offer incredible opportunities to travel through an undiscovered land gently rising from decades of isolation, sustained by the mighty, meandering Mekong.  The haunting river from Francis Ford Coppola's Apocalypse Now, is the stuff of myth and legend. For centuries, the Mae Nam Khong (mae nam meaning 'Mother of Water') or Mekong, as it […]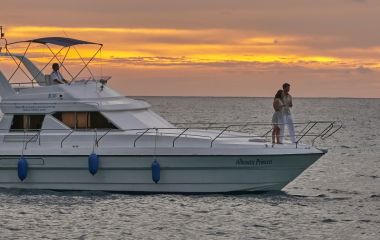 Top 10 Cruises in Asia that will make Your Vacation one to Remember
There is something truly unique about a luxury cruise down Asia's magnificent and iconic rivers. Discover our top 10 favorites for your cruise of a lifetime!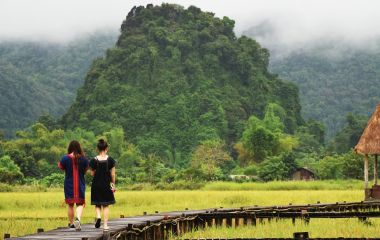 Undiscovered Laos Destinations: The Hidden Gems
You may have heard about popular Laos destinations and what they offer, such as the morning alms-giving ceremony in Luang Prabang of Laos, an enchanting boat cruise on Mekong River at Champasak to see the rare Irrawaddy water dolphins, and the French colonial architecture of Vientiane in Laos.
THE ENCHANTING DIFFERENCE
Enchanting Travels made everything about planning our honeymoon totally seamless. We're relatively seasoned travelers and their ability to take care of the hard stuff (logistics) and take our advice on the fun stuff (activities and accommodation) was a great partnership. We had fun planning and even more fun on the trip.
I have traveled the world with Enchanting Travels for many consecutive years. Every trip is unique, exciting and unforgettable. Enchanting staff looks after me since day one we start planning the trip and follows up with me throughout my travel. If I need anything big or small, they go miles to help! I can not imagine a travel agency with better quality service than Enchanting Travels!
They took care of almost everything for us! It was wonderful! We had time with our guides that showed us the world of Indonesia, we would not have recognized otherwise, and we also had time on our own to discover and relax! You will not be disappointed if you book with Enchanting Travels!
Do you have a vacation in mind? Personalize your itinerary with our Trip Builder.