The Canada Vacation: Adventures in the Deep North
Canada could well be described through the taste of ice wine, its famed alcoholic export. This clear white wine is made out of frozen grapes. The sweetness is cut by the sharp tang of cold climes. Canada is also famed for its winters, but the image of a frozen landscape belies the sheer diversity of the second largest country in the world. We invite you to experience the transformative nature of its provinces, each of which offers a unique topography and a new promise of adventure.
Alberta is perhaps one of the most popular destinations, home to the Banff National Park, a thrilling eco-scape of glaciers, ice fields and alpine forests. This is the place to do some naturalistic treasure-hunting, and come up with gems like the striking blue Moraine Lake, reflecting ten snowy peaks. Jasper National Park, also in Alberta, is haunted by hikers in the summer, and skiers in winter. Regular inhabitants of these parts include cougars, grizzlies and foxes. This is a fairy-tale forest. Grannies would probably recommend that you don't talk to wolves here. While there are plenty of energetic ways to explore this landscape, we'd suggest taking a fishing trip to capture the serenity in stillness.
British Columbia, on the other hand, is where you can see a different kind of beast, definitely more friendly. Victoria and Vancouver offer whale-watching tours to spot humpbacks and orcas, the most lively, spirited dwellers of the sea. If you get to see the famous high-flying humpback breach, you're a lucky traveler.
If you're starting to miss the babble of humanity, visit Quebec. The predominantly French-speaking Quebecois have a proudly distinctive culture. Street art and circus performance is vociferously alive here, evolved into the stellar perfection of the Cirque du Soleil. Quebec cuisine, influenced by both its French heritage and the hard old days of hungry fur-trappers, is hearty comfort food, exemplified by the poutine. French fries topped with cheese curd and gravy – what could go wrong? The poutine, like everything else, has evolved into a niche authentic experience as well as a gourmet experiment. We'd recommend trying both, because, really, what could go wrong?
From the mad hubris of the Gold Rush, Canada has settled into a national identity that's famously polite, the subject of much friendly humor around the world. In keeping with the local vibes, we don't forget our pleases, our thank yous and our sorries here. Call it one more way to love this beautiful country!
Dream Carefree
Go ahead and dream big. Enchanting Travels experts are here to help you plan the ultimate escape. Tell us your vision for the trip of a lifetime and we'll make it a reality.
Plan Carefree
One of our destination experts will reach out to craft a completely customized itinerary. Book your personalized journey and know that our flexible policies have you covered.
Travel Carefree
Relax and prepare for takeoff, knowing that your trip is perfectly planned and you have a personal concierge on call 24/7. Our experts are here to keep you safe and handle the details.
Close
OUR AWARDS
At Enchanting Travels, our unique tours are built on extensive knowledge of our destinations, an outstanding team of professionals, and personalized top-notch service. Our work is consistently recognized by prestigious organizations across the travel industry. In 2020, we received the Travel Weekly Magellan Gold Award for the World's Leading Tour Operator – Overall and were recognized as North America's Leading Tour Operator by World Travel Awards. In 2021, we have won the Lux Life Magazine Award for the Best Global Custom Travel Company – USA.






This was our second trip with Enchanting Travels. Our first was to Bali. This trip was a driving trip to the Utah National Parks and the Grand Canyon. We trusted Enchanting Travels to set up an itinerary that would enable us time to see all the sites without feeling rushed. The planning they did on short notice was perfect. Our personal trip coordinator did a great job of keeping in contact, answering questions and making reservations. Highlights were a helicopter trip over the Grand Canyon and many hikes into breathtaking areas. Enchanting Travels makes trip planning so easy and the trip itself an unforgettable experience. We highly recommend them.
"My wife and I have been planning a trip through South America and our Travel Consultant, Lisa Fox, has provided nothing but exceptional service and support to create the perfect itinerary for this trip. Bags were nearly packed and we could picture the view from Machu Picchu, but plans have had to change due to travel safety and restrictions from the recent Coronavirus. While this could have been a very stressful time having to reschedule, rebook and who knows how much money could have been lost for what has already been paid for, Enchanting Travels has made it incredibly easy and stress free to reschedule the trip once this passes. We are very appreciative for the pre-trip support, and can already tell that the experience once we are actually on the road will be equally incredibly. Thanks for all your support!"
"Great company, great people!
They helped us put together a complex schedule which included a number of experiences that we could not otherwise get. Also, in light of Covid-19, they were able to reschedule our upcoming Japan trip without additional fees, where many of my friends have scheduled similar trips (same timeframe) on their own, and all were refused a refund or reschedule without significant fees, despite having trip insurance."
"We have used Enchanting Travels twice for trips. We couldn't have been happier with the trips planned. Our first trip was a spectacular trip to southern India with driver for three weeks. This year's trip was to Scotland. Unfortunately with the corona virus pandemic we chose to postpone this trip until 2021. Enchanting travels was very understanding of our concerns and quickly responded by moving our trip with all our desired sights to spring of 2021. Couldn't ask for anything better from this stellar company with their caring staff."
"Enchanting Travels is a bespoke experience. From planning my trip, through to the trip itself, everything was thought about. We traveled at a particularly difficult time, due to the Coronavirus outbreak. We were supported with everything, kept up to date with how the situation was developing and how this might affect us. Having WiFi in the car allowed us to communicate with our Trip Coordinator and check with our online government updates. Our stay was luckily not affected, but I felt so supported by the team. Our guides were ready waiting for us, could answer any questions about the sites we were visiting, they communicated with our chauffeur to ensure everything went smoothly. I could not recommend this company more highly. Excellent planning, experience, and execution. Our holiday was truly ENCHANTING!"
"The best thing about Enchanting Travels is the people, from the trip planners to the guides to the drivers. Everyone has been friendly, courteous and professional. The activities and accommodations are planned to fit our wishes, but we still had the flexibility to add or change and activity at short notice."
"I recently completed a 46-day adventure tour through India that was the best ever thanks to Enchanting Travels. The Enchanting Agent began by interviewing me for an hour and came back with the perfect routing and pacing. The on-the-ground support was second to none. Enchanting says that their trip coordinators are there 'in case of emergency' but that does not come near to describing the relationship. My trip coordinator was in constant communication with me to ensure that every leg of the trip went as planned. No detail was too small for her to look after. I was assigned the same driver for 27 days and he was the 'Best Indian Driver Ever' because he did more than drive. He curated experiences on the road on those 'non-planned' days that I will remember for a lifetime. The value for money was simply remarkable. I don't think I'll travel without the help of Enchanting Travels again."
"Enchanting Travels is very knowledgeable about the areas they coordinate travels for. The consultants and coordinators are very easy to work with to arrange and coordinate what you want to see and do."
"Enchanting Travels was stellar across the board. From planning to getting there and experiencing Peru, our Enchanting Travels team made it truly enjoyable. The perfect amount of culture, adventure, and relaxation!"

from the blog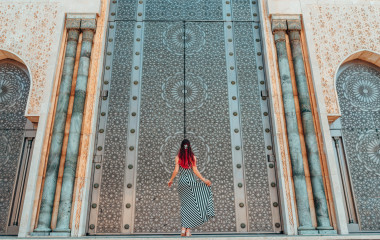 Six Destinations We Can't Wait To Visit Again
From colorful souks and medinas bursting with energy to volcanic islands in the middle of the Indian Ocean and sky-high sand dunes that call out to adventurers, these six destinations fire our wanderlust time and again. That's why we can't wait to go back!
Here is Your Guide to the Best Road Trips Around the World
From fairy-tale castles to sparkling lochs, amazing wildlife and stunning natural scenery, embark on a truly immersive experience!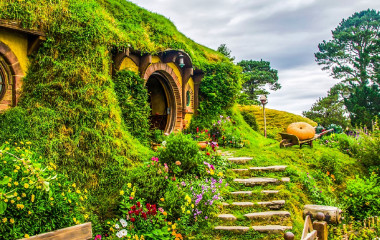 Discover New Zealand on Your Lord of the Rings Tour
Watch the Lord of the Rings' Middle Earth come alive in front of your eyes on your Lord of the Rings tour in New Zealand!
THE ENCHANTING DIFFERENCE
One of the very best travel experiences I have ever had. We even got updates once at 3 am! He also made one change in one day's itinerary to accommodate our wishes which was very wonderful. For business, I have traveled to Europe, Russia, all over Asia and South Africa but was blown away by all the beautiful sites in Argentina and Chile.
All the little touches made by our Enchanting Travel consultant, Amelia Edwards, were noticed and recognized by my wife and I. Thank you for making our milestone trip (25th wedding anniversary) such a memorable one! We look forward to engaging Enchanting Travels again for our next South American adventure!!
This was my first adventure as a solo traveler. But while I may have traveled on my own, I was never alone. I was well taken care of by a superb team of planners, trip coordinators, guides and drivers.
Do you have a vacation in mind? Personalize your itinerary with our Trip Builder.