Holiday in Brazil: Beating Heart of South America
Almost every holiday in Brazil begins in the capital Rio de Janeiro. Go the tourist way, stopping at all the famous sites from Copacabana beach to the statue of Christ the Redeemer. Or go an alternative route, and view the city from little-known Pedra do Pontal or Pedra do Gavea.
Tackling the largest country in South America may seem like an onerous task. Not to us. We've travelled the region, know its nooks and corners, its many nuances. With our first-hand knowledge, you're in safe hands when we organize your customized Brazil itinerary. Trust us to make it smooth sailing.
Brazilians love their churrasco, the Brazilian-style barbecue, and you will too. They are also crazy about soccer (football)—if you get a chance, attend a game at Rio's Maracana Stadium, if only for what a big party it is. Music is at the heart of Brazilian culture. Since the Carnival happens only once a year, what better place to catch the rhythms of this country than in the city of Salvador da Bahia. Pelourinho, its historic center is a fantastic storehouse of colonial architecture.
In the Pantanal wetlands, best explored on horseback, colorful birds abound, as do deadly black caimans, river otters, and other animals. The highlight of a trip to Brazil for any nature lover is undoubtedly the ecologically diverse Amazon rainforest, which spans 2.5 million square miles. Explore it on guided trips via kayak or a luxury cruise boat. Stay in a remote jungle lodge and learn about the indigenous people that live here. Walk through the forests and identify amazing flora and fauna. Climb into the canopy and greet primates, woodpeckers, butterflies. This is a jungle like no other.
Explore
Where do you want to go? What do you want to do? Be it popular sights or off the beaten path experiences, tell us your travel dream through our trip planner.
Design
Our destination experts will get in touch with you to craft a completely tailor-made, obligation-free itinerary to match your interests and budget.
Experience
Once you have booked your trip, sit back and relax – we'll take care of everything else. With our exceptional local team & 24/7 support, priceless memories await you!
Close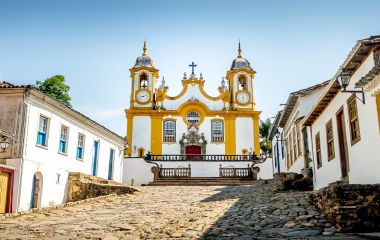 Colonial Brazil and Fernando de Noronha
14 Days: $ 7,460
/ person
From a rich contemporary art and culture scene to colonial towns and the Gold rush, vibrant markets, museums and Portuguese and Dutch history, discover the heritage of Brazil on this tour. End your vacation on the sunny beaches and pristine islands of Fernando de Noronha, one of the most important ecological sanctuaries in the world!
Brazil's Big Cities, Nature and Beach
14 Days: $ 7,480
/ person
From the cosmopolitan centers of Rio and Sao Paolo, this Brazil vacation takes you into the heart of the country's incredible natural wonders – the roaring Iguazu Falls and the bio-diverse Pantanal. End your strip sunbathing on pristine beaches at Bahia's beautiful Discovery Coast.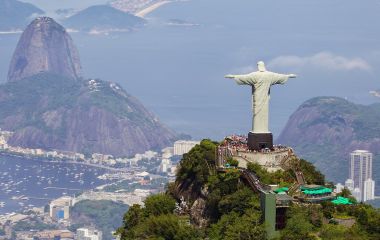 Iguazu, Gold Rush and Beaches
13 Days: $ 5,655
/ person
This tour of Brazil offers not just a gander at the country's most impressive and popular sights, such as vibrant Rio de Janeiro and the Iguazu Falls but also downtime at picturesque towns and stunning beaches. Delve deep into Brazilian art and culture, discover colonial architecture and heritage, and experience the slow pace of life […]
Load More
travel with an award-winning team
All our unique tours are built on extensive knowledge of our destinations, an outstanding team of professionals, and personalized top-notch service. In 2019, we were recognized with the Travel Weekly Magellan Gold Award for being the World's Leading Tour Operator – Overall, and nominated as Europe's Leading Tour Operator by World Travel Awards. In 2020, we have won the Most Trusted Online Tour Operator Award by Lux Life Magazine.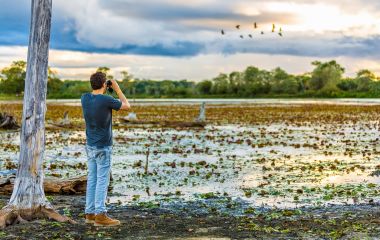 Discover Paradise in Pantanal on your Brazil Tour
On your Brazil Tour, plan a stop in Pantanal North. A true paradise for nature lovers and those with an adventurous spirit, be prepared for an enchanting encounter with nature's untouched beauty.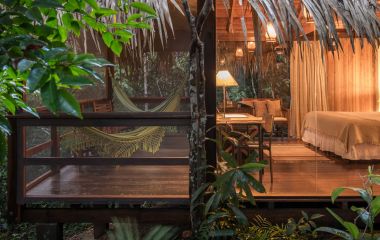 Wild & Wonderful Tours in the Brazilian Amazon
Every moment in the Amazon is one to savor. Each part of the rainforest offers a distinct experience, but the Anavilhanas Archipelago is a landscape unlike any other.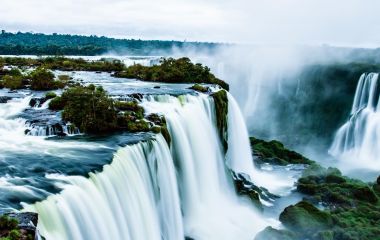 Iguazú Falls – The World's Largest Waterfalls
It is often said that Argentina provides the show and Brazil enjoys the view of the Iguazú Falls, with Brazil dominating the panoramic side having several viewing walkways! So, which is the best side?