Holiday in Brazil: Beating Heart of South America
Almost every holiday in Brazil begins in the capital Rio de Janeiro. Go the tourist way, stopping at all the famous sites from Copacabana beach to the statue of Christ the Redeemer. Or go an alternative route, and view the city from little-known Pedra do Pontal or Pedra do Gavea.
Tackling the largest country in South America may seem like an onerous task. Not to us. We've travelled the region, know its nooks and corners, its many nuances. With our first-hand knowledge, you're in safe hands when we organize your customized Brazil itinerary. Trust us to make it smooth sailing.
Brazilians love their churrasco, the Brazilian-style barbecue, and you will too. They are also crazy about soccer (football)—if you get a chance, attend a game at Rio's Maracana Stadium, if only for what a big party it is. Music is at the heart of Brazilian culture. Since the Carnival happens only once a year, what better place to catch the rhythms of this country than in the city of Salvador da Bahia. Pelourinho, its historic center is a fantastic storehouse of colonial architecture.
In the Pantanal wetlands, best explored on horseback, colorful birds abound, as do deadly black caimans, river otters, and other animals. The highlight of a trip to Brazil for any nature lover is undoubtedly the ecologically diverse Amazon rainforest, which spans 2.5 million square miles. Explore it on guided trips via kayak or a luxury cruise boat. Stay in a remote jungle lodge and learn about the indigenous people that live here. Walk through the forests and identify amazing flora and fauna. Climb into the canopy and greet primates, woodpeckers, butterflies. This is a jungle like no other.
Dream Carefree
Go ahead and dream big. Enchanting Travels experts are here to help you plan the ultimate escape. Tell us your vision for the trip of a lifetime and we'll make it a reality.
Plan Carefree
One of our destination experts will reach out to craft a completely customized itinerary. Book your personalized journey and know that our flexible policies have you covered.
Travel Carefree
Relax and prepare for takeoff, knowing that your trip is perfectly planned and you have a personal concierge on call 24/7. Our experts are here to keep you safe and handle the details.
Close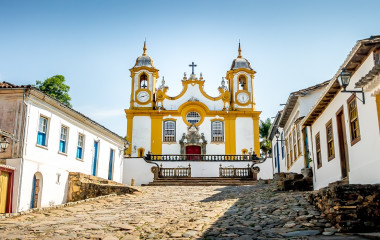 Colonial Brazil and Fernando de Noronha
14 Days: $ 7,460
/ person
From a rich contemporary art and culture scene to colonial towns and the Gold rush, vibrant markets, museums and Portuguese and Dutch history, discover the heritage of Brazil on this tour. End your vacation on the sunny beaches and pristine islands of Fernando de Noronha, one of the most important ecological sanctuaries in the world!
Brazil's Big Cities, Nature and Beach
14 Days: $ 7,480
/ person
From the cosmopolitan centers of Rio and Sao Paolo, this Brazil vacation takes you into the heart of the country's incredible natural wonders – the roaring Iguazu Falls and the bio-diverse Pantanal. End your strip sunbathing on pristine beaches at Bahia's beautiful Discovery Coast.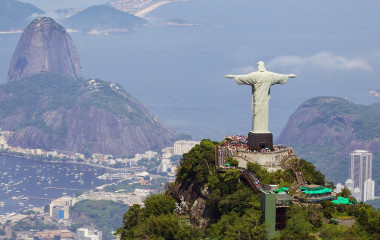 Iguazu, Gold Rush and Beaches
13 Days: $ 5,655
/ person
This tour of Brazil offers not just a gander at the country's most impressive and popular sights, such as vibrant Rio de Janeiro and the Iguazu Falls but also downtime at picturesque towns and stunning beaches. Delve deep into Brazilian art and culture, discover colonial architecture and heritage, and experience the slow pace of life […]
Load More
OUR AWARDS
At Enchanting Travels, our unique tours are built on extensive knowledge of our destinations, an outstanding team of professionals, and personalized top-notch service. Our work is consistently recognized by prestigious organizations across the travel industry. In 2020, we received the Travel Weekly Magellan Gold Award for the World's Leading Tour Operator – Overall and were recognized as North America's Leading Tour Operator by World Travel Awards. In 2021, we have won the Lux Life Magazine Award for the Best Global Custom Travel Company – USA.






This was our second trip with Enchanting Travels. Our first was to Bali. This trip was a driving trip to the Utah National Parks and the Grand Canyon. We trusted Enchanting Travels to set up an itinerary that would enable us time to see all the sites without feeling rushed. The planning they did on short notice was perfect. Our personal trip coordinator did a great job of keeping in contact, answering questions and making reservations. Highlights were a helicopter trip over the Grand Canyon and many hikes into breathtaking areas. Enchanting Travels makes trip planning so easy and the trip itself an unforgettable experience. We highly recommend them.
"My wife and I have been planning a trip through South America and our Travel Consultant, Lisa Fox, has provided nothing but exceptional service and support to create the perfect itinerary for this trip. Bags were nearly packed and we could picture the view from Machu Picchu, but plans have had to change due to travel safety and restrictions from the recent Coronavirus. While this could have been a very stressful time having to reschedule, rebook and who knows how much money could have been lost for what has already been paid for, Enchanting Travels has made it incredibly easy and stress free to reschedule the trip once this passes. We are very appreciative for the pre-trip support, and can already tell that the experience once we are actually on the road will be equally incredibly. Thanks for all your support!"
"Great company, great people!
They helped us put together a complex schedule which included a number of experiences that we could not otherwise get. Also, in light of Covid-19, they were able to reschedule our upcoming Japan trip without additional fees, where many of my friends have scheduled similar trips (same timeframe) on their own, and all were refused a refund or reschedule without significant fees, despite having trip insurance."
"We have used Enchanting Travels twice for trips. We couldn't have been happier with the trips planned. Our first trip was a spectacular trip to southern India with driver for three weeks. This year's trip was to Scotland. Unfortunately with the corona virus pandemic we chose to postpone this trip until 2021. Enchanting travels was very understanding of our concerns and quickly responded by moving our trip with all our desired sights to spring of 2021. Couldn't ask for anything better from this stellar company with their caring staff."
"Enchanting Travels is a bespoke experience. From planning my trip, through to the trip itself, everything was thought about. We traveled at a particularly difficult time, due to the Coronavirus outbreak. We were supported with everything, kept up to date with how the situation was developing and how this might affect us. Having WiFi in the car allowed us to communicate with our Trip Coordinator and check with our online government updates. Our stay was luckily not affected, but I felt so supported by the team. Our guides were ready waiting for us, could answer any questions about the sites we were visiting, they communicated with our chauffeur to ensure everything went smoothly. I could not recommend this company more highly. Excellent planning, experience, and execution. Our holiday was truly ENCHANTING!"
"The best thing about Enchanting Travels is the people, from the trip planners to the guides to the drivers. Everyone has been friendly, courteous and professional. The activities and accommodations are planned to fit our wishes, but we still had the flexibility to add or change and activity at short notice."
"I recently completed a 46-day adventure tour through India that was the best ever thanks to Enchanting Travels. The Enchanting Agent began by interviewing me for an hour and came back with the perfect routing and pacing. The on-the-ground support was second to none. Enchanting says that their trip coordinators are there 'in case of emergency' but that does not come near to describing the relationship. My trip coordinator was in constant communication with me to ensure that every leg of the trip went as planned. No detail was too small for her to look after. I was assigned the same driver for 27 days and he was the 'Best Indian Driver Ever' because he did more than drive. He curated experiences on the road on those 'non-planned' days that I will remember for a lifetime. The value for money was simply remarkable. I don't think I'll travel without the help of Enchanting Travels again."
"Enchanting Travels is very knowledgeable about the areas they coordinate travels for. The consultants and coordinators are very easy to work with to arrange and coordinate what you want to see and do."
"Enchanting Travels was stellar across the board. From planning to getting there and experiencing Peru, our Enchanting Travels team made it truly enjoyable. The perfect amount of culture, adventure, and relaxation!"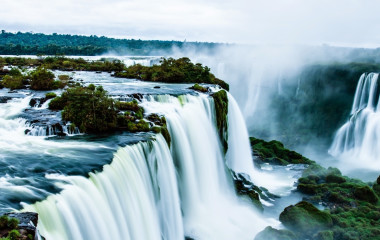 Iguazú Falls – The World's Largest Waterfalls
It is often said that Argentina provides the show and Brazil enjoys the view of the Iguazú Falls, with Brazil dominating the panoramic side having several viewing walkways! So, which is the best side?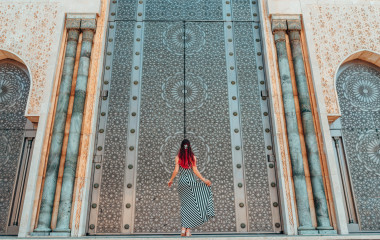 Six Destinations We Can't Wait To Visit Again
From colorful souks and medinas bursting with energy to volcanic islands in the middle of the Indian Ocean and sky-high sand dunes that call out to adventurers, these six destinations fire our wanderlust time and again. That's why we can't wait to go back!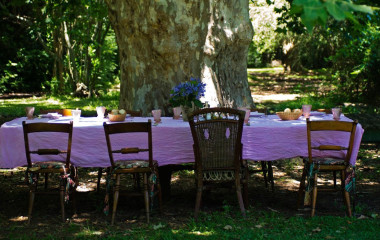 Top Tips for Tipping in South America
There are many cultural norms when you travel in South America. How you tip is just one of them.