Giving Back
Travel & Share
We founded our company with a belief in giving back. Simply, we want to have a positive impact on the communities in which we operate. This ambition is an integral part to our company vision. We are realistic in what we can achieve socially and environmentally, and we are honest in our efforts.
If you have an idea in how we can be better we want to know.
Thoughtful Accommodation
What we do
Within our extensive yet preferred accommodation collection we seek out and offer wonderful accommodation options that are ecologically considerate and socially sensitive.
This could be a safari lodge in Tanzania, a lovingly restored palace in Jaipur, or a boutique hotel that sources its food from its own kitchen garden or farm in Argentina.
How you can get involved
Ask our Travel Consultants for information on some of our more eco-considerate accommodation options.
Supporting Local Communities & Artisans
What we do
Through our considerate sourcing of guest gifts in Africa, we aim to support people who have been marginalized by their society by helping them to realize their potential, developing new skills, improving their own lives and gaining self-esteem. We are currently developing similar initiatives in Asia and South America.
How you can get involved
Visit the production facilities of our partner organizations and interact with the people working there and, if you wish to do so, support them through purchasing the beautiful products they create.
We currently support two organizations in Kenya and Tanzania, Jacaranda Workshop and Shanga that employ disabled or otherwise disadvantaged people.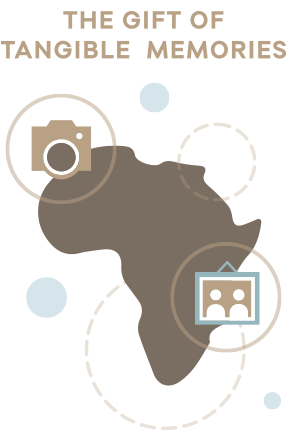 The Memory Foundation
What we do
Through the Memory Foundation, we aim to give people in remote areas in Africa who often don't have any personal pictures a tangible memory of themselves and their loved ones.
For this purpose, we leverage our frequent exploration trips to often remote areas in Africa during which we experience the places we suggest to our guests.
On each of these trips, we dedicate a couple of hours in remote villages where we take pictures of the local people and print & frame there and then.
How you can get involved
This initiative provides an unusual opportunity for our guests to interact with people in remote areas in a unique way and leave memories behind that create lasting smiles rather than just taking pictures of unknown people for themselves.
Talk to your Travel Consultant in Africa how to include this activity in your itinerary.
Rewards & Awards Program
What we do
We are proud that we are the best paymasters in the industry and ensure rates above standard.
We believe that if our team are happy then so are our guests. That's why we have a rewards program for our guides and chauffeurs in India and East Africa so that they financially benefit from their extra enchantment.
We also hold an annual awards ceremony where financial prizes are rewarded for our best annual guides and chauffeurs.
How you can get involved
If you are especially pleased with any of our team then please tell us when you are providing feedback about your trip so that we can appreciate and reward them.

Mentoring & Internships
What we do
In cooperation with the Jubilee Scholarship Foundation, Enchanting Travels offers 3-4 months internships to high school graduates within our Africa office.
We help them gain practical work experience and develop their skills so that they can either start their own business or increase their chances of future employment.
Our interns receive mentoring support to help them with challenges they are facing and support them in taking career-related decisions.
Longer-term, we envision offering full-time jobs to successful past interns.
How you can get involved
This initiative also offers unusual opportunities for our guests to interact with young people and get insights into every-day life in Africa.
Furthermore, if our guests wish to do so, they have the opportunity to impact a young person's life, through mentoring and/or sponsoring their education.