Top Things to do in Agra
Plan your Agra vacation around the top things to do in Agra.
With the stunning Taj Mahal, historic Mughal heritage, vibrant local culture and cuisine, Agra is a delightful travel destination. The city has so much to offer for a range of travelers. Whether you are a history buff, a gourmand or want to celebrate a romantic vacation, Agra will not leave you disappointed.
If you are wondering when is the best time to visit Agra, or how best to plan your North Indian sojourn, our destination experts are waiting to help you. Here is a list of the top things to do in Agra curated by our Enchanting Travels specialists, which should definitely be part of your Agra travel guide!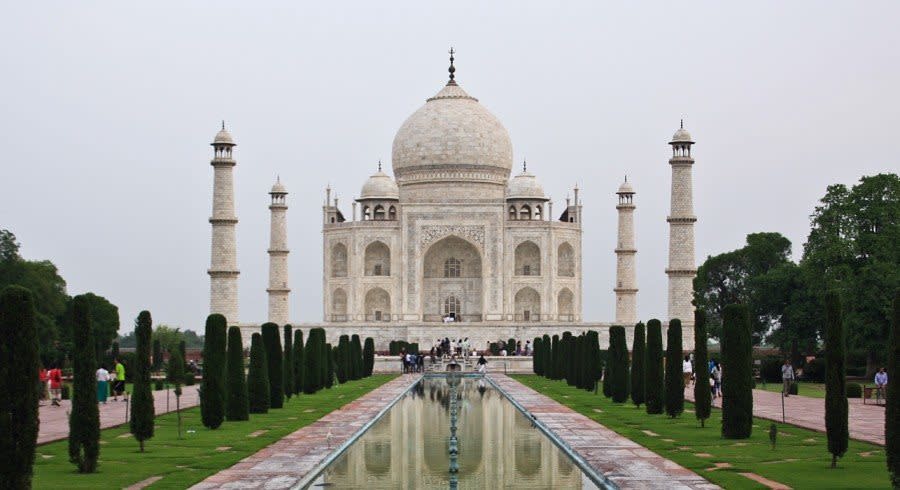 Explore
Where do you want to go? What do you want to do? Be it popular sights or off the beaten path experiences, tell us your travel dream through our trip planner.
Design
Our destination experts will get in touch with you to craft a completely tailor-made, obligation-free itinerary to match your interests and budget.
Experience
Once you have booked your trip, sit back and relax – we'll take care of everything else. With our exceptional local team & 24/7 support, priceless memories await you!
Close
1
Visit the Taj Mahal at night
The glorious feat of Mughal architecture, the Taj Mahal, is an incredibly beautiful sight by moonlight. One of the seven wonders of the world, it is believed that the Taj changes its colors during the full moon nights, so if you're visiting during such a time, don't miss out on this spectacle
Visiting the Taj Mahal is definitely one of the top things to do on your Agra vacation!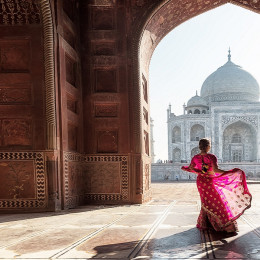 2
Watch 'Mohabbat, the Taj Mahal Story' – A dance and drama Show
Dance, drama and the Taj – what could be more culturally exciting? Spend an evening at Agra's Cultural and Convention Centre, where you can see the largest replica of the Taj Mahal.
This was designed by 28 artisans over seven years and is built out of Makrana marble! The series of plays available in eight languages performed by The Sanskritik Natyashala group delves into Emperor Shah Jahan's immortal love for his wife Mumtaz Mahal. !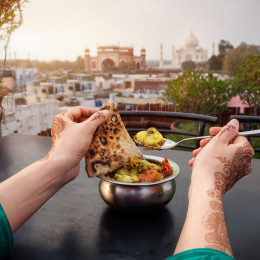 3
Take a culinary tour of Agra
At dusk, visit some of the oldest and top-rated food joints in the city. Savor over a dozen mouth-watering dishes, whose recipes have been handed down through the centuries!
Sample a host of famous North Indian street food – popular items include sweets like petha and dalmoth, as well as Mughlai food. One of the top things to do in Agra!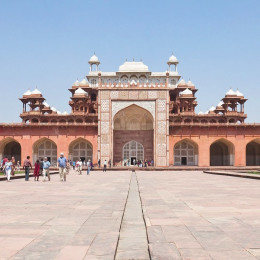 4
Discover history in Sikandra
Visit Sikandra, a town close to Agra replete in history and home to stunning architectural monuments like the tomb of the great Mughal Emperor, Akbar. A must-visit here is the Itmad-ud-Daulah, which closely resembles the Taj Mahal.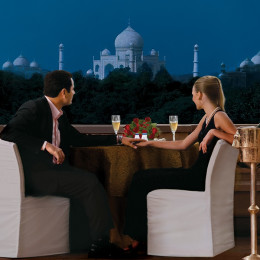 5
Relish a regal Mughal dinner at the Oberoi Amarvilas
A feast for the senses! Savor traditional Indian cuisine, authentic flavors amid stunning Mughal architecture, as well as beautiful views of the hotel gardens and water bodies. Relive the glory and pomp of the Mughal empire as you feast like an emperor!
Your grand three-course Royal Indian thali (plate) features classic Mughal recipes, enhanced by an ambiance of classical music and torches, giving the entire setting a truly regal air!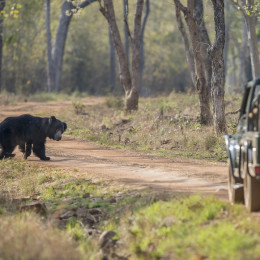 6
Visit a Bear Rescue Center in Agra
Wildlife SOS Bear Rescue Facility works to rescue and rehabilitate animals under the Indian Wildlife Protection Act, saving over 600 bears.
Take a guided tour to meet rescued Indian Sloth Bears, followed by an informative presentation that looks at how human/wildlife conflicts can be avoided.
Discover all the best things to do in Agra by booking your vacation with our experts at Enchanting Travels. Contact us for your tailor-made and obligation-free tour itinerary.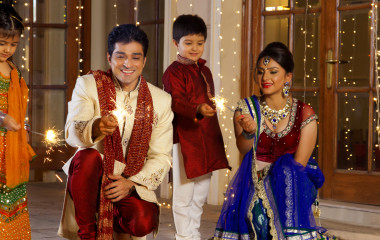 How to Celebrate Diwali During Your India Tour
Experience the festival of lights and sound as communities come together for the Hindu festival dedicated to the victory of light over dark! Worth including in your India travel plan, Jen Marsden takes you on a journey on how best to celebrate Diwali during your India tour.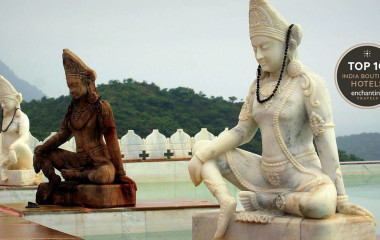 Top 10 North India Boutique Hotels
Discover our top 10 North India boutique hotels, assessed on the most popular accommodation, feedback from our guests, and our quality testing by our team.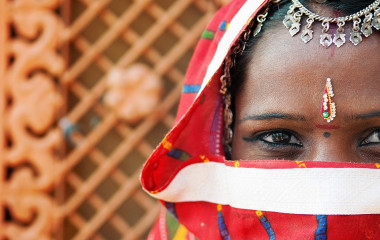 North or South India: Which is the one for you?
With a vast country like India, choosing a region is no mean feat! Here's your comprehensive guide on what North and South India have to offer to help you decide on the best tour for you.
popular trips to North india
Jewels of North India and Kerala
20 Days: $ 5,790
/ person
Take a soul-stirring journey through historic old tows, holy cities and enchanting landscapes on this comprehensive tour of India. Starting in the north, see centuries old rituals performed by the banks of River Ganges in Varanasi.
Heritage Cities and Himalayan Escapes
16 Days: $ 6,090
/ person
Take in India's vibrant heritage and incredible landscapes on this customized tour. Not just the famed Golden Triangle of India – Delhi, Agra and Jaipur – also discover centuries old traditions in spiritual Varanasi.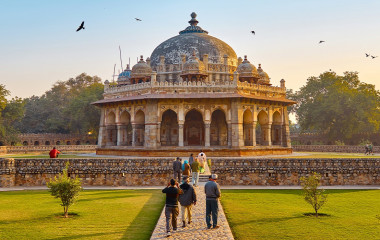 India's Jewels and Secrets
14 Days: $ 4,190
/ person
Explore India's vibrant cultural and spiritual centers in-depth, from Rajasthan's historic regal cities to safaris in Ranthambore and the majestic Taj Mahal. Not just the classics, also discover authentic local villages and atmospheric old cities, take sunset cruises in tranquil Lake Pichola, and explore rural regions and bustling metropolises like an insider. Would you like to […]
travel with an award-winning team
All our unique tours are built on extensive knowledge of our destinations, an outstanding team of professionals, and personalized top-notch service. In 2019, we were recognized with the Travel Weekly Magellan Gold Award for being the World's Leading Tour Operator – Overall, and nominated as Europe's Leading Tour Operator by World Travel Awards. In 2020, we have won the Most Trusted Online Tour Operator Award by Lux Life Magazine.

THE ENCHANTING DIFFERENCE
Through my conversations with Swati and some changes that evolved the trip was perfectly planned and brilliantly executed. Her interest into my goals on this trip, produced an incredible experience.
Enchanting Travels customizes every aspect of our travel which perfectly suits our needs. The staff is knowledgeable, professional, patient, fun and personable, as well as attentive to all our needs throughout our trip. We also enjoy all the private transportation, private tours and luxury accommodation. We feel like the kings and queens when we travel with Enchanting. Enchanting offers the perfect travel experience for us!
I cannot imagine being without Enchanting Travels for my first trip to India. With new and different things to acclimate to and customs I was not privy to, ET made my journey a breeze. I was able to see and enjoy the entirety of all places visited without worrying about tickets and transfers and luggage and hotels and anything that might take me away from being "in the moment". Usually one fourth of my trip is spent making arrangements but not so with Enchanting Travels as it is all done for you. Kudos to ET.
Do you have a vacation in mind? Personalize your itinerary with our Trip Builder.