When is the best time to visit the Arctic?
One of the most untouched regions in the world, the Arctic is home to awe-inspiring sights – the dancing Northern lights, majestic glaciers, unique landscapes, and rich biodiversity. That's not all – a trip to the Arctic allows you an in-depth understanding of the lives and culture of the Inuit and other indigenous people, vastly different from the rest of the world.
The region could well be on top of your list, but with extreme temperatures and distinct weather patterns, it is essential to learn the best time to visit the Arctic.
As with any other destination, the best time for an Arctic Cruise depends on which part of the Arctic Circle you want to visit and what activities and experiences you want to sign up for. Most North Pole cruises operate from May to September. The most popular months to visit the region are July and August although you can travel to Spitsbergen as early as May and Greenland as late as October.
Most Ideal
Low Season
Overview
This is the middle of winter, with average temperatures ranging from to 14°F to 19°F. Sailing passages are closed, and the skies are dark and clear.
WE RECOMMEND
It's one of the best months to view the Northern lights from Iceland, Norway or Russia
OVERVIEW
Temperatures are well below freezing point in the region and dark days continue throughout the month. The skies are clear, and it's still a great time to view the Northern Lights.
WE RECOMMEND
Lace-up for a snowshoeing adventure or ice fishing tour in Ilulissat, Greenland, or in Finland
OVERVIEW
It starts to get warmer in March, and the first signs of life begin to emerge. The sun makes a brief appearance during this month. The spring equinox falls around March 21.
WE RECOMMEND
Set off on a snowmobiling tour – a great way to appreciate the region's unique landscape
OVERVIEW
Temperatures start to rise above freezing in some parts, and the ice begins to thaw. Polar bears emerge from their dens, little ones in tow, just in time for seal birthing season.
WE RECOMMEND
Hop on for an exhilarating husky-pulled sled ride through the snow-laden wildernesses
OVERVIEW
May marks the start of the cruise season. The midnight sun makes its appearance and stays until the end of August. Migratory birds begin to arrive as do whales. It's an excellent month to visit Spitsbergen.
WE RECOMMEND
Witness the ethereal beauty of glaciers and mountains at the Svalbard archipelago
Experience the thrill of spotting the King of the Arctic – the polar bear
OVERVIEW
Icebreaker voyager ships start their journey to the North Pole in June.The month presents plenty of opportunities to view wildlife – bears, walruses, whales, birds, and more. Mercury readings are above freezing point throughout the region.
WE RECOMMEND
It's the best time to view the unicorns of the sea – narwhals
Be witness to a walrus haul-out, when they haul-out onto land and ice to rest and reproduce
Take an  ice-breaker cruise to experience what it feels like to stand  on the 'Top of the World' at the North Pole
OVERVIEW
This is one of the busiest months of the year. With temperatures ranging from 37°F to 55°F, July is also one of the warmest periods. The Canadian Arctic opens up to cruise ships. There are plenty of chances to view myriad wildlife.
WE RECOMMEND
Keep your camera ready to capture the rich biodiversity of the Novaya Zemlya region – polar bears, reindeers and Arctic foxes, and an incredible variety of birds
It's beluga season at Hudson Bay in Canada
OVERVIEW
Sea ice is at its least during this month and ocean passageways to Greenland open up. August also sees the most amount of avifauna activity. Temperatures remain similar to that in July.
WE RECOMMEND
Meet the Inuit people and experience the beauty of their lands as you sail the waters of the Northwest Passage
Visit the iceberg capital of the world – the UNESCO World Heritage site of Ilulissat Icefjord
OVERVIEW
Daylight hours begin to reduce, temperatures drop to 34°F to 50°F, and ice begins to build up. The leaves change color and migratory birds head south.
WE RECOMMEND
Suit up and go glacier hiking
Head out on a Zodiac boat excursion and get up close to glaciers and wildlife
OVERVIEW
Cruise ships leave as temperatures drop to below freezing point. But the Arctic is far from quiet. . In Churchill, Canada, the polar bear capital of the world, the Kings of the Arctic arrive in  hundreds for seal hunting season.
WE RECOMMEND
Visit Churchill, Canada, during the month to improve your chances of spotting polar bears
OVERVIEW
Polar bear activity continues at a frenetic pace in Churchill. Temperatures are below freezing all over, ranging from 10°F to 26°F and ice starts to cover land and sea
WE RECOMMEND
Polar bear activity continues in Churchill, Canada
OVERVIEW
The ice thickens and daylight hours continue to reduce. Temperatures drop further and are in the range of -8°F to 21°F.
WE RECOMMEND
Celebrate a White Christmas at Santa's hometown in Rovaniemi in Finland, situated right on the Arctic Circle
Dream Carefree
Go ahead and dream big. Enchanting Travels experts are here to help you plan the ultimate escape. Tell us your vision for the trip of a lifetime and we'll make it a reality.
Plan Carefree
One of our destination experts will reach out to craft a completely customized itinerary. Book your personalized journey and know that our flexible policies have you covered.
Travel Carefree
Relax and prepare for takeoff, knowing that your trip is perfectly planned and you have a personal concierge on call 24/7. Our experts are here to keep you safe and handle the details.
Close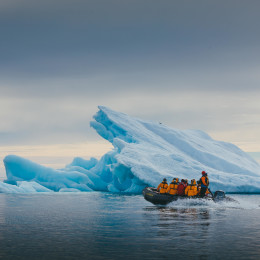 Best Time to Visit the Arctic by Season
Spring: While the general perception of the Arctic is that of a land with a year-long winter, the region actually has distinct seasons and dramatically different landscapes during each of these periods. The first signs of life start to show up in early spring, i.e, March and April when polar bears emerge from their dens with their cubs. The ice is still thick, and it's a great time to view enormous icebergs and the Northern Lights. Depending on where you go, temperatures range from -20°F to 5°F. Cruise ships start operations by May with abundant wildlife viewing opportunities. This period is known as floe edge season, where the open waters meet the ice that is still attached to the shoreline. This presents excellent opportunities to spot narwhals, bowhead, and beluga whales. Temperatures are warmer during May and June, around 26°F to 50°F, though it can feel a lot warmer due to extended daylight hours.
Summer: Summer runs from July to August and is the busiest time of the year. With temperatures ranging from 50°F to 70°F and the ice has melted, travelers can participate in a range of outdoor activities including kayaking, trekking, glacier hiking, and ice fishing.
Fall: The months of October and November are a period of transition – the landscape changes color to acknowledge the arrival of fall. Temperatures drop (4°F to 23°F), daylight hours decrease as the weeks go by, and the ice starts to build up. It's the best time for polar bear viewing.
Winter: The region is covered with a thick blanket of snow during winter, from December to February, with temperatures well below freezing point. While most cruises stop plying by the end of October, those willing to brave the cold will be rewarded with surreal icescapes and the best chances to view the dancing Aurora Borealis or Northern Lights.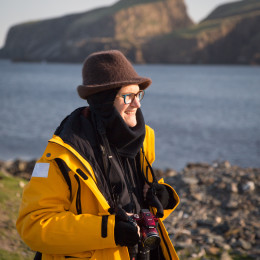 What to Pack for the Arctic
Due to its extreme and often harsh weather conditions, what you pack for your Arctic trip or polar cruise becomes extremely important.
Suggested Clothing
The most important aspect of packing clothing for the Arctic is getting 'layers.' With vast temperature differences, layers allow you to dress up or down.
Clothing made from high wicking material such as merino wool.
Warm base layers or thermal wear that is snug
Lightweight, quick-dry, long sleeve T-shirts or shirts
A warm fleece with a hood
A waterproof jacket
A thick, wind-resistant parka
Wind, water-resistant, and quick-drying trousers with a fleece lining on the inside
Footwear
Kneehigh, waterproof rubber boots
Several pairs of thermal socks
Sturdy shoes with good grip for deck viewing activities
Sandals for inside the cruise
Other accessories
Fleece-lined beanies
Headbands and balaclavas
High-quality sunglasses that block out UVA, B, and C rays
Liner gloves
High quality, thick gloves
Sunscreen with an SPF factor of greater than 30
Hiking poles
Camera, tripod and binoculars
Is the Arctic on your bucket list? Get in touch with our experts for a tailor-made tour of the 'top of the world'!
OUR AWARDS
At Enchanting Travels, our unique tours are built on extensive knowledge of our destinations, an outstanding team of professionals, and personalized top-notch service. Our work is consistently recognized by prestigious organizations across the travel industry. In 2020, we have been awarded the Travel Weekly Magellan Gold Award for the World's Leading Tour Operator – Overall, the Lux Life Magazine Award for the Most Trusted Online Tour Operator, and North America's Leading Tour Operator by World Travel Awards.





This was our second trip with Enchanting Travels. Our first was to Bali. This trip was a driving trip to the Utah National Parks and the Grand Canyon. We trusted Enchanting Travels to set up an itinerary that would enable us time to see all the sites without feeling rushed. The planning they did on short notice was perfect. Our personal trip coordinator did a great job of keeping in contact, answering questions and making reservations. Highlights were a helicopter trip over the Grand Canyon and many hikes into breathtaking areas. Enchanting Travels makes trip planning so easy and the trip itself an unforgettable experience. We highly recommend them.
"My wife and I have been planning a trip through South America and our Travel Consultant, Lisa Fox, has provided nothing but exceptional service and support to create the perfect itinerary for this trip. Bags were nearly packed and we could picture the view from Machu Picchu, but plans have had to change due to travel safety and restrictions from the recent Coronavirus. While this could have been a very stressful time having to reschedule, rebook and who knows how much money could have been lost for what has already been paid for, Enchanting Travels has made it incredibly easy and stress free to reschedule the trip once this passes. We are very appreciative for the pre-trip support, and can already tell that the experience once we are actually on the road will be equally incredibly. Thanks for all your support!"
"Great company, great people!
They helped us put together a complex schedule which included a number of experiences that we could not otherwise get. Also, in light of Covid-19, they were able to reschedule our upcoming Japan trip without additional fees, where many of my friends have scheduled similar trips (same timeframe) on their own, and all were refused a refund or reschedule without significant fees, despite having trip insurance."
"We have used Enchanting Travels twice for trips. We couldn't have been happier with the trips planned. Our first trip was a spectacular trip to southern India with driver for three weeks. This year's trip was to Scotland. Unfortunately with the corona virus pandemic we chose to postpone this trip until 2021. Enchanting travels was very understanding of our concerns and quickly responded by moving our trip with all our desired sights to spring of 2021. Couldn't ask for anything better from this stellar company with their caring staff."
"Enchanting Travels is a bespoke experience. From planning my trip, through to the trip itself, everything was thought about. We traveled at a particularly difficult time, due to the Coronavirus outbreak. We were supported with everything, kept up to date with how the situation was developing and how this might affect us. Having WiFi in the car allowed us to communicate with our Trip Coordinator and check with our online government updates. Our stay was luckily not affected, but I felt so supported by the team. Our guides were ready waiting for us, could answer any questions about the sites we were visiting, they communicated with our chauffeur to ensure everything went smoothly. I could not recommend this company more highly. Excellent planning, experience, and execution. Our holiday was truly ENCHANTING!"
"The best thing about Enchanting Travels is the people, from the trip planners to the guides to the drivers. Everyone has been friendly, courteous and professional. The activities and accommodations are planned to fit our wishes, but we still had the flexibility to add or change and activity at short notice."
"I recently completed a 46-day adventure tour through India that was the best ever thanks to Enchanting Travels. The Enchanting Agent began by interviewing me for an hour and came back with the perfect routing and pacing. The on-the-ground support was second to none. Enchanting says that their trip coordinators are there 'in case of emergency' but that does not come near to describing the relationship. My trip coordinator was in constant communication with me to ensure that every leg of the trip went as planned. No detail was too small for her to look after. I was assigned the same driver for 27 days and he was the 'Best Indian Driver Ever' because he did more than drive. He curated experiences on the road on those 'non-planned' days that I will remember for a lifetime. The value for money was simply remarkable. I don't think I'll travel without the help of Enchanting Travels again."
"Enchanting Travels is very knowledgeable about the areas they coordinate travels for. The consultants and coordinators are very easy to work with to arrange and coordinate what you want to see and do."
"Enchanting Travels was stellar across the board. From planning to getting there and experiencing Peru, our Enchanting Travels team made it truly enjoyable. The perfect amount of culture, adventure, and relaxation!"
THE ENCHANTING DIFFERENCE
Have a vacation in mind? Personalize an itinerary with our Trip Builder