Tantalizing Tango: Rhythms of an Argentina Holiday
The romance and rhythm of a holiday in Argentina can take so many joyful forms. A speedboat ride under thundering Iguazu Falls, results in a thrilling dousing from the cascading waters. To the west, from an open-air café in the fantastically well-preserved colonial city of Salta, the illuminated pink-and-gold Salta Cathedral looks ethereal against the night sky.
You will undoubtedly meet gauchos, the horsemen of the pampas, and eat juicy steaks with fries, and crispy empanadas. But beyond these happy cliches there's more. Part Latin, part European, Argentina's capital Buenos Aires is many things to many people, but everyone will agree that it has swag. Where else is dancing the tango to live music in the middle of the street, an everyday occurrence? Milongas are the parties to attend, to tap into the rhythmic heartbeat of this tango-loving nation.
And since it takes two to tango, you can plan the most harmonious private Argentina tour, in concert with an Enchanting Travels consultant. The breadth and diversity of this vast country can be complicated, and we'd like to ensure you get a perfect, obligation-free itinerary.
South of Buenos Aires, watch an orca breach in the Peninsula Valdes, while penguin chicks nestle in burrows nearby, and visitors swim with sea lion pups at Punta Loma. From this wildlife paradise, lead on to Patagonia's icy glaciers, for some of the most captivating landscapes on the planet.
Explore
Where do you want to go? What do you want to do? Be it popular sights or off the beaten path experiences, tell us your travel dream through our trip planner.
Design
Our destination experts will get in touch with you to craft a completely tailor-made, obligation-free itinerary to match your interests and budget.
Experience
Once you have booked your trip, sit back and relax – we'll take care of everything else. With our exceptional local team & 24/7 support, priceless memories await you!
Close
POPULAR TRIPS TO Argentina
Southern Latitudes, Landscapes and Wildlife
13 Days: $ 12,990
/ person
On this vacation, travel to the glacier cleaved lands of remote Patagonia. Beginning at the colossal glaciers of Torres del Paine, travel to the stunning Perito Moreno, discover penguin colonies at the end of the world, and sail in a spectacular land of snow – Antarctica!
Load More
OUR AWARDS
At Enchanting Travels, our unique tours are built on extensive knowledge of our destinations, an outstanding team of professionals, and personalized top-notch service. In 2019, we were recognized with the Travel Weekly Magellan Gold Award for being the World's Leading Tour Operator – Overall. In 2020, we have been nominated by World Travel Awards as Europe's and North America's Leading Tour Operator, and have won the Most Trusted Online Tour Operator Award by Lux Life Magazine.




"My wife and I have been planning a trip through South America and our Travel Consultant, Lisa Fox, has provided nothing but exceptional service and support to create the perfect itinerary for this trip. Bags were nearly packed and we could picture the view from Machu Picchu, but plans have had to change due to travel safety and restrictions from the recent Coronavirus. While this could have been a very stressful time having to reschedule, rebook and who knows how much money could have been lost for what has already been paid for, Enchanting Travels has made it incredibly easy and stress free to reschedule the trip once this passes. We are very appreciative for the pre-trip support, and can already tell that the experience once we are actually on the road will be equally incredibly. Thanks for all your support!"
"Great company, great people!
They helped us put together a complex schedule which included a number of experiences that we could not otherwise get. Also, in light of Covid-19, they were able to reschedule our upcoming Japan trip without additional fees, where many of my friends have scheduled similar trips (same timeframe) on their own, and all were refused a refund or reschedule without significant fees, despite having trip insurance."
"We have used Enchanting Travels twice for trips. We couldn't have been happier with the trips planned. Our first trip was a spectacular trip to southern India with driver for three weeks. This year's trip was to Scotland. Unfortunately with the corona virus pandemic we chose to postpone this trip until 2021. Enchanting travels was very understanding of our concerns and quickly responded by moving our trip with all our desired sights to spring of 2021. Couldn't ask for anything better from this stellar company with their caring staff."
"Enchanting Travels is a bespoke experience. From planning my trip, through to the trip itself, everything was thought about. We traveled at a particularly difficult time, due to the Coronavirus outbreak. We were supported with everything, kept up to date with how the situation was developing and how this might affect us. Having WiFi in the car allowed us to communicate with our Trip Coordinator and check with our online government updates. Our stay was luckily not affected, but I felt so supported by the team. Our guides were ready waiting for us, could answer any questions about the sites we were visiting, they communicated with our chauffeur to ensure everything went smoothly. I could not recommend this company more highly. Excellent planning, experience, and execution. Our holiday was truly ENCHANTING!"
"The best thing about Enchanting Travels is the people, from the trip planners to the guides to the drivers. Everyone has been friendly, courteous and professional. The activities and accommodations are planned to fit our wishes, but we still had the flexibility to add or change and activity at short notice."
"I recently completed a 46-day adventure tour through India that was the best ever thanks to Enchanting Travels. The Enchanting Agent began by interviewing me for an hour and came back with the perfect routing and pacing. The on-the-ground support was second to none. Enchanting says that their trip coordinators are there 'in case of emergency' but that does not come near to describing the relationship. My trip coordinator was in constant communication with me to ensure that every leg of the trip went as planned. No detail was too small for her to look after. I was assigned the same driver for 27 days and he was the 'Best Indian Driver Ever' because he did more than drive. He curated experiences on the road on those 'non-planned' days that I will remember for a lifetime. The value for money was simply remarkable. I don't think I'll travel without the help of Enchanting Travels again."
"Enchanting Travels is very knowledgeable about the areas they coordinate travels for. The consultants and coordinators are very easy to work with to arrange and coordinate what you want to see and do."
"Enchanting Travels was stellar across the board. From planning to getting there and experiencing Peru, our Enchanting Travels team made it truly enjoyable. The perfect amount of culture, adventure, and relaxation!"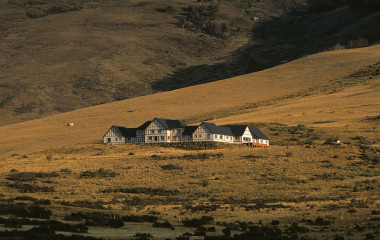 Our top 10 Haciendas and Estancias in Argentina, Chile and Uruguay
Discover why a tour in Argentina, Uruguay and Chile is incomplete without a stay in the charming estancias and haciendas that these countries are known for.
Iguazu Falls: Which side of the South American stunner should you see?
The Iguazu Falls are an absolute highlight of a South America vacation. Located on the triple frontier of Argentina, Brazil and Paraguay, you can see the world's largest waterfalls from the Argentine side as well as the Brazilian side. But, which side is better for you?
Read Post