Planning a Patagonia trip? Discover a most unusual destination in southern Patagonia in Argentina. Bahia Bustamante is a serene family "pueblo alguero" that lies alongside crystal clear coastal waters, extraordinary marine life and even seaweed harvesting!
Península de Valdés is located on the Atlantic coast in the north east of Chubut Province, Argentina.
This sprawling nature reserve is a UNESCO World Heritage site and is most famous for its southern right whale sanctuary, yet there's much more that defines this region.
Unique, diverse landscapes and bountiful nature provide purely authentic encounters that are the essence of an experience in southern Patagonia.
Horizons collide together in panoramic unity whilst a rugged heart emerges through thorny bushes, dirt roads and the white-washed homes of a quiet village.
Right on the shores of the ocean about four hours south of the Peninsula, Bahia Bustamante lies on the southeast area of Chubut.
A privately-owned estancia sited on 80,000 hectares that has several natural colonies of birdlife boasting large wingspans.
Expect to observe Penguins, Steamer Ducks, Skuas, Cormorants, Petrels, Terns, Olrog Seagulls and Oyster Catchers!
Bahia Bustamante came from the passion of one man, Matias Soriano, who decided to protect the biodiversity of this isolated ecosystem that boasts nature with prehistoric features, not dissimilar to what you can find in the Galapagos Islands.
Seaweed harvesting was started here 70 years ago by Soriano's grandfather and turned into a natural production hub.
The algae's rich nutrients offer a wonderful breeding ground for everything from guancos to orcas to foxes to vultures and rheas!
Completely tucked away from most visitors, this unusual location became an inviting home-from-home for guests from around the world by pure accident when one day a couple walked onto the family farm in error and ended up staying a few weeks!
Activities are as unique and adventurous as you wish and are tailored personally to the 400 guests who visit each year.
A horseback safari is the perfect transport mode for witnessing the vivid Atlantic coastline, or you could explore the waters in a sailboat or by kayak and even visit shipwrecks.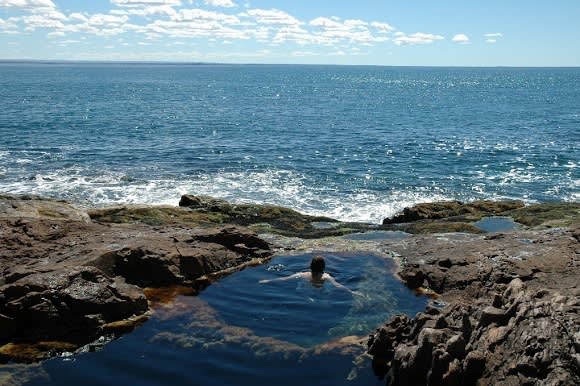 You can participate in the production processes of wool, lamb and mutton and learn about the techniques for dyeing, spinning and weaving wool.
During August and early September it's the peak of ranch season when 20,000 animals are sheared – and when you can acquire new hands-on skills!
Hiking and mountain-biking is encouraged and you're bound to encounter waddling penguins en route.
A Petrified Forest that dates back about 65 million years is there to mystify you with its changing scenery. This peculiar forest was once an orchard. Now it's a moon-like landscape with shiny colored opal to dazzle the visitor.
Meal-times are a hearty affair at Bahia Bustamante, where you can tuck into salty, fresh roasted lamb and appetizing organic vegetables and fruits that are all sourced locally at the farm.
Who would have thought a location most famous for seaweed and sheep could be so inspiring?
Enchanting Travels recommends that September to March are the best months to visit Bahia Bustamante.