It is June 10, two days to the start of the World Cup. I am writing these lines in the back of Pele, our expedition vehicle, with the vast wetlands of Brazil's Pantanal drifting by as we are making our final push to Rio de Janeiro, on our epic journey from Africa to Brazil.
Exactly 200 days ago, we embarked on a road journey of more than 40,000km taking us from Nairobi through 25 countries around the world to Brazil.
The idea for this journey was born four years ago, during a road trip from Nairobi to the 2010 World Cup in South Africa.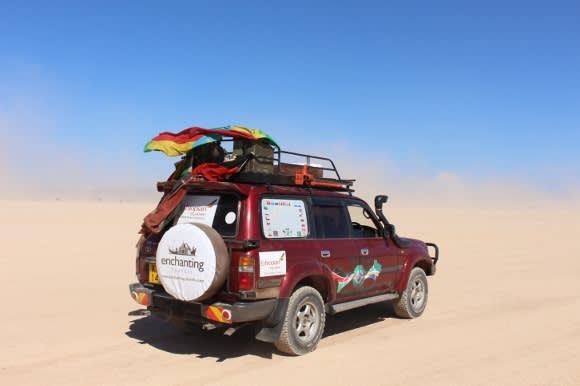 The dream stuck in my head and night after night, I was mulling over world maps and researching possible routes that would take me to places I always wanted to explore and would probably never visit if not on this journey.
"Siberia" sounded adventurous if somewhat threatening, and the goal of crossing Siberia in winter became the cornerstone of my route planning. Initially, I intended to drive from Nairobi to Cairo, cross the Mediterranean to Turkey and then head east. Suddenly, however, Egypt exploded and the shipping connections between Egypt and Turkey were discontinued, forcing me to look into various alternatives: the land connection between Israel and Turkey is blocked due to the Civil War in Syria, Irak is a no go zone, Saudi Arabia is extremely restrictive with its tourist visas and doesn't allow any right hand drive vehicles.
Therefore, the only feasible route seemed to drive via Ethiopia to Djibouti, ship our vehicle to Oman, drive to Dubai and take a ferry across the Persian Gulf to Iran.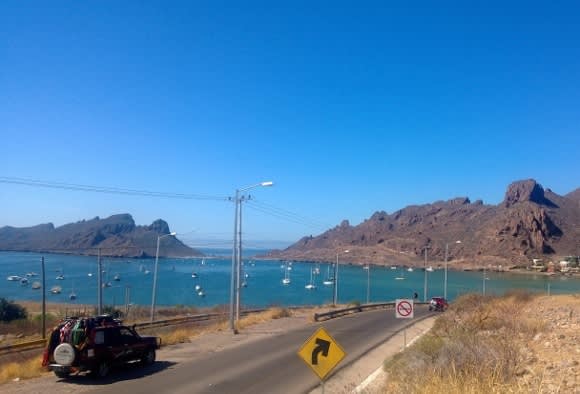 From Iran, we planned to drive through Central Asia to Mongolia and then across Siberia to the Pacific Ocean. The biggest challenge was to get our vehicle from Russia to the US. To my great surprise, I learned that there are no direct shipping connections between the world's two superpowers. We had to plan for a stopover in Japan, and a container ship from there to Los Angeles would take an entire month!
Once in the Americas, the route looked clear and easy: through Mexico and Central America and along the Andes to Brazil. However, a final sea crossing would be necessary to get from Central to South America. Even though there is a land bridge between Panama and Colombia, this is impenetrable jungle and drug trafficking country, and there is no road that connects these two countries.
Our route entailed a total of five ocean crossings and we built in 40 buffer days to ensure we would arrive in time for the start of the World Cup even if the shipping connections didn't work out as planned. This turned out to be vital.
There were countless other logistics for the journey. As around 20 friends and colleagues from all around the world were planning to join me on different parts of the trip, it took quite some time to figure out the visa requirements.
A reliable expedition vehicle was crucial for the success of our journey. It took us several months to find Pele, a 1997 Turbo Diesel Landcruiser, and several more weeks to get him ready for the journey. The last couple of days before our departure were extremely hectic. At 4pm on the day before leaving Nairobi, we finally received the "Carnet de Passage", a kind of vehicle passport and a crucial document for such a journey.
On a sunny morning in late November, we had a cheerful send off from Nairobi. Driving through remote and dramatic Northern Kenya was a great start for our trip, and many other spectacular drives would follow – through the grandiose Omo Valley in Ethiopia, moonlike landscapes in Djibouti and Oman, majestic deserts of Iran, infinite plains, mountains and valleys of Mongolia and Siberia, over frozen Lake Baikal, along beautiful Caribbean beaches, through lush Central American jungles and finally across the at times vertigo-inducing Andes in South America.
The first two months of our journey passed without any hiccups but we knew that eventually we would be caught by winter and extremely cold temperatures. This eventually happened: it was an early morning, still dark and snowing heavily – we were leaving Almaty in Kazakhstan, Central Asia, heading north towards Siberia.
It was the moment the real adventure of our journey around the world began, and I vividly recall the sense of joy, anxiety, excitement, anticipation and freedom as we were driving through the endless Kazakh steppe, surrounded by featureless white nothingness.
Two days later, after crossing the border to Russia, we woke up to a rude shock – Siberian temperatures had dropped to -33°C over night, so cold that it was difficult to breathe. Pele didn't even make the faintest yelp when we turned the key in the ignition. Initially, we thought that the cold had drained the batteries but we soon realized that the diesel fuel had frozen. The only thing we could do was to have Pele trucked to a heated local garage for de-freezing.
Over the next couple of weeks, we learned how to protect Pele from the arctic night temperatures – adding a can of anti-freeze to the fuel, covering the bonnet with thick blankets or even mattresses, closing the exhaust with a piece of cloth, and getting up every two hours throughout the night to run the engine for 20-30 minutes. Other challenges during the journey were the nail biting bureaucracy during border crossings, especially in Central Asia where mysterious forms in Cyrillic language had to be filled and crossing borders took 3-4 hours. The language barrier added to the adventure of traversing Iran, Central Asia and Russia in winter.
Simple things we normally take for granted turned into tests of persistence and ingenuity – decoding Persian and Cyrillic street signs and restaurant menus were at times hilarious experiences!
There was a moment when I thought that our journey might be over. I wasn't aware that Kenya hasn't signed some key International Convention on Driving Licenses until we arrived in Japan and I was told that with a Kenyan driving licence I am not allowed to drive on Japanese roads. As we had to catch the container ship to the US three days later, we had no option but to drive across Japan and take the risk of being caught. And caught I was!
I spent an entire Sunday at the Tokyo airport police station, being interrogated by an army of police officers who seemed to have nothing else to do and who kept asking me the same questions over and over again. They were polite but very serious looking and just as I thought that I would spend the next decade in a Japanese high security prison, their shift ended, and suddenly they were in a hurry to get rid of me.
The unexpected experiences and encounters with local people to me are the biggest joy in travelling, and these are the moments I cherished most as I made my way from Africa to Brazil.
We stumbled upon a traditional bull jumping ceremony in Ethiopia, stayed with an Iranian family in a small fishing village in the Persian Gulf, went camel riding with local herders in Mongolia, had the most exhilarating day exploring and snowboarding over frozen Lake Baikal, spent a freezing night in a cozy Siberian chalet complete with traditional Russian sauna, smoked Shisha on the sunny ski slopes in Iran.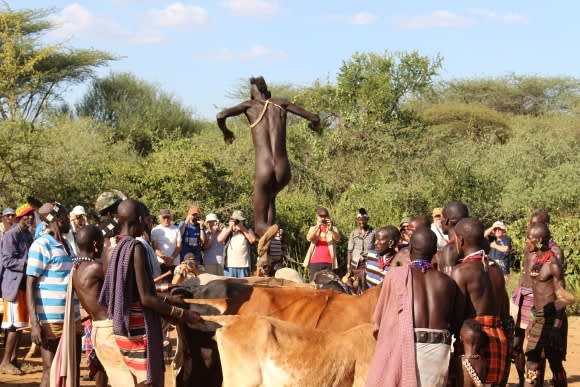 I met Laura, an elderly and blind lady who every day plays the accordion in a historic square in Quito to supplement her meager pension and who in spite of her difficult life circumstances radiates a joy of life that touched me deeply.
There are many moments during this journey that I will treasure and forever carry in my heart, and I am not the same person who left Nairobi seven months ago. Travelling opens the heart and somehow encourages the people we meet to open up as well.
One observation that struck me is that however different people may be in their customs, beliefs, clothing, architecture or food, I encountered similar kindness everywhere – whether in Iranian youths or in Mexican police men who miraculously appeared when I needed help. Coming to the close of this journey, I feel – in spite of its many glaring evils – inspired by humanity.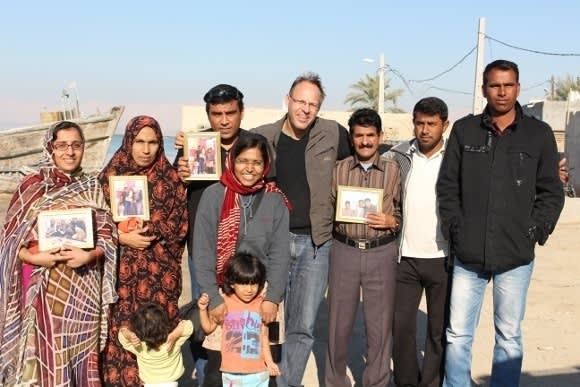 Wherever we stopped on our journey from Africa to Brazil, we were soon surrounded by people of all ages who always asked us the same questions. Where do you come from and where are you going? Why are you doing this journey?
Why this journey? To follow our curiosity and discover the world, to explore breathtaking landscapes crossing swamps, savannas, deserts, mountains and oceans, to expand our horizons and gain new perspectives meeting people from diverse backgrounds and cultures, and to learn about ourselves.
Why this journey? To live a once-in-a-lifetime adventure and to pursue a dream.
I would be happy if the story of my journey from Africa to Brazil is an inspiration for other people to also pursue their dreams, however crazy they may seem. Furthermore, through our journey, we aim to support bright Kenyan kids from a poor background through high school.
Our goal is to raise 100,000 US$ for this purpose and we pledge to match each private donation with an equal amount donated from us – read more here.
In this way, we would like to impact the lives of bright and needy kids and help them to pursue their dreams just like we have pursued ours in embarking on this journey from Africa to Brazil.
Plan your own trip of a lifetime!