When is the best time to visit European Cities?
Stunning architecture, delightful city centers, breathtaking landscapes, quaint restaurants, and vibrant festivals are just a few of the attractions that await you when you travel to some of the most vibrant cities in Central Europe – Vienna, Salzburg, Innsbruck, Amsterdam, Budapest, and Prague. With so much to do, it is prudent to find out the best time to visit these European cities so that you don't miss out on any of the highlights.
The most popular time to visit European cities is the summer months of June, July, and August, but the months before and after summer also offer ideal weathers with fewer crowds.
Most Ideal
Low Season
OVERVIEW
It's bitterly cold throughout the region with day time temperatures ranging from the mid to high 30s and night temperatures below freezing. Expect rain in Salzburg and winds in Prague and Amsterdam. It's an excellent time to explore the palaces and museums these cities are known for, sans the crowds.
WE RECOMMEND
Ski down the Austrian Alps in Kitzbühel, located between Innsbruck and Salzburg
Attend a New Year concert at the Danube Palace in Budapest
It's colors galore at the National Tulip Day celebrations in Amsterdam



OVERVIEW
It's one of the coldest months of the year with average daytime temperatures in the low 40s. Prague sees rainy days in February while Budapest and Amsterdam are mostly dry with clear skies. The skiing season is in full swing in Austria.
WE RECOMMEND
How about sampling some hearty Czech cuisine that's perfect for cold winter evenings in Prague – hot potato soup and a steaming plate of meat and gravy!
Dress up for Farsang, Hungary's colorful carnival
Ice skate surrounded by magical lights at the Wiener Eistraum in Vienna


OVERVIEW
While average day time temperatures are still below 50°F in Vienna and Prague, Budapest sees a rise in temperature to around 57°F. It's still chilly and cloudy, though! In Amsterdam, the weather is unpredictable, with rain showers expected throughout the month.
WE RECOMMEND
Take a tour of the 9th century Prague Castle, known to be the largest ancient castle in the world
A visit to the Anne Frank museum in Amsterdam is a must for history buffs
Beat the cold with a soak in a thermal bath at Budapest


OVERVIEW
Blooming flowers in parks and tree-lined avenues signal the beginning of spring. Temperatures start to inch up with daytime highs in Vienna, Salzburg, and Prague touching 60°F and Budapest in the mid-60s. With manageable temperatures and fewer tourists, April is a good time to visit the European Capitals.
WE RECOMMEND
Explore the twin cities of Buda and Pest on foot
Float down the Vltava River as you take in the springtime sights of picturesque Prague
Visit Keukenhof, the largest flower garden in Europe and an easy day trip from Amsterdam



OVERVIEW
May is one of the best times to travel to the European Capitals, before the season officially begins. Temperatures in Austria and Amsterdam are at a pleasant 65F. Highs in Budapest average around 69F with frequent rains giving the surroundings a fresh, green tinge.
WE RECOMMEND
Discover the Salzburg Altstadt or Old Town, a UNESCO World Heritage Site
Walk under a canopy of pink, purple and yellow blooms in Prague



OVERVIEW
It's the start of summer and the peak tourist season across the European cities. Temperatures are in the mid-70s, making it an ideal time for sightseeing. Salzburg, Budapest, and Prague have a few rainy days during this month, so don't forget to pack a rain jacket or umbrella.
WE RECOMMEND
Immerse yourself in music concerts and dance performances at the Holland Festival
Walk down the Charles Bridge in Prague taking in expansive views of the river on both sides
Take a guided tour of the grand Parliament Building in Budapest



OVERVIEW
July is the hottest month of the year, with day time temperatures averaging between 75°F – 80°F. Expect crowds and long lines as schools close for summer. With 10-15 hours of daylight, there is plenty of time to explore all the attractions.
WE RECOMMEND
Experience the summer buzz of Amsterdam as you float down its charming waterways in a canal cruise
Relive the grand lifestyle of Austria's erstwhile monarchs as you tour Schloss Schönbrunn and Schloss Belvedere in Vienna



OVERVIEW
With temperatures in the 75-85°F range in most cities, August continues to be hot. But, that doesn't deter the holiday crowds. There are plenty of festivals, flea markets, and music concerts happening during this time of the year. Prague and Amsterdam experience bouts of rain, so it is best to carry an umbrella.
WE RECOMMEND
For some nature therapy, head to Vondelpark in Amsterdam, a favorite among locals and tourists alike
Retrace the footsteps of Mozart and the Von Trapp family (from The Sound of Music!) in Salzburg
Get tickets to the Hungarian Grand Prix for an adrenaline rush



OVERVIEW
Most tourists leave at this time, but with temperatures in the upper 60s and plenty of sunshine, it is still a great time to visit any or all of the European cities. The countryside is the place to be with leaves changing colors and the air turning cooler and crisper. Nights can get chilly, so it's best to wear layers or a light jacket.
WE RECOMMEND
Go gallery hopping in the lively Jordaan neighborhood in Amsterdam
Marvel at the art and architecture of the Hofburg Palace in Vienna
Wander the alleys of Prague's Jewish Quarters




OVERVIEW
Temperatures drop in October with day time highs hovering in the range of 58-65°F. However, with plenty of sunshine days dominating the first half of the month, it is still a reasonably good time to travel to Vienna, Prague, and Budapest. Evenings are chilly, so it's best to dress up in warm layers.
WE RECOMMEND
Spend a day at the world-famous Rijksmuseum and Van Gogh Museum in Amsterdam
For the best autumn colors, head to Buda Hills




OVERVIEW
It's time to get out your winter wear. Vienna, Salzburg, and Prague see temperatures drop to around 48F while the Austrian Alps experience the first snowfall of the season. Amsterdam is wet and chilly, while Budapest gets some snow during the month. .
WE RECOMMEND
Witness some of the best opera artists flex their vocal cords at the Vienna Staatsoper
Warm yourself with some hot cocoa at one of the many hip coffee shops in Vienna



OVERVIEW
It's the most magical time of the year, cold weather notwithstanding. Christmas markets, pristine snow-clad mountains, and plenty of good cheer make December one of the best months to visit Vienna and Innsbruck. Amsterdam lights up while Prague and Budapest are abuzz with Christmas festivities.
WE RECOMMEND
Watch spectacular light art installations at the Amsterdam Light Festival
Shop, eat, and soak in the festive spirit at the Old Town Christmas Market in Innsbruck
Witness the beauty of Prague, Budapest and Vienna lit up in all its Christmas glory on a lunch or dinner river cruise

Dream Carefree
Go ahead and dream big. Enchanting Travels experts are here to help you plan the ultimate escape. Tell us your vision for the trip of a lifetime and we'll make it a reality.
Plan Carefree
One of our destination experts will reach out to craft a completely customized itinerary. Book your personalized journey and know that our flexible policies have you covered.
Travel Carefree
Relax and prepare for takeoff, knowing that your trip is perfectly planned and you have a personal concierge on call 24/7. Our experts are here to keep you safe and handle the details.
Close
Seasons
Located in what is considered to be Central Europe, these European cities have distinct seasons that follow a fairly predictable pattern. June to August is summer with warm temperatures and plenty of tourists. The leaves change hues and temperatures drop during the fall months of September, October, and November. The crowds thin out, but it is still a great time to visit these cities. Winter brings in freezing temperatures and snow, but it is also one of the most festive times to visit the European cities. Austria and Budapest host some of the best Christmas markets in Europe. Temperatures start inching up in March, and the landscape changes from white to green, and it's an excellent time to explore the countryside and hike up some trails.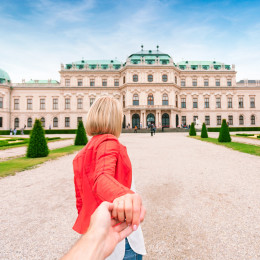 What to Pack
With significant variations in temperatures and weather conditions between seasons, what you pack for your European cities tour depends on when you are visiting these destinations.
With day time highs ranging from the mid-70s in Amsterdam to the low 80s in Prague and Vienna, summer calls for breezy dresses, cotton tops/t-shirts, shorts, and light trousers. There's plenty of walking to do, so pack a pair of good walking shoes. To protect yourself from the sun, take some sunscreen, sunglasses and a sunhat along. If you are planning on trying out some water activities, swimsuits or water-resistant clothing needs to be part of your luggage.
While day time temperatures during spring and fall are pleasant, early morning and evenings can get quite chilly. It's advisable to pack layers, warm scarves, and cardigans. A waterproof jacket or an umbrella will protect you from a sudden shower.
Winters call for heavy-duty winter jackets, warm gloves, scarves, and hats. Thermal inners, long trousers, and layers are a must if you are planning to travel during the winter months. Also recommended are waterproof walking shoes and rain jackets.
With many fine dining and opera experiences available, we recommend packing a formal dress or suit.
Plan a vacation of a lifetime with advice and insider tips from our travel experts. Get in touch with us for a customized, no-obligations itinerary.
popular trips to European cities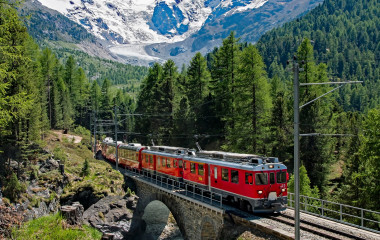 Essential Europe by Rail: Austria, Germany and Switzerland
13 Days: $ 6,490
/ person
Discover historic cities in Central Europe by rail, starting from artistic and cultural Vienna by the Danube river in Austria and ending in cosmopolitan Geneva, the heart of modern Swiss culture. Diverse experiences await you on this journey so you can enjoy both cosmopolitan capital cities such as Munich, Salzburg and Zurich, as well as […]
Load More
THE ENCHANTING DIFFERENCE
One of the very best travel experiences I have ever had. We even got updates once at 3 am! He also made one change in one day's itinerary to accommodate our wishes which was very wonderful. For business, I have traveled to Europe, Russia, all over Asia and South Africa but was blown away by all the beautiful sites in Argentina and Chile.
All the little touches made by our Enchanting Travel consultant, Amelia Edwards, were noticed and recognized by my wife and I. Thank you for making our milestone trip (25th wedding anniversary) such a memorable one! We look forward to engaging Enchanting Travels again for our next South American adventure!!
This was my first adventure as a solo traveler. But while I may have traveled on my own, I was never alone. I was well taken care of by a superb team of planners, trip coordinators, guides and drivers.
Do you have a vacation in mind? Let us help you create the trip of a lifetime.