When is the best time to visit Italy?
Italy is a treasure trove of activities. From ancient towns to high-fashion, stunning coasts and world-renowned monuments, there is much to see in this European country. Our destination experts weigh in on when is the best time to visit Italy.
Most Ideal
Low Season
OVERVIEW
This is the coldest month in Italy, so ensure you carry plenty of layers! While northern Italy experiences temperatures between 25-45°F, the south is milder with temperatures ranging from 50-60°F. Around this time several areas such as the Amalfi Coast, shut down to prepare for the summer rush.
WE RECOMMEND
Head to the Italian Alps for a spot of skiing!
If you are in Rome, take advantage of any sales to get in some shopping


OVERVIEW
Expect the cold, damp conditions to continue throughout the month. This is Carnevale time in Italy, so expect the party atmosphere to be in full flow, especially in Venice. Do book well in advance if you plan to visit the city at this time. Temperatures range from around 25-60°F across the country and expect a fair bit of rain as well. If you happen to travel during this time of year, the number of visitors traveling to Italy is less, so there will be fewer crowds in the bigger cities and museum hopping could be a good option as well.
WE RECOMMEND
Expect the bigger cities like Rome, Venice and Tuscany to be abuzz with the Carnevale celebrations


OVERVIEW
March is considered shoulder season in Italy, but this is one of the best times to visit the country. The cold of winter gives away to the warmth of spring and the crowds are yet to arrive in the country. Expect temperatures to range between 35-61°F across the country. This is a good time to plan trips to the bigger cities, sans the overwhelming crowds.
WE RECOMMEND
Explore Venice by walk and gondola
Take in the sights of Rome on a Vespa tour
The Rome Marathon usually takes place this month


OVERVIEW
This is one of the best times to travel to Italy. Expect temperatures to range between 40-65°F. The country will start to get busier towards the end of the month as summer sets in, so make the most of the time in the early part of this month. This is a good time to relax on the beaches as well as admire the wildflowers growing across the country.
WE RECOMMEND
Discover the sights of Florence on a walking tour
Relax and enjoy a morning cappuccino along the beautiful Amalfi Coast


OVERVIEW
Spring is on its way out so expect temperatures to rise – and the crowds to swell. Popular attractions are busy at this time so if you do plan to visit Italy during May, do book well in advance.
WE RECOMMEND
Explore the ruins of Pompeii
Go on a wine tour in Tuscany
Visit Florence's Iris Garden, open only during a few weeks this month


OVERVIEW
June is officially peak tourist season in Italy, so remember to book well in advance. You will see crowds wherever you go, and expect huge lines at all the major attractions.
WE RECOMMEND
Attend a glass blowing workshop
Explore the vibrant islands of Murano and Burano
Enjoy open-air performances in Rome and Verona


OVERVIEW
This is the middle of summer in Italy, so expect it to be hot throughout the country. Temperatures range between 65-90°F around the time, but it can often feel hotter, thanks to the blazing sun and the crowds. This is one of the busiest months in the country, so plan well in advance. Expect prices to be at their highest around this time.
WE RECOMMEND
Learn how to be a gladiator at the Gladiator School of Rome
Journey to the charming city of Siena where the Palio Horse races begin in July


OVERVIEW
August is a hot and busy month in Italy. Temperatures in Rome usually average around 75°F, but there can be heatwaves across the country making it much more oppressive. The beaches will be especially crowded around this time with locals and international visitors making a beeline for them.
WE RECOMMEND
Marvel at the Verona Opera Festival
Visit the picturesque South Tyrol region in north Italy
Make the most of milder temperatures and enjoy a day trip Italy's lake district


OVERVIEW
This is one of the better months to visit Italy. While temperatures and prices will still be on the higher side, expect the crowds to gradually reduce, especially with the school holidays ending in Italy. The end of the month sees the start of the harvest season and there will be several events across the country celebrating all things gastronomic!
WE RECOMMEND
Embark on a culinary tour of Rome and attend a pizza-making class
Participate in any of the harvest-season food festivals happening across the country
Plan a beach vacation


OVERVIEW
Fall has set in around this time; expect temperatures to start cooling down and ranging between 45-75°F across the country. Expect a few showers, so carry layers and rain gear. The harvest festivals are in full flow and this is also a good time to plan a visit to the major cities to take advantage of the (relatively) fewer crowds!
WE RECOMMEND
Marvel at the attractions in Pisa and Lucca
Discover the sights of Rome on foot
Take in the sights of Sicily


OVERVIEW
This is one of the wettest months in the country, so expect rain wherever you go. Winter also sets in around this time, so weather-wise this is not one of the best months to visit Italy. But if you do plan a trip around the time, then pick and choose your activities. Do note that several attractions and destinations could be closed around this time. This is also truffle season in Italy!
WE RECOMMEND
Enjoy jazz, music and film festivals that are held throughout the country
Indulge your taste buds by visiting the truffle, chestnut, chocolate and wine festivals, which are held in the north of the country and in Tuscany


OVERVIEW
Winter has set in so expect things to be cold across the country, more so in the north than in the south. Skiing enthusiasts can start hitting the slopes!
WE RECOMMEND
Go skiing in the Dolomites
Visit the Christmas markets that come up all over the country and partake in the festivities


Dream Carefree
Go ahead and dream big. Enchanting Travels experts are here to help you plan the ultimate escape. Tell us your vision for the trip of a lifetime and we'll make it a reality.
Plan Carefree
One of our destination experts will reach out to craft a completely customized itinerary. Book your personalized journey and know that our flexible policies have you covered.
Travel Carefree
Relax and prepare for takeoff, knowing that your trip is perfectly planned and you have a personal concierge on call 24/7. Our experts are here to keep you safe and handle the details.
Close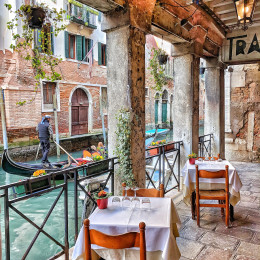 Best Time to Visit Italy by Season
The best time to visit Italy is during spring, from the months of March to May and then fall, from the end of September to November. This is the time that temperatures are comfortable and you are likely to experience fewer crowds. June through September is usually high season in Italy. This is when the country is buzzing with visitors – both international as well as local – as Italians love to travel within their country. It can get very hot around this time so do keep that in mind. While the winters in the south are largely mild, Northern Italy can get cold and wet – expect some attractions to be closed around this time. Do note that the Amalfi Coast, Sicily, and Liguria and Cinque Terre remain closed from the end of October to the beginning of April.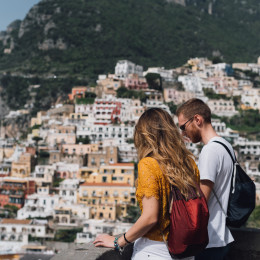 What to Pack for Italy
What you pack for Italy depends on when you travel to the country. Carry plenty of layers and rain gear if you are traveling in the winter months. For spring, summer and fall, ensure you have cotton clothes and summer wear, but carry a couple of layers for the chilly evenings during spring and fall.
There are numerous operas, performances and celebratory events being held regularly across the country, so it may be prudent to pack a formal jacket or dinner wear if you wish to do something special. In cities such as Rome and Florence, expect to do a lot of walking and therefore, carry a pair of good, sturdy sneakers or running shoes for day excursions. A hat is a must in summer, as well as sunscreen and loose cotton clothes, if you are visiting the coastal regions in the south.
Do note that all churches, basilicas, cathedrals and other religious sites have a dress code. You will need to factor that while planning visits to these places.
Plan an unforgettable trip to Italy with advice from our experts. We'll time your vacation just right so you don't miss out on any of the highlights. Get in touch with us today for your obligation-free tour itinerary.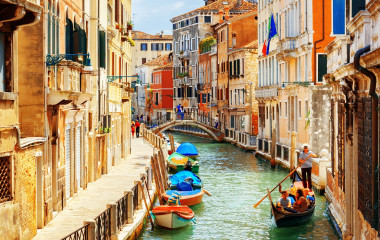 Italian Family Adventure: Classic Cities and Coastal Gems
14 Days: $ 4,960
/ person
When in Italy, do as the Italians do! On this trip of four classic cities, pick up skills that are quintessentially Italian and fun for the whole family.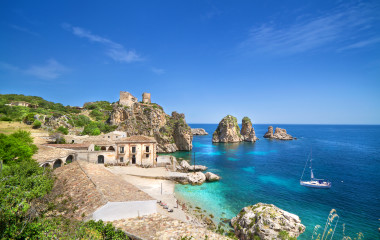 Sicilian Cuisine and Heritage
8 Days: $ 4,290
/ person
Experience a historical and culinary feast on this tailor-made Sicily vacation! Beginning in Palermo, discover a mecca of ancient architecture, imposing buildings, rich art and culture, and a vibrant food scene.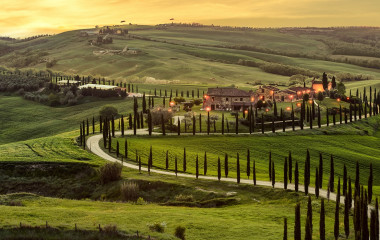 Italy, Under the Tuscan Sun
10 Days: $ 4,590
/ person
Unravel the charms of Tuscany on a comprehensive tour of this remarkable Italian province. From the Renaissance delights of Florence to the Leaning Tower of Pisa, medieval towns in the countryside, gastronomic tours, vineyard visits and truffle hunts, explore Tuscany in depth!
Load More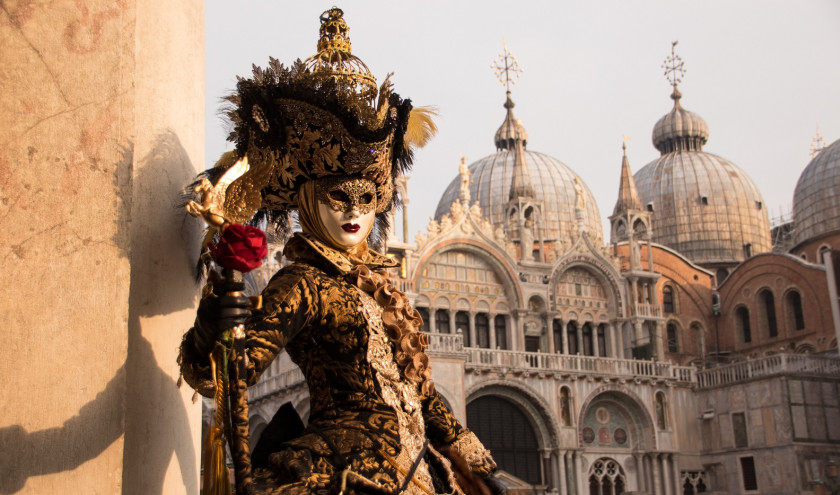 Ode to the Centuries: Art and Architecture in Italy
Whether you're a fan of classical columns and ornate frescoes or more contemporary allures, you'll be spoilt for choice in Italy. Learn more about Italian art and architecture to plan your cultural vacation.
Read Post
THE ENCHANTING DIFFERENCE
One of the very best travel experiences I have ever had. We even got updates once at 3 am! He also made one change in one day's itinerary to accommodate our wishes which was very wonderful. For business, I have traveled to Europe, Russia, all over Asia and South Africa but was blown away by all the beautiful sites in Argentina and Chile.
All the little touches made by our Enchanting Travel consultant, Amelia Edwards, were noticed and recognized by my wife and I. Thank you for making our milestone trip (25th wedding anniversary) such a memorable one! We look forward to engaging Enchanting Travels again for our next South American adventure!!
This was my first adventure as a solo traveler. But while I may have traveled on my own, I was never alone. I was well taken care of by a superb team of planners, trip coordinators, guides and drivers.
Do you have a vacation in mind? Let us help you create the trip of a lifetime.