When is the best time to visit UK & Ireland?
It's no secret that the British love to talk about the weather! Despite being a nation that can experience sun, rain and wind all in one day, it's rare to see extreme conditions in the UK. A mild climate makes it possible to visit all year round, although summer is by far the most popular time.
What you hope to experience will likely influence when you book your trip. July through August is the busiest period, as it's when locals are on vacation and when many big events and festivals take place. December is also one of the best times to visit the UK & Ireland thanks to festive markets and big New Year's Eve celebrations in the cities.
Most Ideal
Low Season
overview
While it may be one of the chilliest months, January is also the best time to visit Scotland thanks to numerous celebratory events.
we recommend
Enjoy Edinburgh's Hogmanay (New Years Eve)
Celebrate Mark Burn's Night in Scotland by eating haggis, enjoying a wee dram of whiskey and reciting poetry by Robert Burns
overview
Cooler weather often brings snow across the UK and Ireland in February. It tends to be one of the quietest months to visit, so why not take advantage of fewer crowds at popular city attractions?
we recommend
Escape the chill at a spa retreat at Bath
overview
The climate can still be quite cold and rainy in March, although there'll be a few sunny spells.
we recommend
Celebrate St Patrick's Day Festival on March 17 at Dublin, Ireland
Overview
The official start of Spring in the UK and a wonderful time to view blooming daffodils and tulips, especially in rural idylls like the Cotswolds. It's also calving season and the countryside is brimming with little lambs!
we recommend
Witness the annual London marathon with 40,000+ participants
overview
May is ideal for discovering the UK and Ireland in relative peace and quiet before the official start of high season in June. Two Bank Holiday weekends and the promise of sunshine can make cities and coastal regions extra busy in May.
we recommend
Visit Ireland's famous fortresses in Kilkenny and Killarney
overview
June, as well as often being warm and sunny, hails the beginning of the UK festival season. If you're lucky enough to get tickets for Glastonbury, combine a weekend of music with an excursion to Stonehenge and Salisbury. London's leafy parks and castles also host many exciting events.
we recommend
Sway to the rhythms of the Glastonbury Festival
Witness outdoor theater performances and shows at the Greenwich and Docklands International Festival – London
overview
Sports fans will be in their element in July thanks to three major events that take place at this time. It's also a great month to enjoy the sunny outdoors, especially at the Lake District.
we recommend
Watch the Wimbledon Tennis Tournament live in London
Travel to Northamptonshire and watch the British Grand Prix
overview
August is typically the hottest month of the year and a great time to travel to Edinburgh for its world-famous Fringe Festival. You could also escape the city heat for sightseeing and punting in Oxford and Cambridge.
we recommend
Witness the Edinburgh Fringe Festival – the largest arts festival in the world
See the sound systems and parade bands at the Notting Hill Carnival in London
Witness the purple Scottish Heather blooms in the Highlands


overview
Temperatures usually start to drop in September, however, it's not uncommon for the UK to experience an Indian Summer.


we recommend
Sample authentic Scottish cuisine at Loch Lomond Festival
Enjoy coastal walks and wild swimming in the Isle of Skye, Scotland.
overview
While heavy rain isn't uncommon in October, it's a great month to admire colorful fall foliage in places like the stunning Lake District. If you're a fan of all things spooky, you'll find many UK and Irish cities hold exciting Halloween events, including Derry that's home to Europe's largest celebration of All Hallows' eve.
we recommend
Celebrate Halloween in Derry with parades and fireworks
overview
Don't miss the St. Andrew's Day Torchlight Parade in Glasgow or Guy Fawkes Night on November 5. A big date in the British calendar, it sees impressive firework shows in cities and large bonfires lit up in towns and villages across England. Great for keeping warm when the temperatures begin to dip!
we recommend
See the night sky lit up on Guy Fawkes Day / Bonfire Night in England
Witness the color, celebration, markets and fireworks at St Andrew's Day Parade in Scotland
overview
The weather is usually quite mild in December, although you may experience a few cold days. Get in the festive spirit with a visit to London's Winter Wonderland or experience the more traditional charms of Edinburgh and Bath's Christmas markets. If you're keen to see the Northern Lights, you should journey north to Inverness and the surrounding Highlands.
we recommend
Go ice skating at Somerset House in London, England
Eat, drink and make merry at Christmas Markets
Dream Carefree
Go ahead and dream big. Enchanting Travels experts are here to help you plan the ultimate escape. Tell us your vision for the trip of a lifetime and we'll make it a reality.
Plan Carefree
One of our destination experts will reach out to craft a completely customized itinerary. Book your personalized journey and know that our flexible policies have you covered.
Travel Carefree
Relax and prepare for takeoff, knowing that your trip is perfectly planned and you have a personal concierge on call 24/7. Our experts are here to keep you safe and handle the details.
Close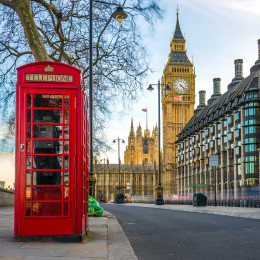 Climate in the UK and Ireland
Like most European regions, the UK – made up of England, Scotland, Wales and Northern Ireland – and Ireland, experience four distinct seasons. The warmest is between May and August when temperatures are usually around 70°F during the day. It's possible for it to either be overcast or for there to be hot weather that lasts for several days. Spring is the most picturesque season, as you'll see beautiful flowers blooming in fields and gardens across all five countries. Autumn is also a very colorful season and a pleasant time for a vacation, especially if the UK is having an 'Indian Summer', when the warmer weather lasts into September and October.
While the climate is similar throughout the UK & Ireland, there can be some differences depending on which region you choose to visit.
South England
London and England's southern counties are typically warmer than the rest of the UK. They get some of the hottest weather during the summer and typically less snow in the winter.
Central and North England
As a general rule, it's usually always cooler further north. Summers are milder and rain is common throughout the year. Fresh breezes are typical in coastal cities like Liverpool, while you'll see snow in the middle of winter in more rural areas.
Wales
The smallest country in the British Isles is also a hotspot for hikers, thanks to its beautiful scenery and temperate weather. Temperatures never get too hot in the summer, but there can be a lot of rain around Snowdonia National Park.
Scotland
Scotland typically has a cooler climate than the rest of the UK, however, you can still expect some warm days in the summer. It usually snows in the winter, especially in more mountainous regions. You'll need to keep an eye on the forecast if you're planning a trip to the Highlands or islands during this period.
Ireland
In general, you'll find Ireland has quite mild spring and autumn seasons, while winter brings icy conditions and often means many attractions are closed.
Northern Ireland
The weather here is very similar to neighboring Ireland, with July and August the hottest months. Summer can be quite humid, so late spring tends to be the best time to visit if you want fair yet comfortable weather. It can rain at any time in Northern Ireland cities like Belfast, although, due to coastal breezes, winters are usually mild.
What to Pack for UK and Ireland
If you've decided to visit the UK and Ireland in the summer, the slightly unpredictable climate means you should pack for every kind of weather just in case. Don't forget sunscreen and a hat if you're going to be outdoors, as the UV can be strong, even through clouds.
As rain can fall at any time of the year in the UK, make sure you bring a raincoat and an umbrella. Comfortable and sturdy shoes are essential, whether you're exploring London, walking on the cobblestone streets of Edinburgh or in the rugged Irish countryside. In winter, you'll want warm clothing, hats, boots and scarves.
If you're still not sure what the best time to visit the UK and Ireland is for you, we're always happy to help you decide. Discover the best of the UK and Ireland on a private and tailor-made tour with us.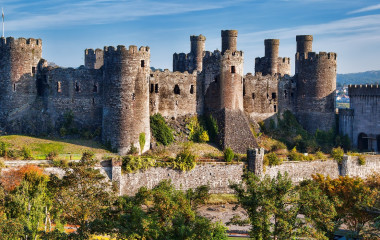 Discover the UK & Ireland through its Architecture
From charming cobbled lanes to impressive Victorian viaducts, there's plenty of attractive architecture to be found in the UK and Ireland.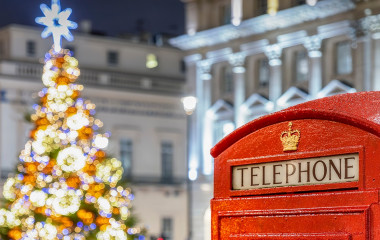 Must-see Festivals and Events in the UK and Ireland
Discover the must-see festivals and events in the UK and Ireland, from the Glastonbury Festival to Bloomsday, St. Patrick's Day celebrations and more!
The Best Places to Visit in 2019 – Dream Destinations for Your Next Vacation
Inspired by Travel+Leisure's masterlist of the best places to visit in 2019, let's whisk you away on your magical journey of a lifetime.
POPULAR TRIPS TO UK & IRELAND
Grand Tour of Ireland
16 Days: $ 10,890
/ person
Embark on a comprehensive tour of the Emerald Isle! Beginning in cultural Dublin, take a heritage walk through its famous landmarks and take in a traditional dinner accompanied by live entertainment at a proper Irish pub!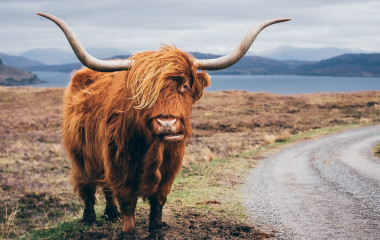 Scotland: Heritage Cities and Loch Ness
10 Days: $ 2,890
/ person
Explore Scotland's largest urban sprawls and experience the countryside and famous Loch Ness on this private tour. In Edinburgh, acquaint yourself with Highland history as you walk down the Royal Mile and explore the Old Town.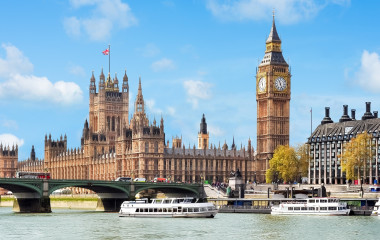 Classic England
12 Days: $ 10,290
/ person
Discover the classic highlights on this private and tailor-made England tour. Beginning in London, explore landmarks such as Big Ben, Buckingham Castle, the London Eye, museums, art galleries, and vibrant food and cultural scenes on privately guided tours.
Load More
THE ENCHANTING DIFFERENCE
We were recommended by friends to use Enchanting travel to help plan our Africa Experience. From first contact to the conclusion of the trip Enchanting travel supported our every need and looked after every detail. Our trip was absolutely flawless and an experience of a life time. I would be happy to discuss our trip with any potential customers as we feel our agenda gave us the perfect overview of sights, culture and safari activities. We came home and feel we missed nothing.
This was truly an "Enchanting" adventure! The value and service was beyond excellent! The entire team ensured every detail was taken care of and went out of their way to welcome us! And every hotel and excursion was amazing, and we were greeted with welcoming open arms every where we stayed! Nothing was left to chance…and we felt so secure knowing Enchanting Travels had everything lined up for us! Even our lodges said Enchanting Travels was a top-notch company!
Do you have a vacation in mind? Personalize your itinerary with our Trip Builder.