Discover the top 10 reasons to visit Namibia. A land older than time itself, the country has reinvented itself as a destination of choice for discerning travelers, offering desert adventures, unique game drives, boutique accommodation and incredible natural wonders. Namibia, 'The Land God Made in Anger', was sculpted by furious forces of nature!
When thinking safaris, South Africa and Tanzania come to mind, if seeking cultural interactions, Kenya contributes bountifully, and leaving you spellbound is the Sahara, the world's largest hot desert. Conversely, Namibia, a quiet country of almost-superlatives, offers minimal crowds with all the above and more. And that's plenty of reason for discerning travelers to embark on Namibia tours.
An erstwhile German colony, Namibia attained independence in 1990 after 106 years of foreign rule. Most colonial influences have now disappeared, but traces of the German legacy remain.

10 Exciting Reasons Why You Should Visit Namibia Now
Our collection of showcases this unique country while inviting you on a riveting African adventure.
1. Surreal Landscapes –
Namibia is a photographers and geologists haven.
Whether the Skeleton Coast's decaying ships or Sossusvlei's stunning rust-red sand dunes set against bleached white pans; from Dead Vlei's petrified camel-thorn trees to Twyfelfontein's nearby 'Organ Pipes' (ancient rock art); perhaps 'Quiver Tree Forest' near Keetmanshop or Burnt Mountain – a rock glowing red, black and purple at sunset; from Kolmanskop's ghost town to coastal BogenfelsRock Arch near Luderitz…Namibia delivers all!
2. Deserts – Namib Desert, Nama for 'vast place', is the world's oldest living desert at 80 million years.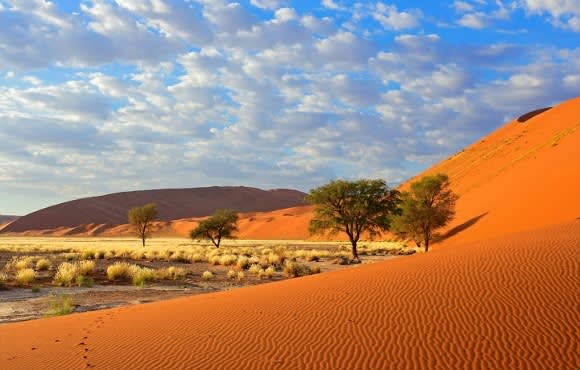 Namib Naukluft's desert runs from Sossusvlei's towering dunes to the Atlantic Ocean's icy waters. Dry river valleys and secluded mountain islands feature bird-filled lagoons and desolate beaches.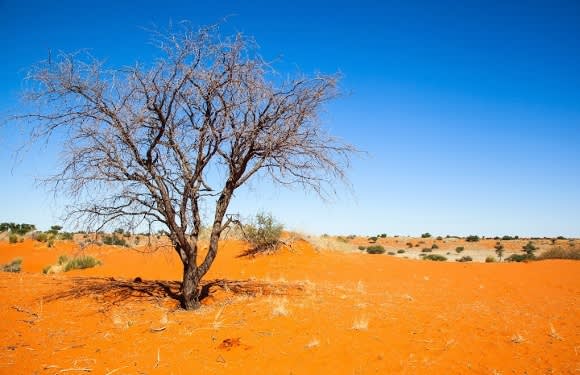 Kalahari Desert, stretching across Namibia, Botswana and South Africa, isn't a desert in the literal sense, receiving way too much rainfall to be one.
Kalahari's sand dunes constitute the earth's largest continuous sand expanse.
3. Sossusvlei – Sossusvlei's salt and clay pans boast the world's highest rust-red sand dunes in Namib-Naukluft National Park.
See the oddly-shaped Dune #45 and the highest Big Daddy dune, both composed of 5 million year-old sand.
The dunes' burnt-orange hue and changing natural curvature strikingly contrasts with the grey-white of the pans and the blackened dead acacia trees dotting the former Deadvlei oasis. Their changing colors are caused by the sun's rapid movements.
4. Game Viewing – Although Namibia isn't considered a 'big five' destination, Etosha National Park, with Etosha meaning 'Place of Mirages', is one of Africa's best game reserves. A vast shallow silvery-sand bowl and surrounding bush offer amazing game density where animals amass around limited water resources.
Etosha meaning 'Place of Mirages', is one of Africa's best game reserves.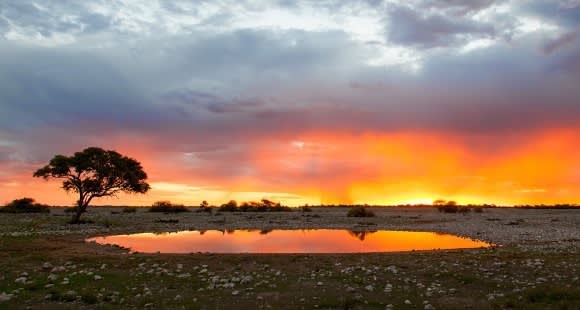 See elephants, giraffes, elands, blue wildebeests, kudus, gemsboks, springboks, black-faced impalas, steenboks, zebras, and Damara dik-diks – Etosha's smallest antelope. Namib Naukluft National Park boasts antelope varieties, mountain zebras, black-backed jackals, spotted hyenas, caracals and leopards. Desert Rhino Camp houses unique desert-adapted lions, elephants and rhinos, with tracking opportunities. Waterburg Plateau National Park, Fish River Canyon and Namib Rand Private Game Reserve also spoil you for choice.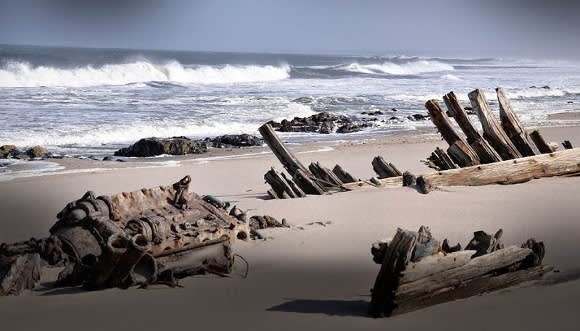 5. Kolmanskop – This abandoned eerie ghost town skirting the ironically named Skeleton Coast, was once a booming diamond mining town.
See haunting remnants at Skeleton Coast, which was once a booming diamond mining town!
As the diamonds depleted in number, the inhabitants vanished. See remnants of a bowling alley, casino, furniture and belongings here.
6. Swakopmund – Waterfront palm-lined promenades, beach accommodations, buzzing nightlife and classy restaurants make Swakopmund Namibia's top beach resort town. A Mecca for adventure junkies, the West Coast Recreational Area offers quad-biking, dune-carting, sand-boarding, parachuting, hot air ballooning and skydiving.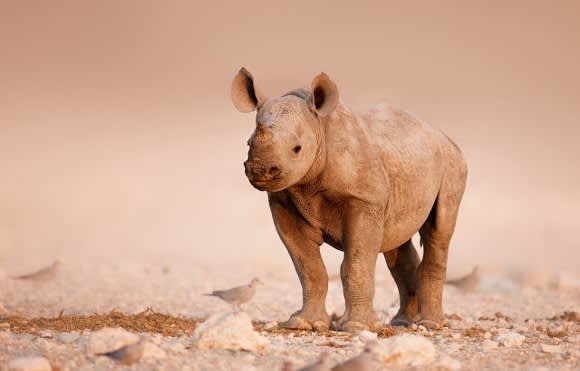 7. Kaokoland – This wild, underpopulated region has a population density of just one person per two kilometers! Kaokoland's characteristic rugged unspoiled mountains and valleys house rare desert-dwelling elephants, black rhinos and giraffes.
8. Iconic Tribes, Cultures – Meet Namibia's most iconic semi-nomadic Himba Tribe, recognized for their beauty, jewelry, plaited hair and deep red stained skin-color from ojitze – blended butter and ochre.
Himba women are forbidden to bathe with water. To remain fresh, they burn the incense-like commiphora plant, enveloping their bodies with smoke.
Meet San Bushmen, whose paintings are found in Kaokoveld and Damaraland. Visit the polygamous town of Herero, where a man's first wife selects subsequent wives. Worshipers of Christianity or a 'Holy Fire' men don military uniforms while women wear Victorian-style dresses with strange horned hats.
9. Stargazing – Enjoy peering into constellations, nebula, Magellanic Clouds and planets? Namibia, a world class stargazing destination, offers cloudless night skies especially in winter. NamibRand Nature Reserve is rated a Gold level dark sky reserve by the International Dark Sky Association. Lodges offering astronomy-related activities – AndBeyond Sossusvlei Desert Lodge has an on-site observatory with a 12-inch telescope and resident astronomer; Sossus Dune Lodge inside Namib-Naukluft National Park allows night access to Sossusvlei dunes; Wolwedans campsites loan you portable telescopes.
10. Adventure, Crowd-Free, Self-Drive –
Enjoy dune running, dune/sand-boarding, quad-biking, kite/windsurfing at Walvis Bay.
With one of the world's lowest population distributions, Namibia is perfect for crowd-free travel. It's not uncommon to see few or no cars outside towns. A popular self-drive destination with great infrastructure, the drive from Swakopmund to Walvis Bay will have you travel through one of the world's most stunning and extraordinary road routes.
Where to stay in Namibia
Don't Leave Without
Taking Flying Tours – Capture changing landscapes of the Skeleton Coast from the air. Fly at low-levels from Swakopmund along Swakop river via Moon Landscape. From littered whalebone's to shipwrecks to remains of unlucky explorers, the Skeleton Coast is a graveyard of many.
Riding The Desert Express – Ride the Desert Express from Windhoek to Swakopmund. Stop to walk on the desert; watch lions; see the world's largest open-air, rock-art gallery; view desert sunsets and sunrises. Please note: Due to on-going refurbishment, operations are discontinued in 2015. If traveling in 2016, it's definitely a must-do.
Challenging your palate – Windhoek's Joe's Beerhouse: best BBQ game meats – crocodile, ostrich, springbok, kudu. Swakopmund's Napolitana: boasting wild meat steaks – zebra, oryx, kudu, springbok. Jerky-style biltong – nutritious dried cured meat snacks. Walvis Bay's oyster nurseries: ultra-fresh oysters. Brave the infamous chewy, spicy mopane worm, or the bizarre Smiley Head (entire goat head).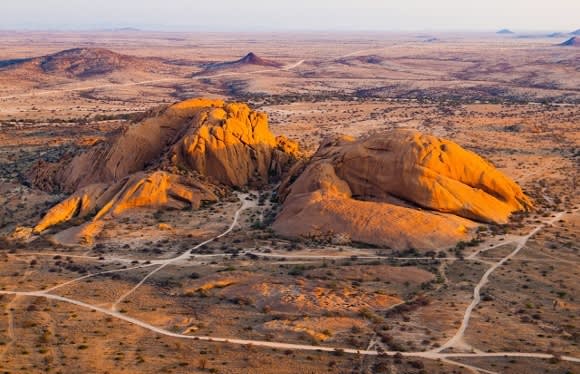 It's never been a more exciting time to take the plunge and explore Namibia's beautiful expanses. Create special memories of wanderlust moments with the help of our experts.