Our very own Trip Coordination Executive Susan Karuiru provides an insight into the work of The Memory Foundation, based in Nairobi, which Enchanting Travels supports.
I remember with nostalgia the days my mother would call out my name whenever the local cameraman passed by our home. It was always a special call that demanded I rush and dress up in my 'Sunday Best" attire, reserved only for such special occasions as Christmas and of course the moment of the day, a photo shoot.
I cannot remember exactly what I had been doing before posing for these memorable moments, but it still warms my heart whenever I go through the family album and see photos of myself – the family gathering, with my childhood friend, or my siblings – treasured reminders of those days and of so many events.
But what happens when you actually discover that so many people around the world, in remote villages, have nothing of this sort to keep as memories of their past, of their milestones and occasions in life?
Whilst we have something to laugh and tease each other over – what we looked like as kids and those 'ridiculous' coats we wore then – others have never seen a picture of anything, let alone a photo of themselves. We can easily dig back to the photos capturing our days as toddlers, yet there are millions of people who do not have the luxury of their significant events neatly framed. It is hard to imagine that some children, mothers, fathers and friends do have not a single photograph. To be quite honest, even I had never had these thoughts, until recently.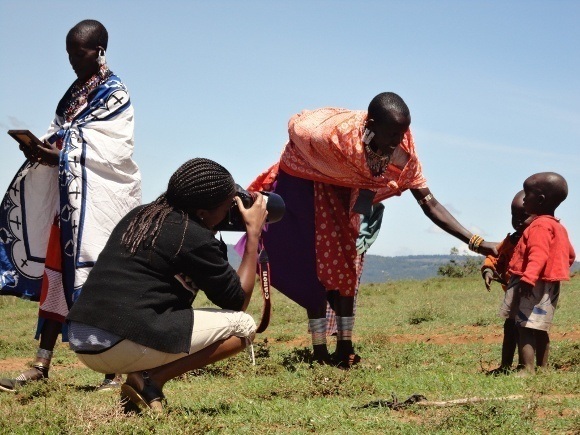 To even imagine that there are people out there who have never seen a mirror, hence have no way of seeing their own image or reflection was always something that would never cross my mind.
Due to the many safaris I go on, I have had the privilege of interacting with people from different cultures and social backgrounds across Kenya. Despite my own love for photography and my desire to capture and document every moment of these magical moments in the wild, I realized that some of the people whose communities we visit and with whom we share memorable moments on the safari do not actually have anything left to remember after we are gone. This is the unfortunate reality.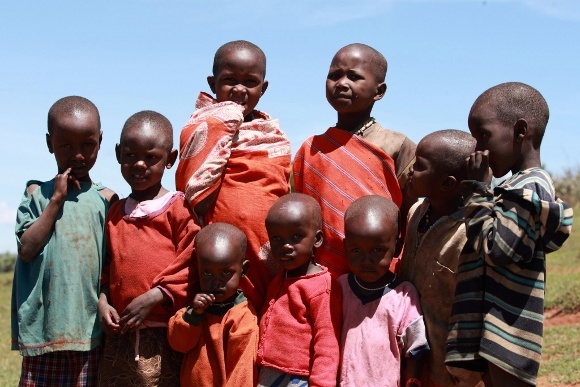 It got me thinking how we at Enchanting Travels could give back in a way that is both responsible but also engaging with the society that has also shared with us its cultural and wildlife heritage. That's when we became involved with The Memory Foundation!
Enchanting Travels was founded with the intention of providing learning and growth opportunities and to ensure a positive impact on the societies within which we operate.
With our African headquarters located in Kenya, a country with an unemployment rate of 40% and limited employment opportunities for young people, we take pride in having created an environment of opportunity. We always look beyond the office and into the local communities around us too.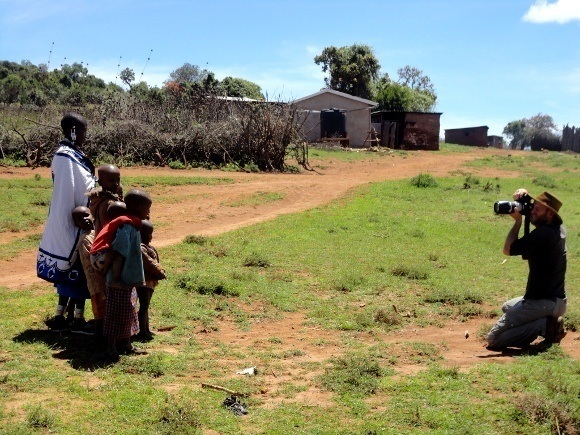 By working with The Memory Foundation, we aim to give people that don't have a tangible memory of themselves and their loved ones a personal picture. For this purpose, we leverage our frequent reconnaissance trips – the time when we experience and test the places we suggest to our guests – to often remote areas in Africa.
On each of these trips, we now dedicate a couple of hours in remote villages where we take pictures of the local people, print and frame there and then!
One recent reconnaissance trip took us to the Masai Mara, Kenya's premier wildlife. On our first day, we made a stop-over at Aitong market, a small but vibrant commercial center where the locals come to buy and sell their supplies.
However, Aitong lies on a major road that leads to the Mara and many tourists from around the globe use this road on a daily basis. This did not make for an ideal choice of a community to carry out our assignment of the day as the residents here are used to receiving tourists, some even posing for pictures and expecting 'tips' in return. Our mission would not strike them as anything unusual.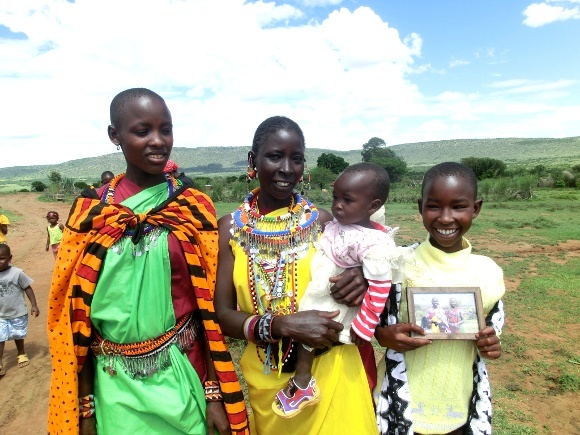 This strengthened our determination to find a place that would be out of reach by the rest of the world, and this led us past the market and to a remote village within the district. Here we approached our would-be first hosts.
No one in our party was certain how our intentions would be received. With a mixture of apprehension and hope, we got out of our cars.
My colleague Loise took the first step and introduced us to a middle aged woman. Dressed in colorful 'lessos' and donning beads, she looked elegant and warm. However, she could not speak a word of English and only understand a few Swahili words, which made communication difficult. Yet Loise is talented in conveying her messages. The lady welcomed us to her Manyatta, a traditional homestead where an extended family lives together as a community.
With the few villagers who could understand Swahili, my colleague Loise introduced our idea to them. We started demonstrating: taking a few photos of ourselves and showing them the print-outs.
Enthusiasm was fully aroused. From then on, everything else rolled. Everyone wanted a picture of everything. While one person wanted a picture with some household possession, another wanted a picture with all her relatives. It was a busy afternoon, full of challenges, but one where we all felt a sense of pride when we left.
The next four days saw us embark on our planned safari. We went on game drives in the Masai Mara reserve, visited new lodges and camps before doing a two-day trekking safari with mobile tented camps in the Loita Hills. As we drove through the beautiful landscapes of the Loitas, I could not help to notice how serene and peaceful the countryside looked. This must surely be one of the few unexplored territories still remaining in the world.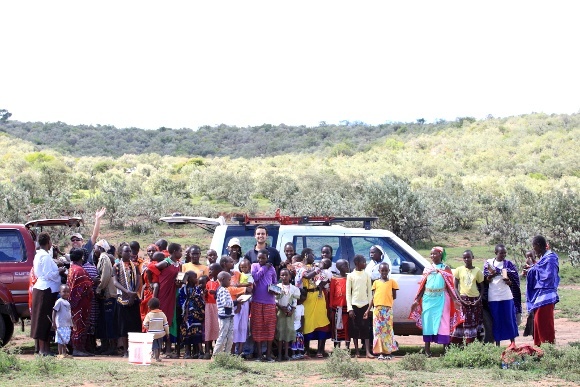 Our walking safaris over, we had to make the most of our last day in the Masai Mara. We approached a tiny settlement around Loita Hills to the village of Entasekera was our host community. Again we were aware of folk tales we had recently heard that the Maasai people do not like to be photographed for fear a camera flash might rob them of their souls. But we had learnt vital lessons from our first day, and we resolved to do better on this second and final day.
We were greeted by a group of smiling and cheerful kids, curious and unafraid. After introducing ourselves to our hosts, we set up our photographic equipment. It wasn't difficult to get the attention of the villagers – the children began calling to all the villagers. A crowd grew and before we knew it, the whole village was there.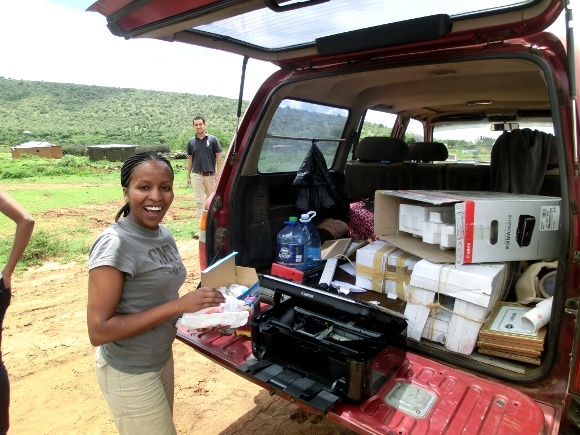 It was unbelievable. The response was so good that things began to roll quickly. Every villager was scrambling for a picture.
My colleagues were kept very busy – one clicking the perfect shot, another organizing the villagers, another printing, while another framed. It seemed like an endless job that would go on forever. For some women, they could not resist the desire to have a separate photo with each of their individual children! Noticing how overwhelming and resource consuming this would be, we opted to ask the adults to gather in families to enable us to ensure each adult received one family portrait.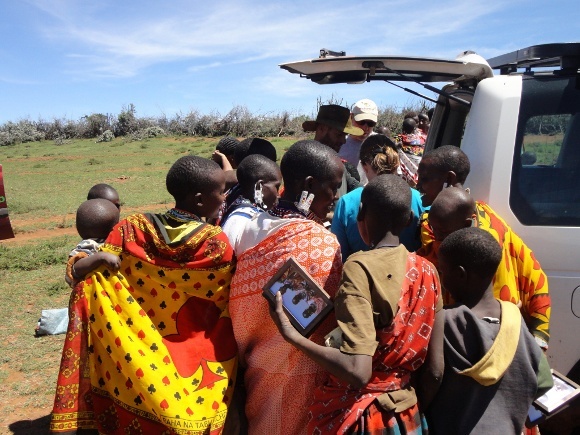 It was with such joy to see these people leaving with a bundle of photos under their arms, smiles all over their faces and asking if we were going to come back to their village.
One cannot imagine how a picture can make a big difference in people's lives. It's been just three months since our first initiative, but I imagine, from that experience, that perhaps in 2025 there's a 30 year old man proudly showing his daughter a priceless picture and saying, "This was given to us by some people from the city who came and took photos of us."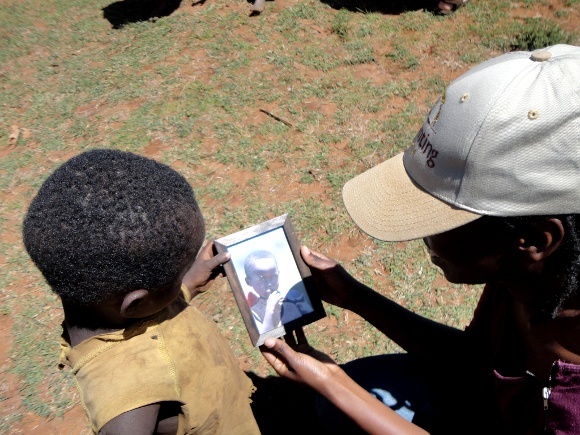 Of course stories don't match experience – you need to be there to tell the story!
The Memory Foundation provides an unusual opportunity for our guests to interact with people in remote areas in a unique way and leave memories behind that create lasting smiles rather than just taking pictures of unknown people for themselves. Will you help us?
A single safari in Africa can help capture many smiles.