You couldn't possibly go wrong in romantic Udaipur, possibly the most utopian of all Indian cities with a gorgeous natural setting that justifies the "most romantic" epithet aptly bestowed upon the City of Love.
Isn't it romantic?
Udaipur abounds with old mansions, beautiful gardens, glistening lakes studded with grand palaces, amazing temples and romantic restaurants woven across every nook and corner.
All this teamed with a backdrop of the majestic Aravalli Hills, inviting flora and fauna, and a maze of colorful markets, just add to the drama and magic of this truly romantic destination in Rajasthan.
Featured in many timeless romantic movies, Udaipur charms and regales with its royal atmosphere.
Whether you'd like to be King or Queen for a day, or dine in the middle of the shimmering lake on a candle lit pontoon, or simply stroll through landscaped gardens, discover your ideal romantic fit in the City of Love during your India travel.
So, what are the top hotspots in romantic Udaipur? Here are seven experiences for the love birds.
Lake Pichola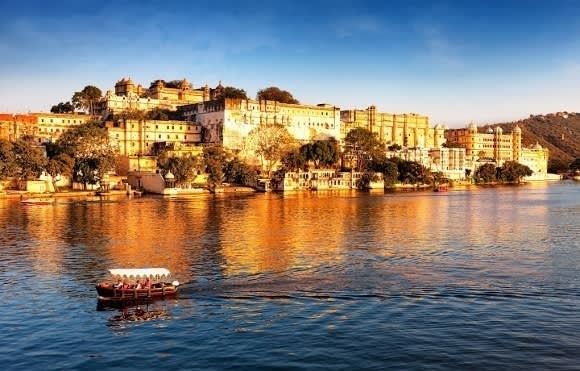 This picturesque lake at the heart of Udaipur, is flanked by the City Palace, ghats, havelis, hills, and dotted with island palaces.
Take a boat ride on the lake gliding past the iconic Lake Palace Hotel on Jag Niwas Island, which has featured in many famous films, namely the 1983 James Bond movie, Octopussy.
See the Jagmandir Island Palace with superb carvings, a beautiful green marble chhatri, a small museum, and a restaurant with a view.
Let the day culminate in a romantic candle-light dinner on a pontoon right in the middle of the lake beneath a sheath of glimmering stars.
Taj Lake Palace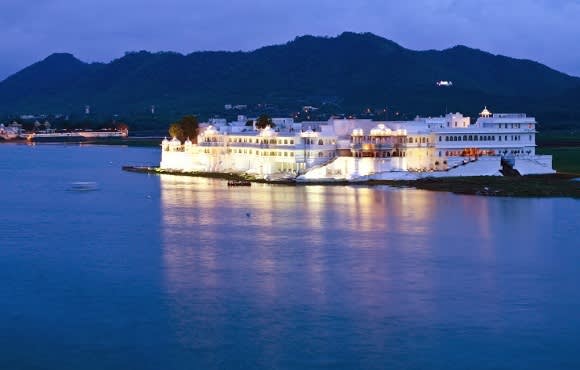 Check into the spectacularly romantic hotel, the erstwhile summer palace but now the stunning Taj Lake Palace.
Splendidly set in the middle of Lake Pichola, this four-acre marble palace hotel transports guests to-and-fro by a boat across the lake.
Lavish interiors, grand rooms, the Jiva Spa, four restaurants par excellence, and personal butlers, complete the royal extravaganza.
Dudh Talai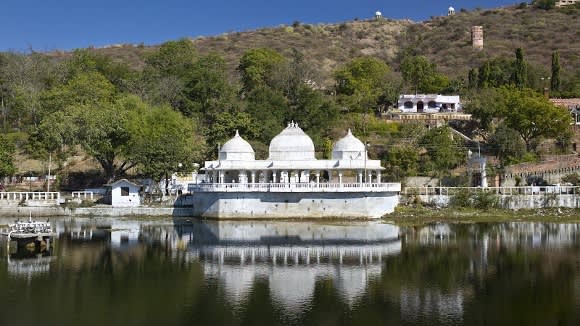 Meaning the Pond of Milk, Dudh Talai is ideal for glimpsing stunning sunset views of Jag Mandir and City Palace.
The M L Verma and Deen Dayal Upadhyaya parks offer a serene and scenic locale to retreat to.
Carved out of a rugged rock, the M L Verma Garden offers panoramic views of Lake Pichola, while the Deen Dayal Upadhyaya Park, or Dudh Talai Musical Garden, houses a splendid musical fountain.
City Palace and Lake Fateh Sagar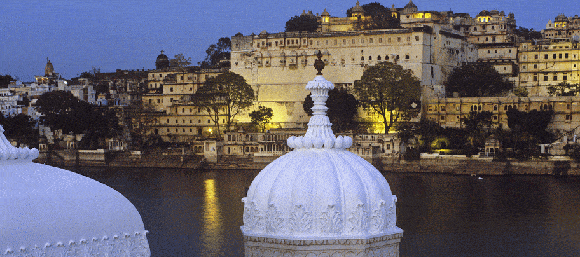 The sprawling City Palace complex comprises a museum, a series of mahals and courtyards, and private chambers connected by narrow passages.
View traditional Merwari paintings, stained-glass windows, beautiful mirror-work and colorful mosaics while glimpsing splendid city and lake views outside.
Lake Fateh Sagar is a wonderful romantic backdrop for lazy afternoons.
Relax on the lake's Paal (Dam), with sounds of gently swishing wavelets for company.
Sajjan Garh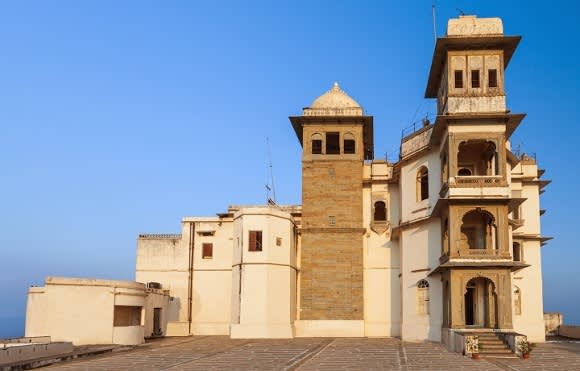 Also called the Monsoon Palace, this white marble hilltop palace was the erstwhile monsoon retreat of Maharana Sajjan Singh.
While the palace doesn't offer much to see within, it gives a birds eye view of the City of Lakes, standing gloriously on the Bandara peak of the Aravalli ranges, especially delightful at sunset.
Saheliyon ki Bari
The Courtyard of Maidens is a small nook and quaint ornamental garden, laid out for the entertainment of 48 women attendants who were provided as part of a princess's dowry.
Perfect for those romantic strolls, the garden encompasses lovely fountains, marble elephants, kiosks and a beautiful lotus pool.
Romantic restaurants
Dine at one of the four most beautiful restaurants serving gastronomical delights accompanied by amazing views of Lake Pichola.
Neel Kamal
This fabulous restaurant in the Taj Lake Palace Hotel whips up sumptuous authentic Mewari cuisine prepared in an open kitchen on wood-fires.
Dine while enjoying moonlit views of Lake Pichola and the hotel's Lily Pond – a lovely garden located at the center of the hotel.
Udai Kothi
Udai Kothi's rooftop terrace restaurant is an ideal dinner spot set around a lovely pool.
Ambrai
This al fresco restaurant housed in the traditionally built Amet Haveli Hotel, is set on Lake Pichola, offering unparalleled views of the Lake Palace, City Palace, Sajjan Garh Fort and Gangaur Ghat.
Upre by 1559 AD
Lake Pichola Hotel's rooftop restaurant, Upre by 1559, has an ideally romantic setting with a pool and cabanas for diners, accompanied by superb views of City Palace and the surrounding ghats.
If romance is in the air, make Udaipur your destination of choice.
We will help create an India travel experience that ignites the romantic spark in you!