History of Tanzania
Discover the heritage and history of Tanzania with our travel tips.
The first humans in Tanzania were hunters and gatherers and agriculture is thought to have begun around 1,000 BC. By the 4th century AD, Bantu people, with their iron tools and weapons, began migrating to Tanzania, followed by the Persians, Romans, and eventually the Arab merchants who brought Islam to the country in the 8th century.
Renowned Portuguese explorer Vasco Da Gama traveled to Tanzania in 1498 and captured many of the islands. By the early 18th century, the spice island of Zanzibar was held by the Sultan of Oman, before the British took over and abolished the slave trade that was renowned in Zanzibar in the late 19th century. The mainland area of what is known today as Tanzania, is thought to have been named by a British civil servant in 1920, derived from the Swahili words 'tanga' (sail) and 'nyika' (bright arid plain).
Independence reached Tanzania in 1961 and by the following year the country became a republic with Julius Nyerere as Prime Minister and the father of the nation. A policy of socialism was adopted but failed, causing the country to go into debt until the mid-1980s.
Today, after political and economic reform, the country is recovering and Tanzania tours have prospered. The country is not only strong but also graciously offers refuge to over a half a million civilians fleeing violence from surrounding countries.
Dream Carefree
Go ahead and dream big. Enchanting Travels experts are here to help you plan the ultimate escape. Tell us your vision for the trip of a lifetime and we'll make it a reality.
Plan Carefree
One of our destination experts will reach out to craft a completely customized itinerary. Book your personalized journey and know that our flexible policies have you covered.
Travel Carefree
Relax and prepare for takeoff, knowing that your trip is perfectly planned and you have a personal concierge on call 24/7. Our experts are here to keep you safe and handle the details.
Close
Popular trips to tanzania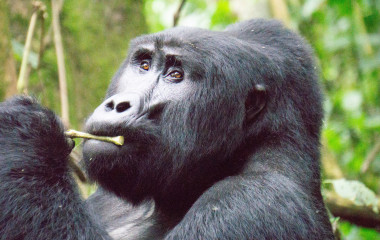 Gorilla Trekking and Safari
11 Days: $ 10,890
/ person
Discover the raw circle of life play out before you at legendary landscapes in East Africa! Starting in the Bwindi Impenetrable Forest of Uganda, come face to face with the last remaining mountain gorillas in the world on a personalized trek.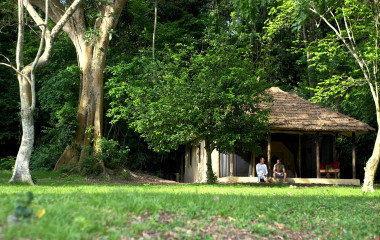 Lakeside Luxury and Wildlife in Tanzania
10 Days: $ 10,090
/ person
Wonder at the vast magnificence of Lake Victoria, get up close and personal with the wildlife in Serengeti and let Rubondo Island National Park take your breath away! This private Tanzania trip will cast a spell on you while you rest your head at beautiful and luxurious accommodations.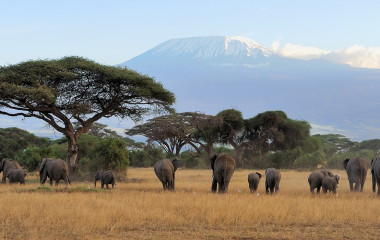 Classic Northern Tanzania
7 Days: $ 4,590
/ person
Explore the highlights of Northern Tanzania on this luxury safari vacation. Witness the magnificent Kilimanjaro at Arusha, meet the tree-climbing lions and other animals and birds of Manyara, watch the eternal cycle of life and death play out from up close at the lush Ngorongoro Crater, and enjoy the great annual spectacle of two million […]
Load More
OUR AWARDS
At Enchanting Travels, our unique tours are built on extensive knowledge of our destinations, an outstanding team of professionals, and personalized top-notch service. In 2019, we were recognized with the Travel Weekly Magellan Gold Award for being the World's Leading Tour Operator – Overall. In 2020, we have been nominated by World Travel Awards as Europe's and North America's Leading Tour Operator, and have won the Most Trusted Online Tour Operator Award by Lux Life Magazine.




"This was truly an "Enchanting" adventure! The value and service was beyond excellent! The entire team ensured every detail was taken care of and went out of their way to welcome us! And every hotel and excursion was amazing, and we were greeted with welcoming open arms every where we stayed! Nothing was left to chance…and we felt so secure knowing Enchanting Travels had everything lined up for us! Even our lodges said Enchanting Travels was a top-notch company!"
"We have used Enchanting Travels twice to help us with our African adventures, and totally appreciate the details and planning. Visiting several countries in Africa requires transfers and planning, and Enchanting were on top of everything."
"We received complete support from Enchanting's travel experts from day 1. They were very prompt in developing an itinerary that fit into our budget and interests; answered all our questions with clarity and advised on various options and special arrangements we wanted to make."
"This was the trip of a lifetime for my husband and I. It was first class service from the moment we landed. The ease of having everything pre-booked for us really allowed us to enjoy our trip. I would highly recommend this service for anyone looking to plan a trip like this."
"We chose Enchanting Travels for a Kenya, South Africa and Botswana trip. We will not hesitate to rely on them in the future. Everyone from start to finish was informative and dependable. Enchanting Travels even surprised us with an awesome dinner experience for just the two of us."
"We have traveled with Enchanting five years in a row. The travel experience with Enchanting has always been unique and memorable for us, for they offer fully customized itineraries that perfectly suit our needs. They always go above and beyond to fulfill our needs throughout our travel."
THE ENCHANTING DIFFERENCE
One of the very best travel experiences I have ever had. We even got updates once at 3 am! He also made one change in one day's itinerary to accommodate our wishes which was very wonderful. For business, I have traveled to Europe, Russia, all over Asia and South Africa but was blown away by all the beautiful sites in Argentina and Chile.
All the little touches made by our Enchanting Travel consultant, Amelia Edwards, were noticed and recognized by my wife and I. Thank you for making our milestone trip (25th wedding anniversary) such a memorable one! We look forward to engaging Enchanting Travels again for our next South American adventure!!
This was my first adventure as a solo traveler. But while I may have traveled on my own, I was never alone. I was well taken care of by a superb team of planners, trip coordinators, guides and drivers.
Do you have a vacation in mind? Let us help you create the trip of a lifetime.