What are the top ten things to do in Cambodia?
Some of the world's most popular attractions, a history fraught with tragedy, and a chance to enjoy a leisurely pace of life away from the hustle and bustle of the big towns – that's Cambodia for you. Ancient temples and ruins, river cruises, beach vacations, and stunning natural beauty – with so many things to do in Cambodia, it is truly a traveler's delight!
There are a wealth of experiences on offer in one of Southeast Asia's most popular destinations: visiting the temple complex of Angkor Wat, a stunning remnant of the Khmer empire, understanding Cambodian history in Phnom Penh, relaxing on the beaches of Sihanoukville, enjoying a sunset over the Mekong in Kratie, exploring the Bokor National Park, unwinding in the island paradise of Koh Rong, discovering the pepper plantations and night markets of Kampot, learning the intricacies of Khmer cuisine in a cooking class.
If you are wondering which are the best places in Cambodia then this the guide for you. Here is a list of the top ten things to do in Cambodia curated by our Enchanting Travels specialists, which should definitely be part of your Cambodia travel guide!
Explore
Where do you want to go? What do you want to do? Be it popular sights or off the beaten path experiences, tell us your travel dream through our trip planner.
Design
Our destination experts will get in touch with you to craft a completely tailor-made, obligation-free itinerary to match your interests and budget.
Experience
Once you have booked your trip, sit back and relax – we'll take care of everything else. With our exceptional local team & 24/7 support, priceless memories await you!
Close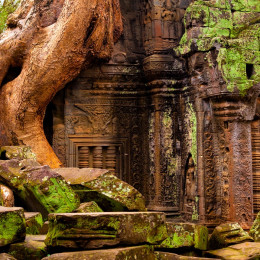 1
Explore the Majesty of Angkor Wat
As one of the largest temple complexes in the world, Angkor Wat in Angkor is an incredible former city in the midst of the jungle. Be mesmerized by the sheer scale and magnificence of these impressive carved structures, such as the four-faced Bayon Temples. Its fascinating Khmer architecture in varying states of preservation has made the Angkor Wat Temple Complex a UNESCO World Heritage Site. It is arguably one of the most popular tourist attractions in Southeast Asia and is a must-visit on your trip to the country.
The city of Angkor was the capital of the Khmer empire and Angkor Wat is one of the best representations of Khmer temple architecture. Two other popular temples in Angkor are Bayon (located in Angkor Thom, the last capital city of the Khmer empire) and Ta Prohm. King Jayavarman VII was probably one of the greatest kings of the Khmer empire.
2
Enjoy a Night Kayak Trip Over River Tatai
Experience a memorable natural spectacle during a night kayak trip over River Tatai! See thousands of fireflies illuminating the shores lined with mangrove trees with their magical light – a truly magical sight!
The river gleams with the phosphorescence as you glide through, one of the best things to do in Cambodia!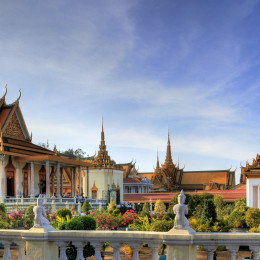 3
Visit the Royal Palace in Phnom Penh
There are many things to do in the capital city of Phnom Penh, which mixes a cosmopolitan outlook with a sincere cultural experience. Find relics from the Phnom Penh's golden era around every corner, from the sparkling spires of the Royal Palace and friendly saffron-clad monks to the picturesque waterfront and architectural gems of a bygone era.
The Royal Palace is the seat of the Cambodian royal family and a testimony to the magnificent Khmer architecture. The Silver Pagoda with the adjoining gardens in Phnom Penh is also worth a visit.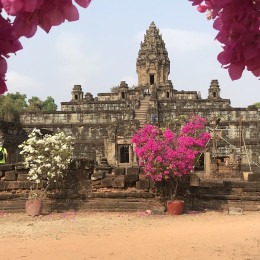 4
Learn About Cambodia's History
Cambodia has a profoundly sad history, which you can learn about in the moving Tuo Sleng Genocide Museum – once a prison of the Khmer Rouge. Learn about the terrible years of suffering during the reign of a terrorist regime. The Tuol site was formerly one among the several torture and execution centers set up by the Khmer Rouge.
A little to the south of Phnom Penh lies Choeung Ek, the most infamous of the sites that came to be known as the Killing Fields of Cambodia. Collectively, more than a million people were executed by the Khmer Rouge regime across the Killing Fields between 1975 and 1979.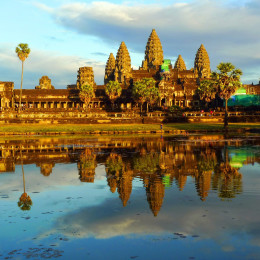 5
Explore Siem Reap
Siem Reap is located near the Angkor temple complex and boasts its own marvelous architecture. Along the splendid alleys of the city, discover the numerous fine French-colonial buildings and cobbled streets, and Chinese-style buildings in the Old Market is home to.
A quiet village until the French discovered the temple in the 19th century, today Siam Reap is a blend of the old and the new. The center boasts of riverside contemporary boutiques and spas and delicious eateries. A must-visit is the famous partygoers' Pub Street as is Tonle Sap (the Great Lake). a short distance away.
While Siem Reap is undoubtedly the gateway to the magnificent temples of Angkor, you will be doing injustice to the other many sights and sounds of the city if you don't spend a few days here!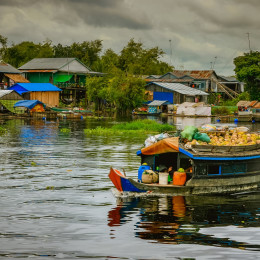 6
Head to the Floating Villages of Tonle Sap
Visit the picturesque floating villages on the shores of Tonle Sap, one of the largest lakes in southeast Asia. The lake, together with the Mekong River and Bassac River, forms a waterway system that allows you to travel to Laos and Vietnam.
Embark on a Tonle Sap Lake Tour discover floating schools, markets and more from the comfort of your boat!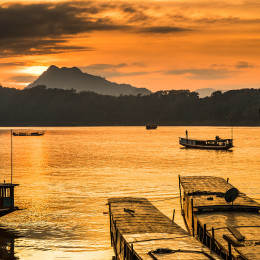 7
Enjoy a Cruise Over the Mekong River Delta
A cruise over the Mekong River Delta takes you from Siem Reap in Cambodia to Saigon in Vietnam. On the way, you can enjoy floating markets, colorful harbor towns and visits to imposing temples, including, of course, the famous Angkor Wat.
Visit local villages, markets and lush plantations typical of the Mekong Delta, try your hand at traditional crafts and visit Buddhist temples, while enjoying the comforts of your cruise!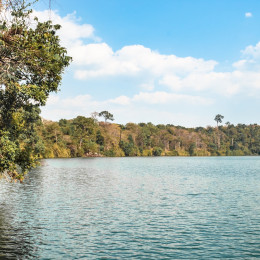 8
Sample a Slice of Culture of Rattanakari
In remote Rattanakari you can be part of authentic Cambodian experiences. Situated atop the northeast plateau, this is one of the least visited remote areas of Cambodia. Villagers live in hand-built stilt wooden houses and it is home to numerous ethnic minorities.
Rattanakari is known for its distinctive red earth lines roads and paths. Expect scenic vistas with lakes, waterfalls and lush hills. head here to enjoy the charms of an offbeat destination.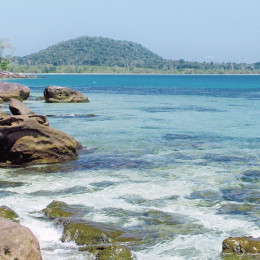 9
Enjoy a Cambodia Beach Vacation
Sihanoukville is the perfect place if you wish to embark on a Cambodia beach vacation – it is the gateway to crystal clear waters and fantastic sandy beaches in the shade of lush green mountain ranges.
A 'new' Cambodian city, Sihanoukville offers an experience quite different from those enjoyed in the more traditional and older parts of the country.
10
Explore the Sights of Battambang
Battambang is a province in the 'heart of the Cambodian rice bowl'. Just a few kilometers from Battambang, explore the mighty Wat Banan Temple, which rises up on a 400-meter-high hill.
The temple complex was built between the 11th and 12th centuries and offers a magnificent panoramic view of the surrounding countryside.
Discover all the best things to do in Cambodia by booking your vacation with our experts at Enchanting Travels. Contact us for your tailor-made and obligation-free tour itinerary.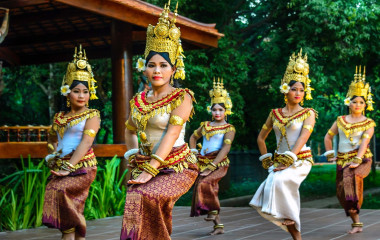 Being a Culture Vulture on your Cambodia Trip
From unique architecture and cultural flair to culinary delights and an inspiring NGO, unearth the charms of authentic Cambodia. Cambodia Trip: The Angkor Village Resort & Spa in Siem Reap The Angkor Wat Temple Complex in Siem Reap is every history enthusiast's dream.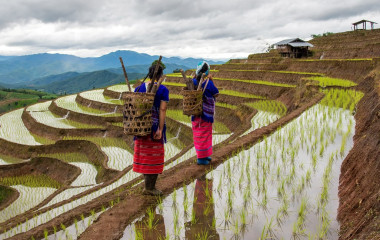 Undiscovered Cambodia and Vietnam Destinations
Go off the beaten track on your vacation in Southeast Asia and discover unique hidden gems, tucked away amid misty mountains, rolling valleys, rice terraces and emerald bays.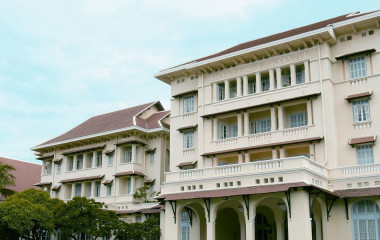 Discover Cambodia's French Colonial Architecture
Famed and most visited for Siem Reap and UNESCO World Heritage Site Angkor Wat which many call a feat of planning and construction, Cambodia's cities possess a wealth of stunning colonial buildings.
popular trips to cambodia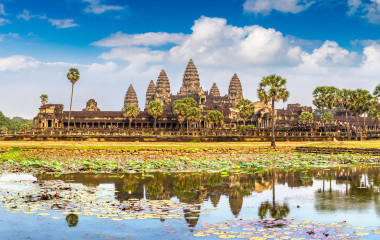 Classic Cambodia
7 Days: $ 1,390
/ person
This classic Cambodia trip is the perfect introduction to the culture, history, and heritage of the country. Find a beautiful blend of the past and present amid Phnom Penh's classic buildings, bustling waterfront, and cafe-lined streets.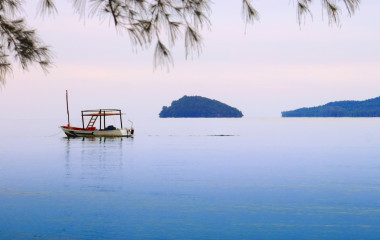 Temples and Beaches of Cambodia
11 Days: $ 2,590
/ person
Discover the top attractions in Cambodia on this private tour. Begin your tour in Siem Reap with a personalized excursion to the magnificent Angkor Wat temples.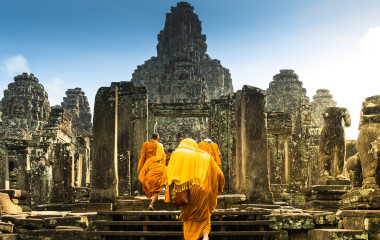 Highlights of Cambodia in Luxury
11 Days: $ 3,190
/ person
Experience the natural beauty and ancient heritage of Cambodia in luxury! Not just premium accommodation, tour Cambodia with the best local experts in plush vehicles while you enjoy excursions tailored to your interests.
Load More
THE ENCHANTING DIFFERENCE
One of the very best travel experiences I have ever had. We even got updates once at 3 am! He also made one change in one day's itinerary to accommodate our wishes which was very wonderful. For business, I have traveled to Europe, Russia, all over Asia and South Africa but was blown away by all the beautiful sites in Argentina and Chile.
All the little touches made by our Enchanting Travel consultant, Amelia Edwards, were noticed and recognized by my wife and I. Thank you for making our milestone trip (25th wedding anniversary) such a memorable one! We look forward to engaging Enchanting Travels again for our next South American adventure!!
This was my first adventure as a solo traveler. But while I may have traveled on my own, I was never alone. I was well taken care of by a superb team of planners, trip coordinators, guides and drivers.
Do you have a vacation in mind? Personalize your itinerary with our Trip Builder.