When is the best time to visit Hong Kong? Our destination experts share an overview.
Hong Kong's climate is subtropical and leans towards temperate for nearly half the year. You'll find that there are many variations in the weather depending on where in Hong Kong you are and how near or far from the sea level, which is typical of a climate such as this. Generally speaking, it's best to expect warm weather all year round.
Typhoon Tip: July and September are the months during which Hong Kong may be affected by tropical cyclones and gales may occur between May and November.
Most Ideal
Low Season
OVERVIEW
This is peak winter in Hong Kong, and temperatures range from 50°F to 74°F. This is also a considerably dry time of the year, making this one of the best times to visit the country and consequently one of the busiest as well!
WE RECOMMEND
Enjoy the festivities around The Chinese New Year
Take a tram ride up Victoria Peak to savor spectacular views of Hong Kong
Admire the sculptures and bright green lawns of Tamar Park
OVERVIEW
Cool and dry conditions persist through February, making this a good time to visit Hong Kong.
WE RECOMMEND
Marvel at the beautiful lanterns lit and hung through the city during the Lantern Festival, which marks the end of the Chinese New Year celebrations
Hike up Dragon's back
OVERVIEW
Temperatures usually range from the low 50s to the early 80s through this month. Expect a fair amount of mist and drizzle as well.
WE RECOMMEND
If you want to avoid the rain, why not museum hop?
Enjoy the plethora of hues during the Hong Kong Flower Show
OVERVIEW
Expect largely rainy and misty conditions to continue through the month, with not much sunshine. It can get quite muggy and sometimes ferry services can be disrupted due to the rains.
WE RECOMMEND
Hong Kong is a melting point of cuisines – go restaurant hopping!
OVERVIEW
It gets warmer and muggier around this month with the start of the summer season. Expect average daytime temperatures around 88ºF and at night, slightly lower temperatures around 79ºF with high humidity. This is also the start of typhoon season!
WE RECOMMEND
Ride on a sampan in Aberdeen Harbor and visit one of the many floating seafood restaurants
OVERVIEW
Much like May, June remains hot, humid and wet! Cloudy conditions prevail throughout the month.
WE RECOMMEND
Enjoy a nighttime walk at the Kwun Tong Promenade
The Dragon Boat Festival is usually celebrated during this month
OVERVIEW
July is one of the hottest and wettest months in Hong Kong, though you will see more sunny days than June. Temperatures touch the high 80s.
WE RECOMMEND
Enjoy family time at the Ocean Park with its oceanarium, a marine mammal park, and a wildlife-based park
OVERVIEW
There's hardly any difference between the weather in August and July! It remains hot and humid. This is also a busy month as it is the summer holiday period for Chinese schools, so expect popular locations to be largely packed.
WE RECOMMEND
Visit the Temple Street Night Market with its food, textiles, handcrafted goods, antiques, souvenirs, clothes, and jewelry
OVERVIEW
September continues to stay hot and humid with highs often in the low 90s. This month also witnesses the most tropical cyclones. If the mid-Autumn festival falls during this month, it can get very busy.
WE RECOMMEND
Enjoy the bright neon-lit alleys, narrow streets and over 90 restaurants and bars at Lan Kwai Fong
OVERVIEW
October is a great month to visit Hong Kong as it marks the end of the rainy season. Expect daytime temperatures in the low 80s, with several sunny days.
WE RECOMMEND
Head to Disneyland on Lantau Island and rediscover the child in you!
When at Lantau, don't forget to ride on the Ngong Ping 360 – the aerial lift that opened in 2006
OVERVIEW
Warm, sunny conditions with low humidity make this one of the best months to visit Hong Kong. Expect lows in the early 50s so don't forget to carry layers!
WE RECOMMEND
Head to the Hong Kong Zoological and Botanical Gardens, one of the oldest such zoos in the world
Explore the majestic Sik Sik Yuen Tai Sin Temple, a colorful fortress of shrines and altars, replete with lily ponds
OVERVIEW
Expect dry, cool and clear conditions through the month as the winter season commences in Hong Kong. This is a very busy month so make sure you book early!
WE RECOMMEND
Visit the indigenous Hakka village (or wall village) Lai Chi Wo with over 200 ancient houses and temples
Head to the City Centre and shop till you drop in its superb shopping district
Dream Carefree
Go ahead and dream big. Enchanting Travels experts are here to help you plan the ultimate escape. Tell us your vision for the trip of a lifetime and we'll make it a reality.
Plan Carefree
One of our destination experts will reach out to craft a completely customized itinerary. Book your personalized journey and know that our flexible policies have you covered.
Travel Carefree
Relax and prepare for takeoff, knowing that your trip is perfectly planned and you have a personal concierge on call 24/7. Our experts are here to keep you safe and handle the details.
Close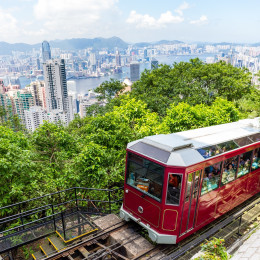 Best time to visit Hong Kong by season
Winter – from late-November to January – is considered the best time to visit Hong Kong since there are fewer surprises weather-wise. Later in the season, the sky is often cloudy and it can be a little windy and chilly. However, you can also expect intermittent pleasant breezes, plenty of sunshine, and comfortable manageable temperatures. In general, January and February are cloudier months and come with the occasional cold fronts.
Spring – from February to April – offers fairly temperate conditions with occasional spikes in humidity. Fog and drizzle can cause some problems on high ground while air traffic and ferry services are occasionally disrupted because of reduced visibility.
Summer – from May to August – is pleasantly warm. Expect some clouds even with the increase in sunshine. From the start of May, the air is occasionally thick and muggy – this is also a leading sign for typhoons! It is hot and humid in the daytime with occasional showers and thunderstorms, particularly during the mornings. Expect average daytime temperatures around 88º F, and at night, slightly lower temperatures around 79ºF with high humidity.
Autumn – from September to November – is also among the better times to visit Hong Kong. While a typhoon can still pass in October, in November you will likely experience the first cool and windy days. By the end of the month, it can already be a little cold. Do bear in mind however that Hong Kong's cold is still warm by European/western standards.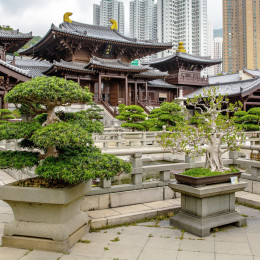 What to Pack for Hong Kong
As with most journeys abroad, the time of the year you arrive will determine what clothes you should pack. If you travel during the peak season in autumn and winter, expect warm weather. For this time of the year, it's best to bring comfortable, lightweight and loose fitting cotton clothes. Long-sleeved items will also offer you protection from the sun. It's always a great idea to carry a light jacket with you, especially at night. Even if you end up never using it, for that one out of ten times that you feel the chill, it could come in extremely handy! You may also need this in hotels or restaurants that use excessive air-conditioning – and many in Hong Kong do! While sightseeing, a hat and high-factor sun block can offer much needed protection against the hot sun. Lightweight cotton or linen T-shirts and polos, and knee-length shorts, are advisable and acceptable for visiting most sites including temples or pagodas. You will do a lot of walking in Hong Kong so light, comfortable and sturdy walking shoes are highly recommended.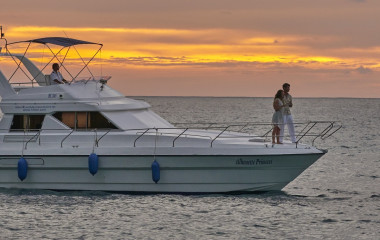 Top 10 Cruises in Asia that will make Your Vacation one to Remember
There is something truly unique about a luxury cruise down Asia's magnificent and iconic rivers. Discover our top 10 favorites for your cruise of a lifetime!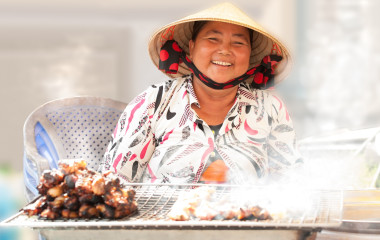 Southeast Asian Street Food Diaries: The Best 'Pho' on the Go
Brace for a delectable journey as we take you on the trail of some of the best Southeast Asia street food you can possibly have.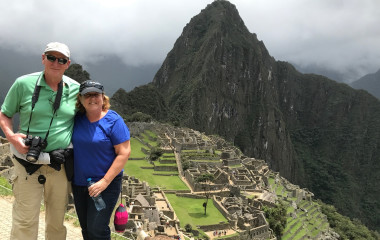 Your Ultimate Guide to the Top 10 UNESCO World Heritage Sites of 2019
They are stunning feats of architectural genius, historic centers of ancient cities, or incredibly rich habitats that are fast disappearing. Curated by our experts, discover 2019's top 10 UNESCO World Heritage sites from our exotic world.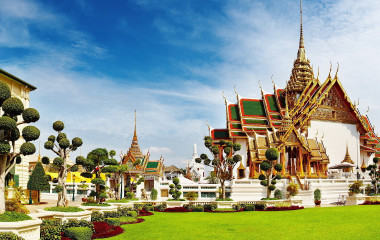 Urban Hotspots of Asia
11 Days: $ 5,390
/ person
Asia's hit-list destinations are yours to uncover! A melting pot of culture and heritage awaits you in Kuala Lumpur, while Hong Kong offers a fascinating fusion of the East and the West.
THE ENCHANTING DIFFERENCE
We have had the opportunity to travel quite a bit but this trip was exceptional! We had 12 flights from start to finish and Enchanting Travels made this seamless. Each country Jojo and Sapna had some special arranged for us that truly made the trip unforgettable. Dinner in the rice fields in Vietnam, Kampong Khleang and lunch in a locals home. Patara Elephant Reserve and cooking dinner in a locals home, Private speed boat for the day to the Phi Phi islands.
If you want an unforgettable exquisite travel experience, feel confident that Enchanting Travels will exceed your expectations from the first day all the way through your trip. I wouldn't hesitate to book with them a recommended their excellent company.
We were taken care in every aspect of our trip. It was flexible based on our needs but structured enough to see everything we wanted and needed to see.
Do you have a vacation in mind? Personalize your itinerary with our Trip Builder.