Hong Kong, located at the delta of the Pearl River on China's Southeast coast, has a little bit of everything. There isn't much flat land here with gradients running from hilly to mountainous and back again. Its natural land form harbor is a huge tourist attraction.
Architects of the city have utilized its limited landmass to craft an intricately designed autonomous city. The expanse of the city is made up of Hong Kong island and several areas on the mainland peninsula known as Kowloon and the New Territories. About 40% of the remaining rural spread has been designated for nature reserves, parks, and various grasslands.
Top 8 Attractions and Things to do in Hong Kong
1. The Peak
Victoria Peak, or the Peak as it is commonly called, is an iconic symbol of the city set on a hill in the western side of Hong Kong Island. Its elevation of 1800 feet makes it the highest hill in the region. With the addition of a Peak Tram in 1888, it draws millions of tourists every year, wishing to take in the most spectacular views in all of Hong Kong.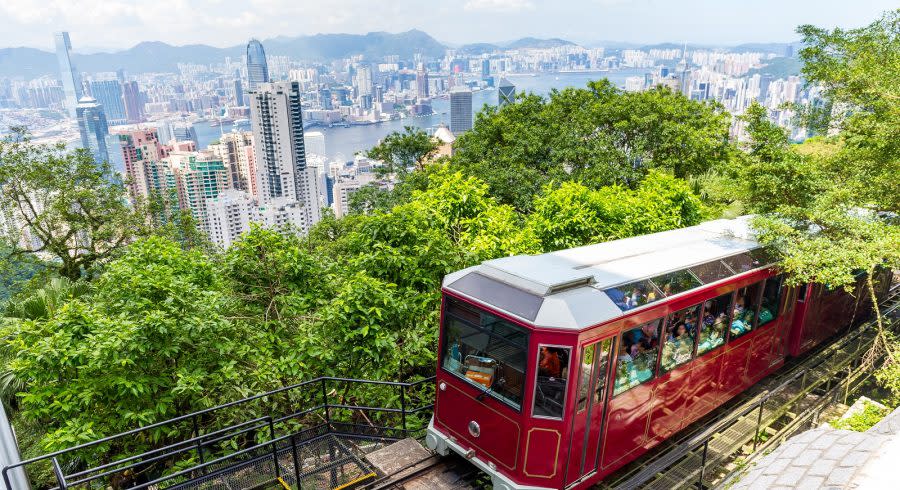 Much of the island is considered the historical epicenter of the city with remnants of British and Japanese occupation everywhere. Aside from being a superb shopping district, many of the biggest attractions are based here, including The Peak and Ocean Park. This is certainly the perfect spot for a wander and taking in some of the more unique attractions such as the Hong Kong Racing Museum in Happy Valley, Connaught Place square with its Henry Moore statue or the sculptures and bright green lawns of Tamar Park.
Kowloon is comprised of two parts: the Kowloon Peninsula and New Kowloon. The latter is home to the majestic Sik Sik Yuen Tai Sin Temple, a colorful fortress of shrines and altars, replete with lily pounds. If you ever want to know what the future holds just take a number and wait for the fortune teller to reveal all! Kowloon Peninsula on the other hand is a reclaimed and extended landmass favored for its romantic location. At night time the Kwun Tong Promenade is perfect for a stroll, amid skyscrapers and harbor bars, and with stunning views from the deck.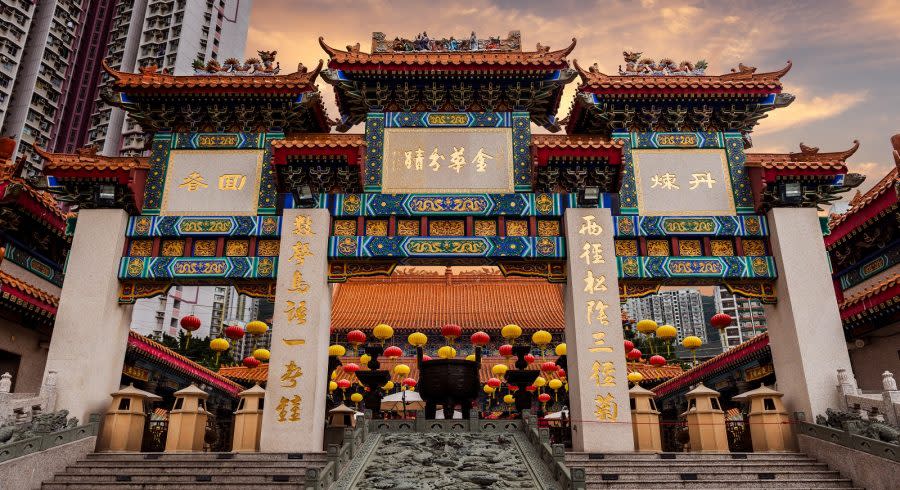 These are, in contrast to the rest of the city, very different. This land is mostly given over to the wild natural habitat of Hong Kong – wetlands, parks, and mountains. An absolute must see is the indigenous Hakka village (or wall village) Lai Chi Wo. In the middle of bright green forest, you'll find over 200 houses and temples – a perfectly preserved portal to a time 400 years before!
Hong Kong's largest island, Lantau lies at the mouth of the Peril River. Like a lot of the city, this too was originally a series of fishing villages before occupation and development. Nowadays, Lantau Island is home to an international airport, a Disneyland, and another iconic symbol, the Ngong Ping 360 – the aerial lift that opened in 2006 and has quickly become a favorite with tourists. Not just magnificent views, it's also offers another super convenient way to get around.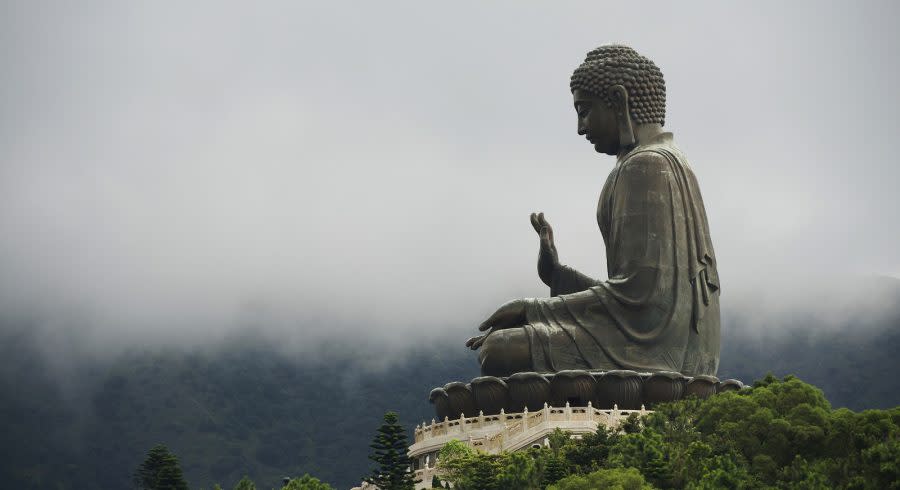 This is a monumental amusement park that also includes an oceanarium, a marine mammal park, and a wildlife-based park. Situated in the Southern district and surrounded by sun-splashed bright green hills, this is strictly one for the family, unless you manage to conjure up that inner child dying to get out.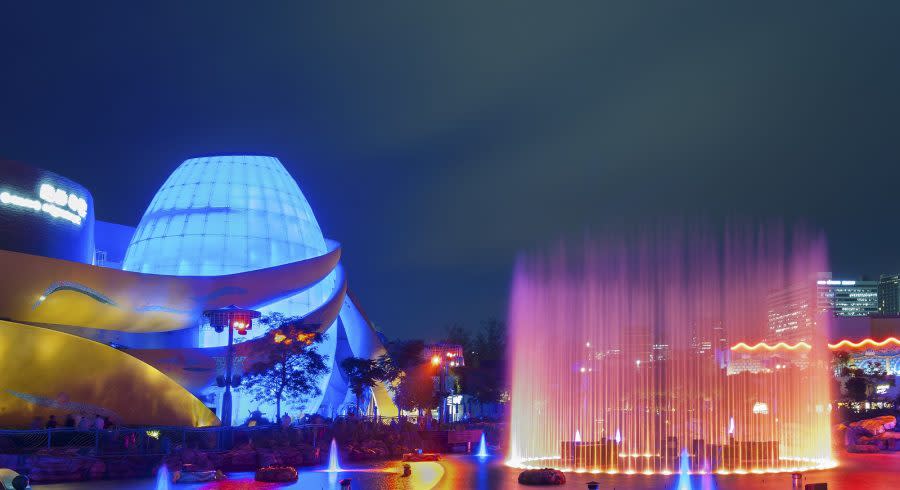 This is as good as it gets around here. Once the sun goes down, the stalls kick into gear and your senses come alive to the sounds and smells. Everything is on sale here – food, textiles, handcrafted goods, antiques, souvenirs, clothes, and jewelry. Bring a comfy pair of shoes, it's well worth a wander.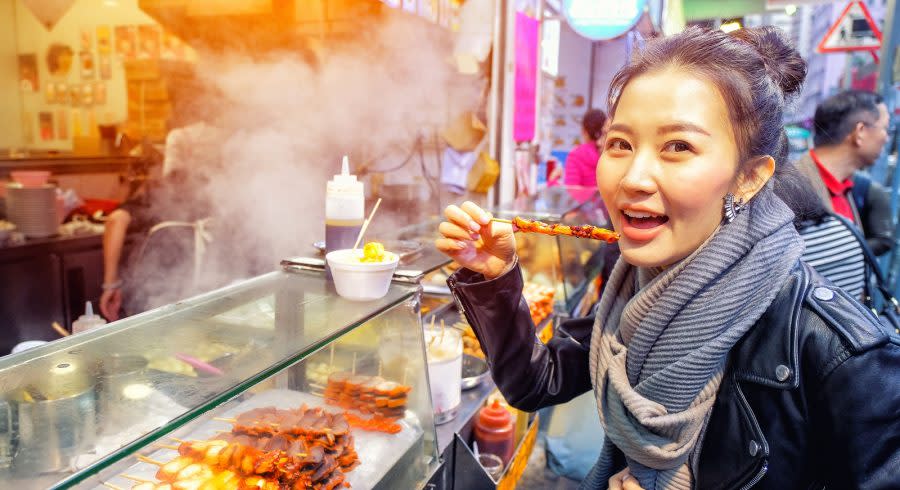 8. Lan Kwai Fong (LKF)
The LKF is a small square of streets in central Hong Kong. What was once a hub of food stalls in the pre-WWII era is now a dedicated space for over 90 restaurants and bars that to everyone: businessmen and locals relaxing after work, young people out on the weekend, and tourist looking to live it up. Expect bright neon-lit alleys and narrow streets, a ton of (friendly) commotion, and a lot of fun.
Discover the top things to do in Hong Kong
With just a little bit of planning, Hong Kong can be a discerning traveler's delight. Our destination experts are happy to customize each aspect of your trip to match your interests and preferences. Get in touch with us for your obligation-free itinerary.
Dream Carefree
Go ahead and dream big. Enchanting Travels experts are here to help you plan the ultimate escape. Tell us your vision for the trip of a lifetime and we'll make it a reality.
Plan Carefree
One of our destination experts will reach out to craft a completely customized itinerary. Book your personalized journey and know that our flexible policies have you covered.
Travel Carefree
Relax and prepare for takeoff, knowing that your trip is perfectly planned and you have a personal concierge on call 24/7. Our experts are here to keep you safe and handle the details.
Close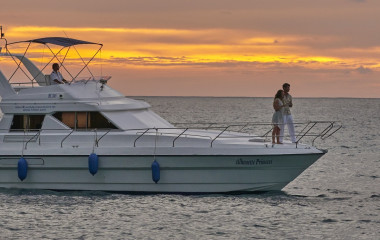 Top 10 Cruises in Asia that will make Your Vacation one to Remember
There is something truly unique about a luxury cruise down Asia's magnificent and iconic rivers. Discover our top 10 favorites for your cruise of a lifetime!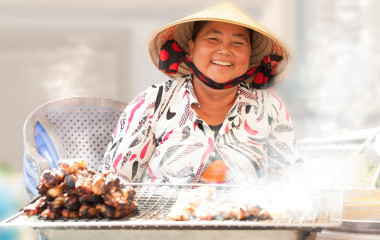 Southeast Asian Street Food Diaries: The Best 'Pho' on the Go
Brace for a delectable journey as we take you on the trail of some of the best Southeast Asia street food you can possibly have.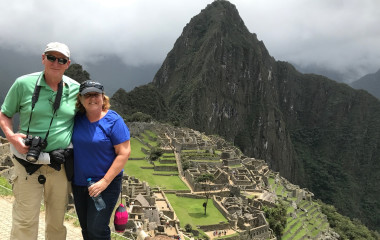 Your Ultimate Guide to the Top 10 UNESCO World Heritage Sites of 2019
They are stunning feats of architectural genius, historic centers of ancient cities, or incredibly rich habitats that are fast disappearing. Curated by our experts, discover 2019's top 10 UNESCO World Heritage sites from our exotic world.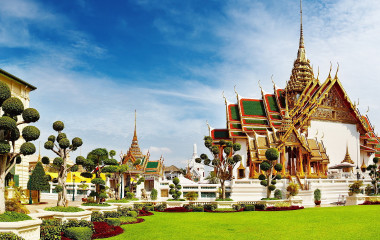 Urban Hotspots of Asia
11 Days: $ 5,390
/ person
Asia's hit-list destinations are yours to uncover! A melting pot of culture and heritage awaits you in Kuala Lumpur, while Hong Kong offers a fascinating fusion of the East and the West.
THE ENCHANTING DIFFERENCE
We have had the opportunity to travel quite a bit but this trip was exceptional! We had 12 flights from start to finish and Enchanting Travels made this seamless. Each country Jojo and Sapna had some special arranged for us that truly made the trip unforgettable. Dinner in the rice fields in Vietnam, Kampong Khleang and lunch in a locals home. Patara Elephant Reserve and cooking dinner in a locals home, Private speed boat for the day to the Phi Phi islands.
If you want an unforgettable exquisite travel experience, feel confident that Enchanting Travels will exceed your expectations from the first day all the way through your trip. I wouldn't hesitate to book with them a recommended their excellent company.
We were taken care in every aspect of our trip. It was flexible based on our needs but structured enough to see everything we wanted and needed to see.
Do you have a vacation in mind? Personalize your itinerary with our Trip Builder.