Head out on an adventure of a lifetime with our pick of some of the best road trips across the world. Drive through countries such as Scotland, South Africa, Namibia, Zimbabwe, New Zealand and Chile and experience some of the best historical, cultural and scenic delights on offer!
EUROPE
Scotland
Route suggestion: Edinburgh – Inverness – Isle of Skye – Fort William via Glenfinnan – Glasgow via Loch Lomond
Scotland is regularly voted among the most beautiful countries in the world and it is not hard to see why. It's rugged castles and jagged coastlines make for a picture-postcard destination. And with everything so accessible from the road, it also makes driving through Scotland among the best road trips in the world.
Start your 12-day Scotland trip at Edinburgh – head north, west and finally back south with stopovers in the major cities – ending your trip in Glasgow. Witness first-hand the magnificence of Scotland's many forts and castles and try to spot the mythical Nessie in Loch Ness in Inverness! See the Glenfinnan Viaduct, immortalized in the Harry Potter movies. The windswept countryside of the Isle of Skye beckons with its many hikes and stunning natural rock formations.
Equally alluring is the stunning scenery of the Western Highlands of Scotland, especially the area between Fort William to Loch Lomond with its rocky mountains and lush greenery. A truly spectacular drive.
Germany
Route suggestion: Wurzburg – Rothenburg ob der Tauber – Augsburg – Füssen – Munich
Germany's 'Romantic Route' was popularized nearly half a century ago – the idea behind it was to spread post-war positivity in the country as well as galvanize its flagging tourism industry. Even today, it continues to remain a huge draw, with its combination of history, culture and stunning scenery.
From Frankfurt, drive to Wurzburg, known for its rolling vineyards and stunning Baroque architecture. Around an hour's drive from here lies the carefully-preserved, medieval walled town, Rothenburg ob der Tauber. Next, head to the town of Augsburg after, the third-oldest city in Germany, drenched in Renaissance magnificence.
Soaring castles and bucolic meadows accompany you as you drive to the charming town of Fussen, home to the beautiful Neuschwanstein Castle framed by the Alps. End your journey in Munich – its bustling markets, regal architecture, and, of course, beer, will mark an apt conclusion!
OCEANIA
New Zealand
Route suggestion: Christchurch – Greymouth – Franz Josef – Queenstown – Mt Cook – Christchurch – Kaikoura – Wellington – Napier – Rotorua – Auckland
Its unending scenic vistas together with well-marked roads make driving through New Zealand among the best road trips. A two-week sojourn covering the South and North Island is an immersive experience in the country's natural beauty.
Fly to Christchurch, and the next day, embark on the five-hour TranzAlpine train journey to Greymouth, which will take you through beautiful mountain scenery. After a short stay in Greymouth and discovering the famous 'pancake rocks' close by, drive to Franz Josef. Explore the natural beauty of the region on hikes and flights and enjoy relaxing in its natural hot pools. The next day, drive to Queenstown, where stunning views of the Southern Alps and Milford Sounds, sparkling lakes, and a host of exciting activities await.
After an exhilarating three days, spend a day in the alpine village of Mt Cook, after which you will drive back to Christchurch. The next day, head to the beautiful coastal city of Kaikōura. Enjoy its diverse sights before you drive to Picton and take the Interislander Ferry to Wellington
There is much to see and explore in Wellington, the capital of New Zealand, such as the famous museum Te Papa Tongarewa. After two nights here, drive to the coastal city of Napier, and spend a day amid its wineries and Art Deco architecture. Next up is Rotorua, with its geothermal activity (bubbling hot pools and geysers) as well as its Maori culture. Spend a couple of days here, indulging in its various activities before heading to the cosmopolitan city of Auckland, which marks the end of your journey across New Zealand!
AFRICA
South Africa, Namibia, and Zimbabwe
Route suggestion: Cape Town – Paternoster – Cederberg – Namaqualand – Fish River Canyon – Aus – Sossusvlei – Swakopmund – Damaraland (Twyfelfontein) – Etosha (Anderson Gate) – Etosha (von Lindequist Gate) – Caprivi Rundu – Western Caprivi – Eastern Caprivi – Victoria Falls Zimbabwe
If you have a month, enjoy a quintessential Africa experience on one of the best road trips that will take you through South Africa, Namibia and Zimbabwe's cosmopolitan cities, wine country, the Table Mountain and Big Five safari destinations.
Start off at vibrant Cape Town – relaxing on its beaches and enjoying tours in the Cape Winelands. On your fourth day, drive out to the old fishing village of Paternoster, and after a day, head to the Cederberg Mountains, where you can experience several outdoor activities over a couple of days.
Following this week-long overland journey through South Africa, wind your way towards Namibia. Spend a week driving through its arid landscapes, which will take you through sites like Fish River Canyon and Aus, renowned for their stark, natural beauty as well as the sand dunes of Sossusvlei.
After a week of desert landscapes, it is time for the charming green oasis of Swakopmund, a former German colony, and the mountainous region of Damaraland. Next up, experience African safaris in two contrasting landscapes – the savannah grasslands of the Etosha National Park and the bio-diverse wetlands of Western Caprivi.
End your journey at the magnificent Victoria Falls in Zimbabwe. Go bungee jumping or enjoy a scenic flight over the Victoria Falls and end your road trip on a high!
South Africa: Western Cape
Route suggestion: Cape Town – Overberg – Gondwana Game Reserve – Tsitsikamma National Park – Garden Route – Little Karoo – Winelands – Cape Town
There are few routes in the world as scenic as the Garden Route with its spectacular mountains and sea landscapes along the Western Cape in South Africa. Take in its beauty along with the other must-see sights in South Africa on a 20-day road trip, among the best road trips in the world!
Experience the vibrant offerings of cosmopolitan Cape Town before you head to Overberg, popular for whale watching. Drive past savannah grasslands and rolling hills as you head to the Gondwana Game Reserve. Spend four days at this ecotourism destination and enjoy a range of wildlife experiences, before you continue your scenic coastal drive to Tsitsikamma National Park.
Drive through the scenic Garden Route and marvel at its dramatic coastline with stunning sights like Storms River Mouth and the suspension bridge and the craggy Knysna Heads. After exploring the diverse landscapes of Little Karoo, end your overland journey in the scenic Winelands, sampling some of the best wines in the world, including the typical South African pinotage, as you toast a fulfilling trip.
SOUTH AMERICA
Patagonia
Drive through the Aysen region in Chilean Patagonia: Experience rocky karst landscapes, dense forests, several icefields, and complete oneness with nature as you drive down Chile's Route 7, more popularly known as Carretera Austral. The road took nearly 20 years to build and the 770-mile route still retains an intensely remote appeal, traversing through a very sparsely populated region.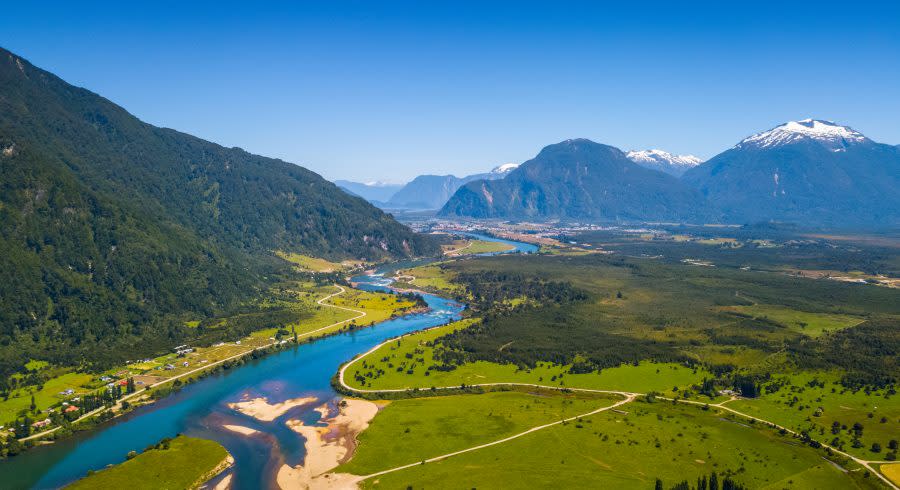 There are several adventure activities that you can enjoy along the route and beautiful towns and villages that you can visit. Another popular overland route is Route 41, which will take you through an isolated and scenic section of the Andes mountains.
Take your pick from some of the best road trips across the world and experience the country from a different perspective!
It's never too early to start planning your next road trip of a lifetime. Get in touch with us for a bespoke, obligation-free itinerary crafted by experts.