When is the best time to visit Mexico?
The best time to visit Mexico will be determined by what you're hoping to do while you're there.
The months of December – April see the most number of tourists visiting the country with Christmas and Easter being the busiest periods. Due to its position on the Tropic of Cancer, Mexico experiences two distinct seasons – the rainy season from May to October and the dry season from November through April. Rainy season brings heavy humidity and downpours that are not ideal if you want to relax on the beach. The east coast and Yucatan areas can be vulnerable to cyclones during the latter half of the rainy season – June to November.

For fewer crowds but more manageable weather conditions, arrange your trip during the shoulder season May or November, just before or after the peak season.

Most Ideal
Low Season
OVERVIEW
January is peak tourist season as the weather is dry, sunny and pleasant. Temperatures hover around 82°F in popular resort towns such as Cancun. Mexico City sees highs in the 70s, perfect for sightseeing though nights and mornings are chilly with temperatures dropping as low as 41°F.
WE RECOMMEND
Work on your tan in beautiful Playa del Carmen
Go on a street food tour in Mexico City
OVERVIEW
February continues to be a popular month to visit the country. It is the driest month of the year and clear, blue skies characterize most of the country. The weather is not too different from how it was in January; most regions see a slight increase in temperatures.
WE RECOMMEND
Witness the beautiful monarch butterfly migration in a butterfly reserve
Swim in the fresh waters of an underground cenote in Quintana Roo
It's the best time to go whale watching in Baja California
OVERVIEW
The spring break crowd descends on the country's coastal towns. The weather is warm with temperatures around a pleasant 85°F. Nights can still be cool so remember to pack a sweater. Temperatures in Mexico City begin to inch up and are around 75°F.
WE RECOMMEND
Visit the ruins of Chichen Itza during the Spring Equinox
Walk under a purple canopy of jacarandas in Mexico City
OVERVIEW
April finds locals heading towards the beach during the Holy Week. Dry weather, pleasant temperatures and sunny skies make April a popular month to visit Mexico. While most of Mexico sees temperatures in the mid-80s, Mexico City is still at a comfortable 77°F – 81°F.
WE RECOMMEND
Soak in the sun at Puerto Vallarta
Get a feel for the country's culture at the biggest state fair in Aguascalientes
OVERVIEW
The crowds leave but the great weather still lingers in May making it a good month to travel to Mexico. It's a great time to visit Baja California and the Pacific Coast and the beach resorts of the Yucatan Peninsula. It is the beginning of the rainy season though rains don't start till the end of the month.
WE RECOMMEND
Head to Puebla to be part of the Cinco de Mayo festival
Experience Oaxaca – the culinary capital of Mexico
Enjoy the beaches of Cancun – sans the crowds
OVERVIEW
Brief afternoon storms herald the arrival of the rainy season. Temperatures are high as is humidity making it a hot and sticky period to visit the country. With plenty of sunshine-filled days, it is still a good time to visit the pristine beaches of the Yucatan Peninsula.
WE RECOMMEND
Sign up for a surfing lesson at Punta Mita
Head to San Miguel de Allende for the Día de Locos – the Day of the Crazies
Explore the ruins of Tulum
OVERVIEW
It is a busy month for Mexico City with tourists and locals thronging its colorful neighborhoods. Temperatures are pleasant (around 75°F) with sunny mornings and short bursts of rain in the afternoons or evenings. In most parts of the country, July is the wettest month of the year.
WE RECOMMEND
Unwind in the Mayan Riviera
Visit Oaxaca for the colorful Guelaguetza festival
Head to Cancun to swim with whale sharks
OVERVIEW
The country is bang in the middle of hurricane season and it is, expectedly, a low tourist season. The towns on the Pacific coast experience significant rainfall. Baja California and other parts of northern Mexico experience high temperatures ranging between 95°F – 110°F. Temperatures in Mexico City are a pleasant 75°F during the day with the rain bringing the thermometer further down with short, evening showers.
WE RECOMMEND
Tour the many impressive museums of Mexico City
Sign up for an authentic Mexican cooking session
OVERVIEW
September is the wettest month in the Yucatan Peninsula and Baja California and the height of hurricane season in the region. The Mexican countryside is lush and green after the rains. Mexico city gears up for Independence Day celebrations and many shops and restaurants close during the period.
WE RECOMMEND
Join locals in cheering 'Viva Mexico' as the country celebrates Independence Day
Stay in an 18th-century Mexican hacienda, full of old-world charm
OVERVIEW
The rains start to leave as the month progresses and it is a good time to visit the towns on the Pacific Coast and Baja California. High temperatures and humidity characterize most of the country through Mexico City experiences pleasant afternoons and cool evenings.
WE RECOMMEND
Revel in the colorful festivities of El Cervantino in Guanajuato
Hike the Copper Canyon
OVERVIEW
With the rains almost gone and average temperatures in the mid to high 70s, it is a good month to visit the country. A shoulder season, November is a great time to visit the beaches of the Yucatan Peninsula and the Pacific Coast.
WE RECOMMEND
Enjoy the Day of the Dead celebrations in the Island of Janitzio, Michoacán.
Sign up for a surfing lesson at Punta Mita
Explore the ruins of Tulum
OVERVIEW
The month marks the start of the dry season and the peak tourist season. With cool temperatures and plenty of festivities, December is one of the best times to travel to Mexico. Plan your trip well in advance if you want to travel to Mexico during the Christmas and New Year holiday season.
WE RECOMMEND
Head to Mexico City's Basílica de Guadalupe for the Day of Our Lady of Guadalupe celebrations
Ring in the New Year beachside at Puerto Vallarta
Walk the cobbled streets of Campeche, a UNESCO World Heritage Site
Explore
Where do you want to go? What do you want to do? Be it popular sights or off the beaten path experiences, tell us your travel dream through our trip planner.
Design
Our destination experts will get in touch with you to craft a completely tailor-made, obligation-free itinerary to match your interests and budget.
Experience
Once you have booked your trip, sit back and relax – we'll take care of everything else. With our exceptional local team & 24/7 support, priceless memories await you!
Close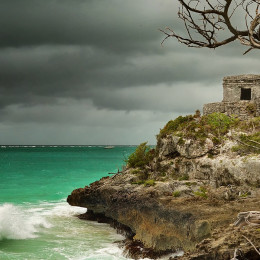 Best Time to Visit Mexico by Region
As Mexico is such a large country – it stretches for nearly 800,000 square miles and is split up into 32 different states – you'll find the climate differs depending on where you go.

North: Desertous northern Mexico is known for its extremely dry climate with temperatures rising to around 100°F during the summer. In the winter, the thermometer can frequently dip below freezing at night in the highlands. Tourists flock to Baja California around February-March for whale sighting and sea kayaking.

Center: Mexico City is a year-round destination though November is a particularly great month to visit Mexico City as are the months from March-May. The capital city and the central regions surrounding it enjoy a more moderate climate all year round. Even in the cooler months, daytime temperatures rarely drop below 59°F.

Coast: The best time to visit the coastal resort towns of Mexico are the months from November to April. The weather is dry, humidity is low, days are warm and nights are cool. Cities such as Mérida, Cancun and Playa del Carmen along the Gulf of Mexico, and the western regions on the Pacific Coast, enjoy a hot and humid climate during the summer months. However, heavy rainfall is not uncommon between July and September.

South: The months from June-August and mid-December – Jan is peak tourist season in Oaxaca. If you want to deal with lesser crowds, then the months of April-May and September-October are also good bets. You can expect warm subtropical temperatures all year round in the lowlands, while mountainous areas are typically a more pleasant 68-77°F during summer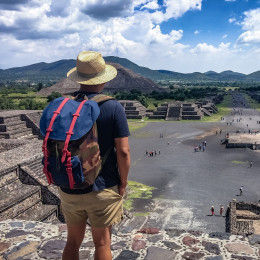 What to Pack for Mexico
What you'll need to pack for Mexico will depend on the region and time of year you're visiting. If you've selected to go during the drier season, loose, cool clothing will be key. The rainy season can bring on chillier nights so warm layers and a good quality raincoat is a must.
No matter when you visit, packing essentials will include comfortable shoes for exploring, sunscreen and a sun hat to protect your skin, and insect repellent if you're planning a trip into the mountains or jungle. You may also want to bring medication for headaches, stomach pain or colds from home so you know you're using a trusted brand.
If you are traveling to cities or regions located high above sea level, such as Mexico City, it is important to be prepared for altitude sickness. It's best to consult your doctor for medicine to combat altitude sickness. While traveling, we recommend that you take a little time to adjust to the altitude, and do keep yourself hydrated at all times!
We're happy to help you decide on the best time to visit Mexico, so you can make the most of your time discovering the country's spectacular cultural and historical wonders.
"Mexico is just an absolute treat for your senses! Beach destinations such as Tulum provide a mix of culture and relaxation. But if you are looking for that perfect beach vacation, head to the gorgeous beaches of Playa del Carmen or Puerto Vallarta on the Pacific Coast."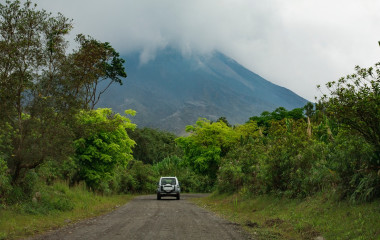 Overland Costa Rica: Off the Beaten Path
14 Days: $ 3,690
/ person
Take an overland Costa Rica tour through breathtaking landscapes! Drive off the beaten path in pristine Tenorio and Monteverde's cloud forests, enjoy unique excursions and activities, and escape the world at eco-resorts set in the lap of nature.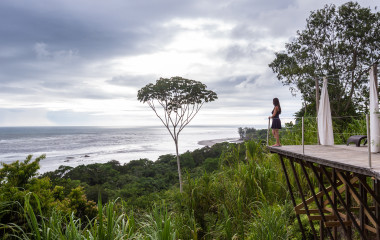 Luxury Costa Rica: Adventure and Beach
11 Days: $ 4,690
/ person
Discover paradise on this luxury tour of Costa Rica! Immerse yourself in nature as you explore the untouched rainforests of Pacuaré and the volcanic mountains of Arenal on adventurous hikes, treks, and adrenaline-pumping tours.
Classic Costa Rica: Arenal and Manuel Antonio
9 Days: $ 4,090
/ person
This classic Costa Rica trip takes you on an adventure amid waterfalls, hot springs and verdant forests in Arenal. Explore volcanic peaks and the lush countryside on hikes and treks in the San Jose Valley.
Load More
THE ENCHANTING DIFFERENCE
Through my conversations with Swati and some changes that evolved the trip was perfectly planned and brilliantly executed. Her interest into my goals on this trip, produced an incredible experience.
Enchanting Travels customizes every aspect of our travel which perfectly suits our needs. The staff is knowledgeable, professional, patient, fun and personable, as well as attentive to all our needs throughout our trip. We also enjoy all the private transportation, private tours and luxury accommodation. We feel like the kings and queens when we travel with Enchanting. Enchanting offers the perfect travel experience for us!
I cannot imagine being without Enchanting Travels for my first trip to India. With new and different things to acclimate to and customs I was not privy to, ET made my journey a breeze. I was able to see and enjoy the entirety of all places visited without worrying about tickets and transfers and luggage and hotels and anything that might take me away from being "in the moment". Usually one fourth of my trip is spent making arrangements but not so with Enchanting Travels as it is all done for you. Kudos to ET.
Do you have a vacation in mind? Personalize your itinerary with our Trip Builder.