History of UK & Ireland
A vacation to the UK or Ireland opens up a world of wonders, from prehistoric relics to magnificent Medieval castles. While British and Irish culture may seem quite distinct, they're actually the product of centuries of invasions and ancient cultures originating from many different regions of Europe.
Explore
Where do you want to go? What do you want to do? Be it popular sights or off the beaten path experiences, tell us your travel dream through our trip planner.
Design
Our destination experts will get in touch with you to craft a completely tailor-made, obligation-free itinerary to match your interests and budget.
Experience
Once you have booked your trip, sit back and relax – we'll take care of everything else. With our exceptional local team & 24/7 support, priceless memories await you!
Close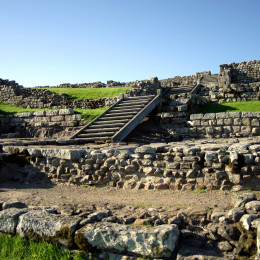 Early British and Irish history
The turbulent history of the UK and Ireland begins over 900,000 years ago. You can spot echoes of its prehistoric past at Stonehenge in Wiltshire, one of the best Bronze Age monuments still in existence.
Around 500 BC, Britain was settled by the Celtic tribes who had emigrated from Central Europe. Celtic culture is still evident in parts of Wales, Scotland and Ireland today, from native dialects to long-standing traditions. The Romans (who occupied Britain between 43 to 420 AD) also put their stamp on Britain. Take a tour of Bath to see the city's well-preserved Roman Baths or head to Northumbria to walk along Hadrian's Wall.
Next came the Anglo-Saxons from Europe who split England into many different regions. They also birthed the monarchy and brought about many cultural customs we still see today. Christianity (namely Roman Catholicism) was additionally introduced and many monasteries in the UK date back to these times.
Vikings and the Norman Conquest
A trip to the walled city of York will reveal much about the UK's Viking history, starting from Danish raids in the 9th century. The Vikings also settled in Ireland and founded major ports like Dublin, Cork and Limerick.
In 1066, the Norman's (led by William the Conqueror) successfully invaded England from France and overthrew the Anglo-Saxons. Day trip to the seaside town of Hastings to see where the triumphant battle took place or take a tour of one of the hundreds of castles in the UK and Ireland – including Kilkenny Castle and the Tower of London – built during the Norman period.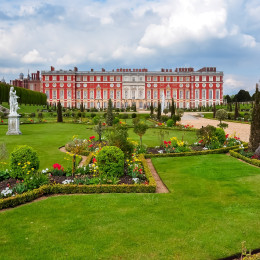 The Middle Ages
The Tudors, who rose to power at this time, remain one of the best known British royal families, not just for Henry VIII, but also the religious Reformation of the Church. Discover more about the life and times of the king, his wives and children at heritage sites like Hampton Court Palace in London or Hever Castle – the childhood home of Anne Boleyn (the King's second wife) – in Kent.
The last Tudor, Elizabeth I, ruled for 45 years – as depicted in Golden Globe winning film Elizabeth – during a key period for exploration and the arts. Visit the Golden Hind ship on London's Southbank, which was used by Sir Francis Drake to circumnavigate the globe, or learn about Britain's beloved playwright, William Shakespeare, at the Globe Theatre. He penned and performed some of his most famous works during Elizabeth I's reign, including Romeo and Juliet and Much Ado About Nothing.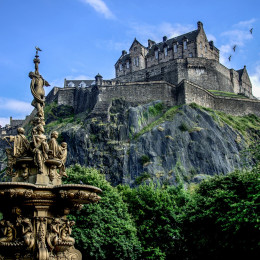 The Renaissance and Georgian eras
After Elizabeth I's death, her cousin James VI of Scotland became king and united Scotland, England and Ireland. Head to Edinburgh Castle to see where he grew up or visit London's Houses of Parliament where gunpowder plotter Guy Fawkes attempted to assassinate him in 1605.
The history of the UK and Ireland throughout the 17th century is littered with civil wars, namely between the Parliamentarians led by Oliver Cromwell who didn't agree with royal rule, and the Royalists who backed the monarchy. One of Scotland's bloodiest battles also took place during this period – the Battle of Culloden. Book a trip to Inverness to see where English soldiers and Highlanders fought and fell.
The Georgian era – named after Britain's Hanoverian kings – from 1714 to 1837 is responsible for some of the UK's and Ireland's most beautiful buildings. The Royal Crescent in Bath is a wonderful example of Georgian architecture, while London and Edinburgh are full of elegant townhouses and squares.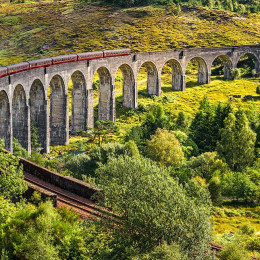 Victorian era
From the formidable Queen Victoria to the Industrial Revolution, the 1800s was a key century in British history.
The birth of steam power and the railway allowed tourism to flourish in the UK. Follow in the footsteps of Victorians and voyage to seaside resorts like Scarborough and Brighton where you can stroll along leisure piers, try your luck at the arcades or tuck into some fish and chips. The Victorians also designed many of Britain's glorious pleasure gardens, including Glasgow Botanical Gardens and Kew Gardens in London.
Irish history was not so positive during this era. The country was devastated by famines and over a million people immigrated overseas, particularly to cities like Boston in the Americas. It was also, however, when some of Ireland's most famous literary figures flourished. Head to Dublin to visit the James Joyce Museum, see the iconic statue of Oscar Wilde in Merrion Square, or wander around Trinity College where Bram Stoker – who wrote Dracula – and novelist and playwright Samuel Beckett studied.
The 20th century
The first half of the 20th century is dominated by the World Wars and it's a time when Britain's economy and social structure drastically began to change. Women in particular started to work in previously male-dominated jobs and were finally awarded the right to vote in 1928. Fashions evolved and the economy flourished after WWI, bringing about the iconic Roaring Twenties.
The second half of the century is best known for its artistic reform. Learn more about the Fab Four on a Beatles tour in Liverpool or head to Kings Road and Carnaby Street in London to see where the Swinging Sixties took off.
The 1900s were also momentous for Ireland. The predominantly Catholic country wanted to break free of British rule, leading to the Easter Rising in 1916. Take a tour of Dublin to see where the fighting took place, including the General Post Office which served as the headquarters of Irish insurgents.
Ireland was eventually divided into the Irish Free State and Northern Ireland in 1921, with the former becoming the Irish Republic in 1948.
Contemporary UK and Ireland
Britain and Ireland continue to make bold strides in art and architecture today, from the glass-fronted Shard skyscraper in London to Ireland's futuristic Arriva Stadium. Tourism throughout the UK and Ireland is thriving, too, thanks to centuries of historic monuments and contemporary amenities which make it easy to explore.
See how you can uncover the history of the UK and Ireland by getting in touch with one of our experts to book your vacation today.
UK & Ireland TRAVEL GUIDE

UK & IRELAND Travel Guide
Do you have a vacation in mind? Personalize your itinerary with our Trip Builder.