When people thinking of idyllic coastlines, destinations like Bali and the Caribbean spring to mind. But, off the coast of Africa, lie tiny islands that boast such stunning dreamscapes and more. Add to the mix a bevy of luxurious hotels and you have the ideal destinations for your African islands trip.
1
Zanzibar Island, Tanzania
An island paradise where diverse cultures intermingle harmoniously, where the air is redolent with the intoxicating smell of spices mixed with the ocean spray – Zanzibar is the perfect destination to head for your African islands trip after you have explored the wildlife and natural wonders of the Serengeti and Mount Kilimanjaro on the African mainland.
Tucked away in the northwestern part of Zanzibar, on what is arguably the most beautiful strip of sand on the island, Zuri Hotel is every beach lover's dream. Featuring modern African design, this sprawling eco-conscious property boasts lush spice gardens punctuated by palms, baobabs, and shrubs, leading to the soft white sands of Kendwa Beach. You can spend your days curled up in swinging daybeds and hammocks, with the warm tropical breeze lulling you to sleep. The infinity pool terrace invites you in for a cool dip on a balmy afternoon. Unaffected by tides, the turquoise waters of Kendwa offer you a glimpse of the colorful marine life around the island. And what better way to end your day than with a romantic candlelit dinner right on the beach, as the waves gently lap around your feet?
Enchanting moment? Sail into the sunset aboard a traditional yet luxurious dhow boat while sipping on your favorite sundowner drink.
Best time to visit: June to March
2
Fregate Private Island, Seychelles
An archipelago of 116 islands dotting the Indian Ocean, Seychelles, with its tremendous biodiversity, is a beach lover's dream come true. Among these lies Fregate Private Island, where, right from the time you arrive, whether by helicopter or by boat – accompanied by flying fish! – you are heading for a truly unique and exclusive African island trip!
Expect unrivaled levels of privacy – there are just 16 traditional African teak and mahogany thatched villas and only 40 guests are welcomed on to the island at any given time. And given the plethora of quaint coves and serene beaches to choose from, the chances of bumping into another guest are indeed rare on your African islands trip!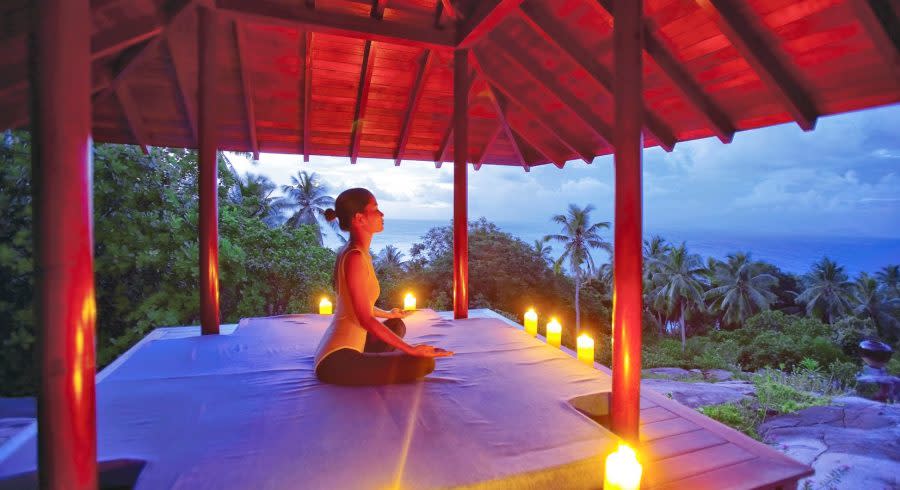 Expect a truly indulgent stay in your villa with luxurious touches like a wooden deck hosting your own infinity pool overlooking the ocean, a Jacuzzi and day bed, as well as a private butler. Choose from a range of gastronomic options – the diverse flavors of Creole food at the restaurant, a decadent afternoon tea atop a cliff surrounded by panoramic views, a farm to table experience where you pick your can pick your own ingredients and have a chef cook the dishes at your table and breakfast in a treehouse perched on the island's oldest and largest banyan tree.
And there's much to do on the island – laze at the beach, explore on a golf buggy, go fishing or befriend the many giant turtles who roam the island. Or just choose to be pampered at the spa.
Enchanting moment? Enjoy close encounters with all the unique flora and fauna of the jungle, introduced by the resident naturalist.
Best time to visit: All year, especially April to October
3
Fanjove Island Songo Songo Archipelago, Tanzania
Channelize your inner Robinson Crusoe during this vacation on an island whose appeal lies in just how free it is from the trappings of development. The Songo Songo Archipelago is a collection of five tiny islands surrounded by coral reefs. Only one – Fanjove Island offers accommodation. And much likes its surrounds Fanjove Island Lodge, is all about finding beauty in the remoteness it is set in.
The Lodge can accommodate only a handful of guests at a time and has only six bandas. They have been designed to resemble dhows or sailboats, a popular mode of transport in the region. In deference to the delicate ecosystem that it is part of, the lodge runs solely on solar power, and the bandas are built entirely out of natural materials such as palm leaves and wood.
The gentle crashing of the ocean waves will envelop you as you are gently lulled to sleep, and a stunning sunrise over crystal clear waters greets you as you wake up. You can spend your day on your African islands trip exploring the island at leisure, enjoying the peace and solitude that is all yours to savor. Enjoy a spot of kayaking, and marvel at the stunning underwater world – a natural reef with underwater pinnacles, cabbage coral gardens, butterflyfish, angelfish, damselfish and more – as you snorkel and scuba dive. End your day with a sundowner as you sail across the ocean waters on a wooden dhow.
Enchanting moment? A pod of bottle-nosed dolphins and humpback whales as your welcoming committee
Best time to visit: June to March
4
Nkwichi Lodge, Mozambique
Savor an authentic taste of Africa, drenched in tranquility, during your African islands trip to the Mozambican shores of Lake Malawi. The Nkwichi Lodge is a private oasis of calm, a world where white sands and crystal clear waters collide, creating the lakeshore of dreams.
Stay in tastefully appointed chalets, snugly tucked away amid the treeline, offering mesmerizing views of the lake. All the chalets are made of natural local materials, the furniture is handmade, including the four-poster beds and the rustic appeal is in complete sync with your surroundings. You even have your own private rock pool, carved out of the primordial rock, to enjoy a relaxing soak in.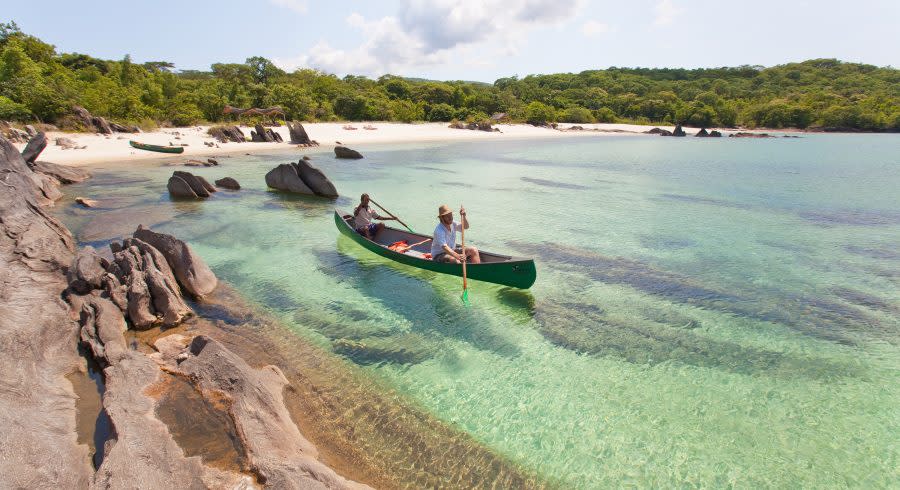 Wake up as the warm rays of the sun gently caress your face, the sparkling lake waters imploring you to come take a dip. You could canoe and kayak on the serene waters, as you explore secluded bays and pristine beaches along the Rift Valley shoreline. A magical underwater world filled with colorful tropical fish will greet you on your snorkeling forays. Back on land, explore the Valley region, dotted with ancient Baobab trees and bustling with native birdlife on guided bush treks and village visits. All the while, relishing the solitude of the ancient and expansive woodlands that surround you on your African islands trip.
Enchanting moment? Sleep in a star bed situated by the lake. It's just you and the open skies of glittering stars.
Best time to visit: April to November
5
Veranda Pointe aux Biches, Mauritius
A volcanic island, fringed by azure sparkling bays and palm trees, dotted with luxurious resorts – its little wonder that Mauritius remains one of the most sought-after destinations for an African island trip. And the boutique Veranda Pointe aux Biches, an embodiment of eco-chic, is the best place to enjoy an upbeat and fun-filled family vacation.
Kick-off your shoes as you saunter through the beautiful hotel that overlooks a lagoon – it's all about rustic charm whether its the Mauritian architecture or the sand-covered floors of the hotel's restaurants. You can sample authentic flavors of the local cuisine (and be part of with its Chinese, Indian, African and European influences – a true culinary melting pot – at the various hotels and bars and also participate in the cooking classes.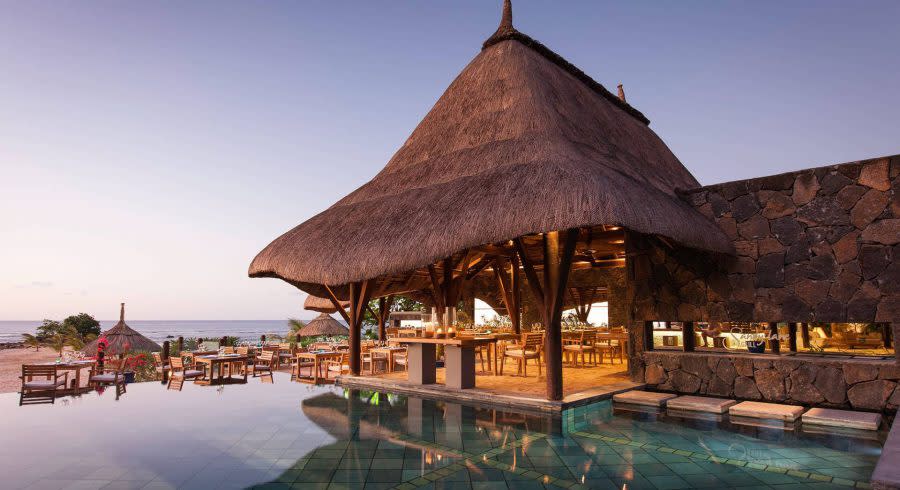 You could explore the local coastal village with its myriad restaurants, bars and stores and get a feel of the region's culture and traditions. Dive deep into Creole traditions with a catamaran ride, venture into lagoons of the Indian Ocean on a stand-up paddle or kayak, or learn fishing techniques from the local fishermen.
Or you could indulge in some R&R at the wellness lounge while your children join a variety of activities at the kid's club. And if you aren't traveling with children, there's also an entire section of the hotel reserved for adults with its own restaurant, bar and pool
Enchanting moment? Test your rum-making skills and dance to the rhythmic beats of sega, ritual music with Creole roots with local villagers.
Best time to visit: May to December
An African islands trip is definitely the perfect way to unwind and enjoy an enchanting connect with nature!
Let us craft a private and tailor-made African island getaway for you. Get in touch with us today!