Top 10 Things to do in Namibia
Plan your Namibia vacation around the top ten things to do in Namibia.
Stark, arid beauty, interspersed with stunning greenery, abounding in wildlife and culture – that's Namibia in Southern Africa in a nutshell. The country offers a wealth of experiences, ranging from stunning wildlife safaris to incredible sand dunes and salt pans. Add to the mix a lovely coastal oasis and a tranquil capital – Namibia is certainly a treasure trove of delights with so many things to do.
Some of the most popular attractions include the Namib Desert with the stunning granite peaks of Spitzkoppe, national parks like the Etosha National Park, the stark and arid Fish River Canyon, the surreal beauty of the Skeleton Coast, the marine delights of Walvis Bay, the sand dunes of Sossusvlei with the star attraction – Dune 45, scenic waterfalls like the Epupa falls, unique attractions like the Quiver Tree Forest and the Hoba meteorite.
If you are wondering when is the best time to go to this Southern Africa nation, or how best to combine your Namibia trip with other countries in Africa, do reach out to our destination experts, who can help you craft the perfect African sojourn! is a list of the top things to do in Namibia curated by our Enchanting Travels specialists, which should definitely be part of your Namibia travel guide!
Dream Carefree
Go ahead and dream big. Enchanting Travels experts are here to help you plan the ultimate escape. Tell us your vision for the trip of a lifetime and we'll make it a reality.
Plan Carefree
One of our destination experts will reach out to craft a completely customized itinerary. Book your personalized journey and know that our flexible policies have you covered.
Travel Carefree
Relax and prepare for takeoff, knowing that your trip is perfectly planned and you have a personal concierge on call 24/7. Our experts are here to keep you safe and handle the details.
Close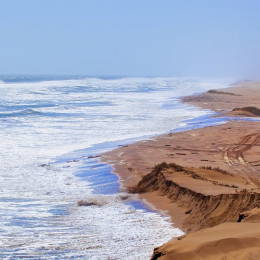 1
Visit the stunning Skeleton Coast
The incredibly surreal Skeleton Coast is considered to be the largest ship cemetery in the world (hence its name). The secluded and deserted coastline is one of the oldest landscape formations on earth. Drive through the region or explore it by foot on your Skeleton Coast tour.
Witness the treacherous rocks responsible for sinking many a ship, the arid canyons and mountains that dot the desolate landscape. The wildlife that can be found here, such as genet, caracal and brown hyena have all developed ways and means of surviving in the harsh conditions. Another must-visit in the area is Cape Cross, with its huge seal colony, the Cape Cross Seal Reserve, as well as its plethora of endemic birdlife.
2
Savor stunning views from Erongo Volcano
Over 130 million years old, the now inactive Erongo Volcano provides overwhelming views of the surrounding landscape, where spectacular granite rocks rise into the sky.
The thousands of Bushman paintings provide a glimpse into ancient life. The region is also home to some stunning flora and fauna, which is best enjoyed on long walks or game drives.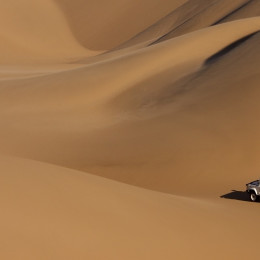 3
Discover the Namib Sand Sea
The Namib Sand Sea is a UNESCO World Heritage site and is one of only a few coastal deserts in the world.
Here you will find huge sand dunes and the barren beauty of endless deserts. Marvel at the picturesque views of the sand dunes, stretching seemingly unending through the region. The primary source of water for the desert is fog, which makes for a very unique ecosystem.
4
Enjoy a safari in Etosha National Park
During a safari in Etosha National Park, you will experience more than 100 species of mammals: wild boars, elephants, wildebeest, zebras, buffaloes, springboks and the rare black rhino, as well as stunning forests and African Moringa trees in the plains. One of the best safari experiences here is to track rhinos on foot.
There's something for bird lovers as well: more than 300 species to watch out for! Another attraction is the famous Etosha Salt Pans.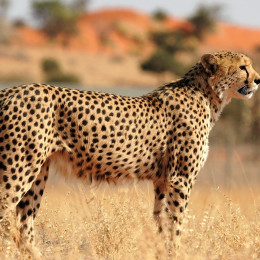 5
Go for a safari at Waterberg Plateau
Head to the Waterberg Plateau for a safari where you will encounter rhinos, giraffes, antelopes, jackals, cheetahs and leopards. There are also over 200 bird species who have made this lush green conservation area their home.
Enjoy a hike in this area, set high above the Kalahari Desert. One of the reasons why this region enjoys such diverse wildlife is due to the heavy rainfall it receives.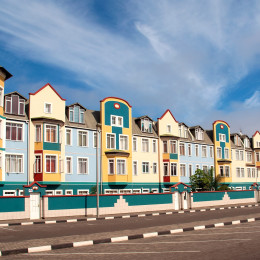 6
Unwind in Swakopmund
The former German colony of Swakopmund has become one of the most popular resorts in Namibia today. Little wonder why: palm-lined promenades and generous gardens make this place a green oasis in Namibia's desert landscape.
Enjoy a range of land and water sports, explore its museum and marine center, sample some traditional German beer at a local brewery and unwind with a drink and savor authentic African cuisine at its lively bars and restaurants. Swakopmund is the perfect place to unwind after a Namibian safari!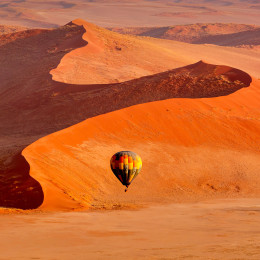 7
Marvel at the sand dunes of Sossusvlei
Exploring Sossusvlei in the Namib Desert is one of the top things to do in Namibia. The sand dunes are among the highest in the world. Watch the sunrise over 300 meter high dunes or be there at sunset to get the best views and photographs of its constantly changing colors! The massive sand dunes will take your breath away, especially the iconic Dune 45 – climbing it is a must, one of the epic things to do on your Nambian trip!
The Namib Desert is a coastal desert that runs along the Atlantic Coast. This desert in Southern Africa is viewed as among the oldest deserts in the world! One of its other striking features is the mountain range of Spitzkoppe. Made of granite rocks, which go back nearly 700 million years, Spitzkoppe is a big draw for hikers and rock climbers!
From sand dunes to marshes – don't forget to embark on a safari in the Caprivi strip, one of the wettest places in Namibia, known for its bio-diversity.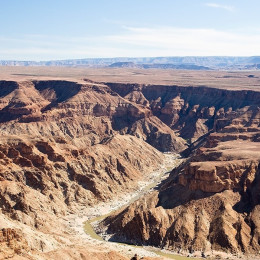 8
Hike in the Fish River Canyon
The Fish River Canyon is the second largest canyon in the world and is crossed by a river. You can enjoy spectacular views during a hike through this barren, dry landscape. Depending on your fitness, you could opt for the half-mile, two-hour-long descent to the floor of the canyon, and then trek through it as you see dramatic scenery and vertical walls with picturesque wall formations.
Enjoy a meal in the spectacular surrounds as well as relaxing swims in the rock pools or footbaths in the sulfur pools.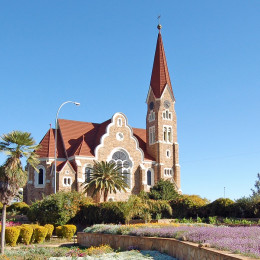 9
Experience tranquility at Windhoek
Top Tip for Namibia Cultural Tours: Namibia has one of the most tranquil capital cities in the world. Stroll along Independence Avenue in Windhoek, where you will find charming colonial buildings and cozy street cafes.
A walking tour will take your past all the key landmarks of the city including churches, forts and museums.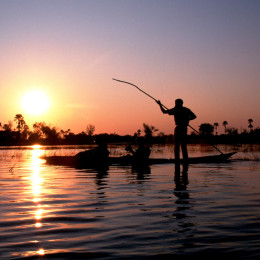 10
Try a mokoro safari
Head out on a small traditional boat and experience the animal kingdom of Namibia from the water. The best place to do this is in Caprivi, Namibia's wateriest region.
Expert tip: For a change of scenery don't forget to plan a trip to Walvis Bay. A popular attraction on the Namibian western coast, there are a host of activities in Walvis Bay for you to enjoy. From quad biking to a catamaran cruise, dolphin cruises and sea kayaking, Walvis Bay is a treasure trove of activities, ideal for a day tour.
Discover all the best things to do in Namibia by booking your vacation with our experts at Enchanting Travels. Contact us for your tailor-made and obligation-free tour itinerary.
THE ENCHANTING DIFFERENCE
One of the very best travel experiences I have ever had. We even got updates once at 3 am! He also made one change in one day's itinerary to accommodate our wishes which was very wonderful. For business, I have traveled to Europe, Russia, all over Asia and South Africa but was blown away by all the beautiful sites in Argentina and Chile.
All the little touches made by our Enchanting Travel consultant, Amelia Edwards, were noticed and recognized by my wife and I. Thank you for making our milestone trip (25th wedding anniversary) such a memorable one! We look forward to engaging Enchanting Travels again for our next South American adventure!!
This was my first adventure as a solo traveler. But while I may have traveled on my own, I was never alone. I was well taken care of by a superb team of planners, trip coordinators, guides and drivers.
Do you have a vacation in mind? Personalize your itinerary with our Trip Builder.