Culture of Myanmar
What is the culture of Myanmar like? Our destination experts share an overview.
It's not just glittering gold pagodas that you will notice as you travel in Myanmar! The people here will enchant you as well.
Despite strict military rule and almost no exposure to modern western culture, the Burmese people welcome visitors with open arms.
Nearly 85% of the population follow Theravada Buddhism. Novitiation, when young boys are initiated into the Buddhist order, is a compulsory ritual. Indian, Chinese and colonial influences are evident in the former British capital of Yangon.
Artistic inclinations are encouraged in Myanmar, especially silk weaving, painting, tapestry, pottery and gemstone engraving. Gold leafing is also rather popular here. During one of our Myanmar tours, you will find that marionettes are a common part of the culture, and during festivals puppets are dressed ornately for shows at pagoda festivals and theaters in Yangon and Mandalay.
Over 111 languages are spoken within the borders of Myanmar, although about two-thirds of the population speak Burmese – the official language. English is widely spoken in the urban areas of Yangon, Mandalay and Bagan.
Top Myanmar Travel Tip
Don't be surprised to see women walking around the streets with white paste smeared across their faces. The traditional paste, called thanaka, acts as a natural sunscreen and has many other medicinal benefits!
Dream Carefree
Go ahead and dream big. Enchanting Travels experts are here to help you plan the ultimate escape. Tell us your vision for the trip of a lifetime and we'll make it a reality.
Plan Carefree
One of our destination experts will reach out to craft a completely customized itinerary. Book your personalized journey and know that our flexible policies have you covered.
Travel Carefree
Relax and prepare for takeoff, knowing that your trip is perfectly planned and you have a personal concierge on call 24/7. Our experts are here to keep you safe and handle the details.
Close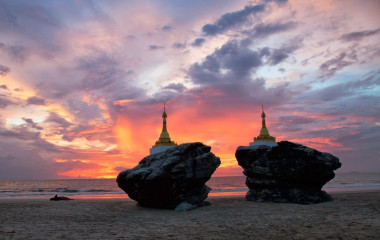 Culture and Landscapes in the Heart of Myanmar
13 Days: $ 3,045
/ person
Discover an imposing cultural heritage and timeless landscapes in Central and East Myanmar. Soak in the serenity of idyllic villages, enjoy authentic local experiences and take a nostalgic railway ride across the famous Goteik Viaduct on this private tour of Myanmar.
The Undiscovered South of Myanmar
17 Days: $ 4,057
/ person
Go off the beaten path on this tour of Myanmar. Rising only recently from centuries of isolation from the rest of the world, southern Myanmar offer incredible landscapes, cultural delights, relics of colonial heritage and hidden jewels to travelers.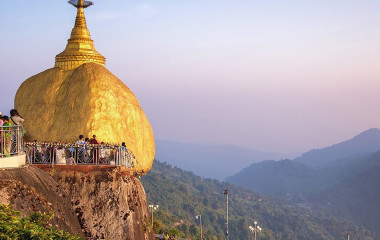 Secret Treasures of Myanmar
8 Days: $ 1,500
/ person
This Myanmar vacation takes you on the road less traveled to lands where hidden jewels and secret treasures await. In the south, explore a bustling cultural center, beautiful land and seascapes, and colonial heritage.
THE ENCHANTING DIFFERENCE
One of the very best travel experiences I have ever had. We even got updates once at 3 am! He also made one change in one day's itinerary to accommodate our wishes which was very wonderful. For business, I have traveled to Europe, Russia, all over Asia and South Africa but was blown away by all the beautiful sites in Argentina and Chile.
All the little touches made by our Enchanting Travel consultant, Amelia Edwards, were noticed and recognized by my wife and I. Thank you for making our milestone trip (25th wedding anniversary) such a memorable one! We look forward to engaging Enchanting Travels again for our next South American adventure!!
This was my first adventure as a solo traveler. But while I may have traveled on my own, I was never alone. I was well taken care of by a superb team of planners, trip coordinators, guides and drivers.
Do you have a vacation in mind? Let us help you create the trip of a lifetime.